Personal Injury Lawyer for Hilton Hotel Accident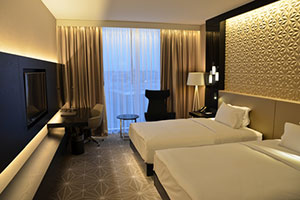 Hilton Hotels and Resorts is a global hotel and resort chain. With over 570 Hilton hotel locations throughout the world, it is one of the best-known hotel brands. Hilton Hotels are either corporate-owned or run by franchisees.
Frequented by vacationers and business travelers, Hilton is popular hotel chain throughout the world. Known for its luxurious rooms, inviting common areas, and polished exterior, Hilton brands itself by the experience that it delivers. While Hilton may offer a pleasant stay, this can quickly turn if you've been injured at the hotel. Whether in the lobby, hotel restaurant, guest room, or while visiting the hotel's amenities, injuries can happen. The personal injury lawyers at Wolfson & Leon represent the interests of victims injured in a hotel accident. Call (305) 285-1115 today for a free consultation.
Common Accidents at Hilton Hotels
Many of us may choose to stay at a Hilton hotel due to the quality stay and little extras that they offer. However, even the most ordinary areas can result in injury. Some of the most common types of hotel accidents include;
Slips, trips, and falls – With large numbers of people visiting Hilton hotels every day, this creates walking traffic in the lobby and common area. Rainy conditions can lead to visitors tracking in water. Couple this with tile floors or hardwood floor in the lobby and main areas and it can result in slips and falls. Visitors bringing in soda or other drinks from their car may spill them as they enter the building. Hotels often offer water, coffee, or other beverages in their lobby, which can drip on the floor, causing a wet and slippery surface.

Slips and falls can also happen in guest rooms. Bathtubs that don't have proper non-stick surfaces or bathroom floors that get excessively wet when taking a shower can result in serious injury if a guest falls when getting into or out of a bathtub or shower.

Many hotels have multiple flooring surfaces in the common areas and guest rooms. Different or uneven surfaces can lead to slips, trips, and falls. Poorly lit side stairwells or large steps leading to the outside of the hotel can cause falls.

Swimming pools and hot tubs – Wet surfaces around pool areas can lead to slips and falls. Pools that have ladders can result in guests slipping when getting out of the pool. Falls on steps getting in and out of the pool can cause head and neck injuries. Improper or missing signage alerting guests of pool rules can result in a severe head and neck injuries if guests dive into the pool in a shallow area or run where they shouldn't.
Bed bugs – There is a rising incidence of bed bugs in hotels. These nasty little creatures can cause bites that may be nothing more than an irritation. Bites that become infected, however, can be painful.
Broken furniture – Hotel furniture can be subject to high usage and damage, however it may not be replaced very often. Constantly fixing furniture over time makes it unsafe. High usage of equipment can cause items, such as chairs, to break.
Why Contact a Florida Hotel Accident Injury Attorney?
Injuries occur in hotels all the time. Many larger hotel companies have legal teams dedicated to addressing hotel injuries. Don't go at it alone. Contacting a personal injury lawyer can help you receive the compensation you need to cover medical bills and lost wages. Our personal injury attorneys have represented victims who have been injured in hotel accidents in many ways including;
Hotel lobby slip and fall accident attorney
Bed bug bite injury accident lawyer
Attorney for hotel swimming pool accident injuries
Hotel shower slip and fall injury lawyer
Elevator trip and fall injury accident attorney
Lawyer for broken chair injury accident
Uneven step trip and fall injury lawyer
Hilton Hotel Injury Accident Law Firm in Florida
If you have been injured in a Hilton hotel, contact Wolfson & Leon to discuss your case. You may wonder how you will pay for your medical treatment or continuing care. Perhaps you are unable to work due to the severity of your injury, which is causing a financial hardship on you and your family. The Florida Hilton hotel injury attorneys can review your case and answer your questions. Contact Wolfson & Leon at (305) 285-1115 for a confidential and free consultation. We have offices in Miami, Fort Lauderdale, West Palm Beach and Fort Myers so call us today and get the answers that you need.