Florida Injury Attorney for Marriott Hotel Accident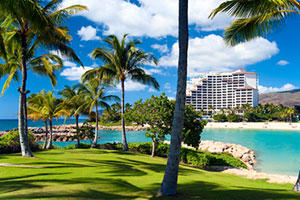 Marriott Hotels & Resorts are owned by their parent company, Marriott International. The company owns 566 hotels and resorts under the Marriott Hotel & Resort brand name. Marriott International owns over 5,700 hotels throughout the world under well-known brand names such as Starwood Hotels and Resorts, Sheraton Hotels and Resorts, and Westin Hotels and Resorts. Through its multiple brands, this international company offers a range of budget-friendly to high-end accommodations.
Marriott hotels are popular throughout Florida. With hotel rooms and suites, they serve families and business travelers. Located in larger cities or busy tourist areas, they provide quality accommodations and plenty of amenities for their guests. Pools, hot tubs, and fitness centers are common extras that you'll find in Marriott hotel. Constant use of hotel amenities by guests, however, can require significant upkeep. While the amenities can enhance your stay, lack of upkeep in these areas can lead to injury. If you have been injured in an accident at a Marriott Hotel, contact Wolfson & Leon at (305) 285-1115 for a free consultation.
Recreational Accidents at Florida Hotels
Hotels offer many special amenities for guests to use while they visit. Lounging out by the pool or an early morning workout can make your stay more enjoyable. We expect that these special perks are safe and properly maintained by hotel staff. When they aren't, they can lead to serious injury.
Pool injuries – Surfaces around a pool are expected to get wet. Hotels should provide an appropriate surface to help prevent slips and falls due to water. Tiled exterior surfaces in the walkways can become very slippery when splashed with water.

Hotels should also take steps to ensure equipment in and around the pool is safe and in good working order. Automatic pool cleaners and drains can catch hair, jewelry, or bathing suit straps, potentially trapping a swimmer beneath the water. If a guest is underwater too long, they may experience severe brain injury or they may drown. Many hotel pools are not required to provide lifeguards. They should, however, clearly post the rules for using the pool. Failing to inform guests of the rules can lead to kids running around the pool, broken glass due to drinks in the pool area, or use of rafts or other floatation devices. Unsafe practices can cause injuries due to slips and falls, deep cuts, and even drowning.

Fitness facility – Equipment in a typical health club requires constant upkeep and maintenance. Many times, a health club facility may have maintenance personnel on staff to ensure equipment is properly maintained. A hotel is also expected to ensure that exercise machines are safe and in good working order, however their staff may not have the necessary experience to properly maintain these machines. Treadmills, incumbent bikes, and elliptical machines should be checked regularly to ensure their parts are not worn or broken. Improperly maintained machines can lead to falls. Exposed sections of the machine can grab loose hanging clothing or jewelry, leading to injury. Gyms that have free weights and bars should ensure that they are not broken and can be stored safely. Unsafe storage areas can result in weights falling on the body or fingers and hands being crushed when the weights are being picked up or put away.
Why Contact a Florida Hotel Accident Injury Attorney?
Large hotel chains often have legal teams to fight onsite injuries. Consulting a personal injury attorney can help you to recover the compensation that you deserve. The hotel accident injury attorneys at Wolfson & Leon have defended the rights of victims who have been injured in hotel accidents. We often serve clients who have been injured by:
Hotel swimming pool slip and fall injury lawyer
Unsafe pool equipment injury accident attorney
Broken exercise equipment accident attorney
Faulty fitness equipment injury accident lawyer
Attorney for dangerous pool drain injuries
Broken pool ladder slip and fall accident attorney
Lawyer for swimming pool drowning victims
Marriott Hotel Injury and Accident Law Firm
If you are from out of town, injuries sustained in a different state than where you live can be challenging. You may being wondering how to obtain and pay for medical treatment while you are away from home. Reaching out to a Florida hotel injury personal injury attorney can help you to understand what your rights are. A personal injury can advise you of your options and the appropriate steps needed to file a claim, even if you live in another state.
If you have been injured in a Marriott hotel, contact Wolfson & Leon today. We serve hotel accident victims in Miami and the greater South Florida area including Fort Myers, Fort Lauderdale, Orlando, West Palm Beach, Jacksonville, Tampa and the Florida Keys. Call Wolfson & Leon at (305) 285-1115 for a free, no-obligation consultation.