Premises Liability
What Does Premises Liability Mean?
It is a phrase many folks hear and may not fully understand. That's ok. It is a legal term. The phrase just describes the kinds of accident injury cases where people are hurt because of the way someone owned or operated a piece of land, or "premises". Basically, if you own, operate, or maintain property, you have to follow the safety rules. Those rules include having to maintain and keep the property safe. When those rules are broken and there is an accident and someone is injured, the person who breaks the rules is responsible for the injuries they cause.
At Wolfson Law Firm, our Miami slip and fall lawyers are premises liability lawyers who fight to enforce the safety rules for owning property to protect people against devastating slip and fall accidents. And our negligent security lawyers in Miami are also premises liability lawyers who fight to enforce the safety rules to protect people from being crime victims. Both of these areas of the law, and others, fall under the umbrella of premises liability law.
Why is Premises Liability Law Important?
Just think how many businesses there are out there in Miami. From Walmart to K-Mart to Publix, all of these businesses are inviting our community in to do business. We, the public rely on these businesses to supply us with our essential products of daily life including food, toothpaste, medications, and gasoline for our cars. We cannot get these simple essentials without relying on businesses in the community. We give them our trust. And we give them our hard earned money for services including haircuts and medical services.
And they give us that unspoken promise to keep us safe. It is an unsaid deal we have. We, the public will shop in your stores. And the corporate empires and small businesses of America will keep us safe. We understand and appreciate their right to make a profit off of our patronage. We don't begrudge that in a capitalistic society. But we demand that they keep us safe when we come in their stores. We understand that there are some situations that cannot be helped. But when corporate America violates the safety rules and, as a result, there is a slip and fall accident, then they must be held accountable for the damages that they cause.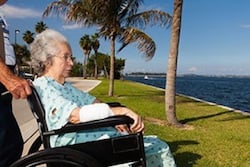 If they are not held accountable, then this encourages others to keep their stores or businesses a mess and not care about public safety. If they don't pay for that harm, then they are getting a free pass. A license to go out there and hurt others to make more money by having less people cleaning the floors or generally less attention to safety. Safety costs them money.
If they don't have to pay for the harm they cause, why pay to keep stores safe? The answer is, corporate America will not. We will be less safe if the safety rules are not enforced. Our Miami slip and fall lawyers who handle premises liability cases know this first hand. And this is why premises liability law is important – it deters and stops other businesses from breaking the safety rules and keeps us safe.
Dangerous Property Conditions
The Miami Florida Personal Injury Lawyers at Wolfson Law Firm represent people injured in premises liability cases involving all kinds of dangerous property conditions. These include:
Slip and fall from transitory (moveable) substances
Slip and fall from poorly maintained walking surface with buildup of slippery mold or growth
Inadequate maintenance of the premises resulting in trip and fall accident
Uneven sidewalks resulting in trip and fall accident
Missing asphalt in parking lots causing trip and fall
Defective conditions on the premises
Inadequate building security leading to injury or assault
Elevator and escalator accidents
Dog bites
Swimming pool accidents
Falling objects in grocery stores, apartment buildings, homes, and retail shops
Trip and falls
Fires
Water leaks or flooding,
Toxic fumes or chemicals
Exposed electrical wiring
Potholes on the road
Crumbling concrete or stairs
Uneven stairs causing fall down
Inadequate lighting
Falling debris
Lack of security cameras
Absence of guard rails
Inadequate apartment safety
Poorly maintained escalators or elevators
Malfunctioning amusement park rides
Absence of proper gate locks for swimming pools resulting in drowning
Miami Premises Liability Serious Injury Lawyers
At the Wolfson Law Firm, our Miami Premises Liability Lawyers investigate accidents like these that involve hazardous conditions and a lack of safety. As your Miami slip and fall lawyers, we interview eyewitnesses, review surveillance film, consult safety experts, and work with other professionals in exposing negligence on the part of property and premises owners.
In many cases, however, property owners may attempt to remove incriminating evidence or fire employees who witnessed what happened in an attempt to avoid financial liability. Negligent security law is a big part of premises liability law. If you hire us, we are charged with working to ensure that evidence is preserved and your interests are protected in these cases and all premises liability cases. Our investigators will get out there and work to collect the evidence needed to prevail.
If you have any questions or you believe we can be of assistance, contact our Miami Premises Liability Attorneys at the Wolfson Law Firm today to schedule a free consultation to discuss your case. Just call us at (305) 285-1115.