Slip and Fall
General Information You Should Know Before Hiring a Miami Slip and Fall Accident Attorney
Slip and fall, trip and fall, or premises liability accidents are likely to result in serious injuries. Slip and fall accidents can happen in private homes or in commercial businesses like Walmart, Costco, CVS or Publix. Trip and fall accidents can take place on sidewalks, driveways or even in a yard when some hazard is hidden by the grass. Premises liability accidents can occur when a heavy box or lumber fall on a customer. If you or a loved one is injured in a slip and fall, a trip and fall or in a premises liability accident, the Miami slip and fall lawyers at Wolfson & Leon may be able to assist you in recovering money damages. There is a time limitation to bring your claim so it is important to consult a lawyer as soon as possible. It is very important to know what to do after a slip and fall accident in Miami.
Determining Liability for a Slip and Fall Accident
Assuming your Miami slip and fall accident attorney can establish by a preponderance of the evidence that the property owner or their agent or employee was negligent then you can recover financial compensation from the property owner. This means that you and your slip and fall lawyer will need to prove a few things: the duty of the property owner; a breach of that duty by the property owner or by the owner's employees: causation between the negligence and injuries, and then your actual damages.
Premises liability accidents can happen in many different ways. The most common examples are slip and falls and trip and falls. Other times merchandise forcefully injures or even kills a customer or bystander. A property owner may have a duty to provide security and fails to keep an area safe and that leads to injuries or fatalities. The action that causes the injury can be negligent or intentional and both can make a property owner responsible. The simple act of failing to pay attention can be a breach of the duty owed. The failure to keep an area clean and maintained can also be a breach.
Think about a breach of duty as a broken promise. A retail store or restaurant invites you to come into their establishment. They want you to spend your money. They strategically place items for sale in your line of vision. Advertisements and lighting is all optimized to encourage you to buy and to be a customer. But the unspoken promise of the business is "We will keep the floor clean and clear. This place is safe. You don't need to worry – we have your back. Now please buy something". When they break that promise and that causes you to be seriously injured, you will need to speak with a Miami slip and fall lawyer to protect yourself.
Miami Slip and Fall Accident Lawyer Investigation
The property owner could be a private company or a public entity. If it is a public entity like the state of Florida, Miami-Dade County or a local city like Miami, Miami Beach, Aventura, Doral or any other municipality, then the law requires that they be placed on notice. The public entity then has 6 months to investigate, settle or deny your claim. Most of the time, your claim will be denied.
If the property is owned by a private person or company, the Miami slip and fall lawyers will first look to the Miami-Dade Property Appraiser's office to determine exactly who the legal owner of the property is where the slip and fall happened. Typically, the Miami slip and fall attorney will send a notice letter to the owner requesting that the owner give the lawyer's notice letter to the insurance company.
Other areas of investigation can involve a search for public records for evidence of prior instances where some other person was hurt in the same or similar fashion. This can be valuable evidence that the property owner knew of a hazardous situation but did nothing to fix it. This would help to prove that the property owner breached their duty – they broke their promise.
Miami Slip and Fall Expert Witnesses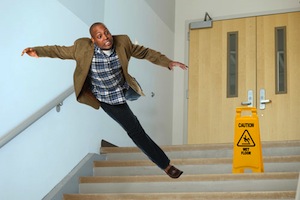 Experts are often consulted by our Miami slip and fall lawyers. We will hire experts who specialize in physics, engineering and the Florida Building Code. These experts can examine the floor to figure out if it is too slippery or painted with the wrong materials. Measurements are taken and scientific testing is performed and the results are compared with the Florida Building Code. If the property is not in compliance with the Florida Building Code, that can be evidence of a breach of duty by the property owner. It can also cause your Miami trip and fall lawyer to file suit against the builder or manufacturer for damages.
Once a personal injury lawsuit is filed, your Miami slip and fall lawyer can ask the court to order the defendant to produce documents. Typical documents include cleaning records, incident reports, videotape of the store, photographs, policy and procedure manuals. Insurance defense attorneys usually fight to keep records out of the hands of Miami premises liability lawyers. But our attorneys are aggressive and regularly go to court to obtain the evidence necessary to prove your slip and fall case.
Call a Slip and Fall Lawyer in Miami
A Miami slip and fall attorney might be able to tell you if you have enough evidence to bring a case against the insurance company for the property owner. The first consultation with our Miami trip and fall lawyers is free so it doesn't cost you anything to speak with us.
At the time of the free consultation, our premises liability accident lawyer will take your statement and begin gathering information. Our attorney can also contact the insurance company to let them know that the Miami slip and fall accident lawyer will now handle any further communications. This enables you to work on your recovery and not be concerned with insurance company adjusters trying to contact you.
There is no particular length of time to settle a claim against an insurance company for injuries sustained in a trip and fall, slip and fall or a premises liability accident. If your injuries are of a serious nature, the Miami premises liability lawyer representing you will want to make sure they have all the medical reports, medical bills and proof of lost wages in evaluating your case for full recovery.
At Wolfson & Leon, our Miami slip and fall attorneys can help you proceed to pursue financial compensation from any responsible property owner, retail store, dining establishment or public agency who might be responsible for your injury. Call us at (305) 285-1115 to set up a free consultation with a Miami slip and fall accident attorney.
The Miami Personal Injury Lawyers at Wolfson & Leon represent people injured in all aspects of personal injury and wrongful death including: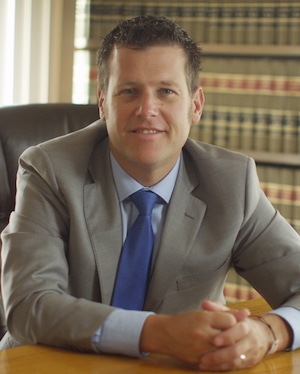 Wolfson & Leon in Miami has been helping personal injury clients and the families of wrongful death victims for over 55 years. Jonah Wolfson is a bilingual personal injury attorney in Miami and is available to speak to you now.
Wolfson & Leon also represents slip and fall accident victims in Hialeah-Miami Lakes, Coconut Grove, Palm Beach, Delray Beach, Allapattah, Homestead, The Roads, North Miami Beach, Kendal, Westchester, Riverside, Tamarac, North Beach and other cities throughout South Florida.
FAQ
How Do I Find the Best Slip and Fall Lawyer in Miami?
Your choice of an attorney is important. That decision can have a huge impact on the amount of compensation you ultimately receive. Insurance companies know which lawyers will go to trial and who will not. That information influences the amount an insurance company will offer for your injuries. However, insurance companies do not base their evaluations on how much a law firm spends on advertising - and that is why you shouldn't make an attorney selection solely because that law firm has a lot of commercials. Now they might be great lawyers but the only thing you know is that they spent a lot of money on advertising. Better yet, look at the lawyer's website and find the reviews of previous clients. Speak with the lawyer and trust your instincts. But be an informed consumer and make sure you believe in the personal injury attorney you select.
Who Can Be Responsible for a Slip and Fall Accident?
Finding the responsible person or company for a slip and fall accident can be a challenging question. Potential defendants in a slip and fall accident may include the property owner; the person or company leasing the property; or it could be a cleaning company. Some property leases make the renter responsible for all personal injury claims. In some cases, the renter hires a cleaning company and as part of the lease, the cleaning company must have insurance in place to cover any claims that arise within the scope of their work such as slippery floors. Determining the defendants that should be held accountable for slip and fall injuries often requires a lawsuit to be filed so that the true party in interest can be sued. This is just one of the reasons why it is important to get a Miami slip and fall lawyer to help you.
What Should You Do Right After a Slip and Fall Accident?
First, make sure you don't get hurt any further. Second, ask for a manager. Third, ask for an ambulance if necessary. Fourth, use your cell phone to take photos and videos of what caused you to fall. You can also get witness contact info by exchanging texts with anyone who may have seen what happened. You are at the scene and at that moment, you are your best hope to gather evidence that can lead to the compensate you deserve. Lastly, call the best slip and fall lawyer you can find in Miami. Your attorney can put the property owner or manager on notice to save and maintain any video that may have taped your slip and fall. You can also ask the manager to take a report and ask the manager to save any videotape of your fall. If a company or manager gets rid of a video, that company can be subject to sanctions once a lawsuit has been filed.
What Are Common Injuries Caused by a Slip and Fall?
Slip and fall accidents can result in serious and significant injuries. Considering the mechanics of an unexpected fall, it is reasonable to expect significant harm. Each year, more than one million people go to emergency rooms and urgent care facilities for injuries caused by slip and falls. Injuries can include:
Traumatic Brain Injury (TBI)
Fractures of elbows, knees, shoulders or the spine
Torn ligaments or muscles
Sprain and strain of soft tissues in the neck and back
Facial injuries including fractures
Slip and fall injuries often require immediate medical attention from fire rescue and at an emergency room. In a number of cases, surgery becomes necessary. This is another reason why a Miami slip and fall attorney can help you to gather all the evidence and present your case to the insurance company for settlement, negotiation or the filing of a lawsuit when necessary.
---
CALL NOW TO SPEAK TO A LEGAL PROFESSIONAL (305) 285-1115
or click here to submit your personal injury questions.