Cabo Flats & Cantina Injury Lawyer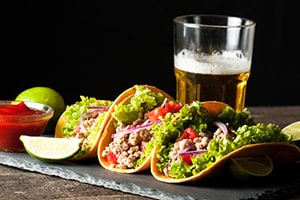 If you suffer any kind of injury at any Cabo Flats restaurant in Florida, then you would be wise to speak with our Fort Lauderdale accident lawyers at Wolfson & Leon. We offer free consultations and have done so since 1963. We will discuss your Cabo Flats accident and injury as well as your options going forward. Call us today at (954) 530-3918.
Cabo Flats Restaurants
Cabo Flats is a small chain restaurant that opened in 2010. Florida is their home base, where all their restaurants are located. Cabo Flats operate in:
Delray Beach
Dolphin Mall in Miami
CityPlace Mall in Doral
Jupiter
West Palm Beach
That is the newest place to go for many Mexican food lovers in South Florida. They say they are "dedicated to serving their guests the finest Mexican food and drinks from the freshest local ingredients at a reasonable price."
Cabo Flats is extremely proud of their main asset - Chef Antonio. Well-educated and with great international experience, nowadays, he puts all his efforts into developing this small restaurant chain. Cabo Flats is also proud of its charity program. As they say, since 2011, they helped generate more than $300,000 in charity contributions. Money from donations is spent for various causes in areas surrounding their restaurants.
Cabo Flats Injuries
Aside of the best intentions of Cabo Flats management and staff, their restaurants are not immune to the most common restaurant accident risks. They are getting more and more popular, meaning that more and more people visit their premises. The busier a restaurant gets, the more food and drinks that need to be served. This results in more patrons being taken care, the staff becoming busier and an unfortunate increase for an accident to happen due to negligence. With the countless drinks and trays of food being catered to guests, there are many ways a hazard could result in accident with injuries. Our South Florida restaurant accident lawyers have seen over the years what the most common reasons that could lead to personal injury at Cabo Flats including:
Slip and fall accidents due to slippery floors at Cabo Flats. Customers sometimes spill liquids on the floor, and it is restaurant's duty to keep it clean and safe for other customers. They have to keep floors safe from slipping after cleaning them as well. Slippery floors warning are obligatory to inform visitors of potential risks.
Trip and fall accidents due to debris and garbage on Cabo Flats floors.
Food poisoning in Cabo Flats. Allergic reactions when you haven't been warned about allergens in food served at Cabo Flats. When you order a dish with many ingredients, the restaurant is obliged to inform you what allergens can be found in it.
Foreign objects in food in Cabo Flats.
Pedestrian accidents in a Cabo Flat parking lot.
Car accident in a Cabo Flats parking lot
Accidents due to improperly maintained entrance and exit doors. These have to be clean all of the time. Sometimes people suffer injuries when they slip and fall due to improper maintenance of restaurant entrance and exit doors.
Negligent security at Cabo Flats
Florida Restaurant Accident Lawyers Helping People Injured at Cabo Flats
Cabo Flats is responsible under Florida premises liability laws to provide a reasonably safe environment for its guests. There are minimum standards that Cabo Flats, as any other restaurant, must fulfill. If they fail to do so, they commit a breach of their duty and are liable for any personal injury that occurred due to their negligence. In case that happens to you or your loved ones, make sure you call a Florida injury lawyer to discuss the circumstances of your case and determine if there is a viable path to claim damages and make a financial recovery for your damages following your Cabo Flats accident.
Call our Fort Lauderdale personal injury attorneys now for your free consultation at (954) 530-3918. Our bilingual personal injury legal team is standing by to answer your questions. Don't delay – call now.