Target Accidents and Injuries
Target Injury and Accident Lawyers in Miami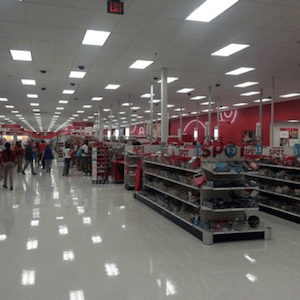 If you were hurt at a Target Store in Miami, you need to contact the Target accident lawyers at Wolfson & Leon in Miami. We can help you get the justice you deserve. We are available 24/7. All you have to do is call (305) 285-1115 for your free and confidential consultation.
Miami Target Stores
Target operates nine stores in Miami which are strategically placed throughout Miami-Dade County. Some of these stores operate as a Super Target. These are similar to Walmart Supercenters.
In addition to the usual Target offerings, these Super Target Stores often include a full grocery store, Starbucks, Taco Bell Express, portrait studio, bank, Pizza Hut Express and opticians. Target no longer offers garden centers which closed in 2000 due to its inability to compete with Walmart.
The Target Stores in Miami include:
Aventura Target, 21265 Biscayne Boulevard, Aventura Florida 33180
North Miami Target 14075 Biscayne Blvd, North Miami Beach, FL 33181
Miami Lakes Target, 5601 NW 183d Street, Miami Gardens, Florida 33055
Dadeland Station Target, 8350 South Dixie Highway, Miami Florida
Bird Road Target, Tropicaire Shopping Center, 7795 SW 40 Street, Miami, FL
Kendall Target, 15005 SW 88 Street, Miami, Florida 33196
Hialeah Target, 1750 W. 37 Street, Hialeah, Florida 33012
Miami Central Midtown Target, 3401 North Miami Avenue, Miami, FL 33127
Flagler Target, 10101 W. Flagler Street, Miami, FL 33174
Target Accident and Injury in Miami
Target offers clothing, shoes, electronics, toys, home furnishings and hardware. Super Target Stores sell produce and grocery items. But folks get hurt in these Target stores. Target accidents and injuries in Miami can include:
Super Target Slip and Fall Accidents in Miami
Miami Trip and Fall Accidents in Target
Target Premises Liability Claims in Miami
Miami Parking Lot Accidents at Super Target
Target Wrongful Death Claims in Miami
Negligent Security at Target Store in Miami
Assault and Battery at Miami Super Target Store
False Imprisonment at Miami Super Target
Personal Injuries at Miami Target
Target Car Accidents in Miami
Premises Liability Injuries at Miami Target
Target Pedestrian Injuries in Miami
Miami Target Shopper and Customer Accident and Injuries
If you were injured in a Target store in Miami, it is extremely important that you get the advice and guidance you need from an experienced personal injury lawyer in Miami. Target, like most major retailers, spend considerable time and money in the defense of injury claims. If you have medical bills, lost wages and other damages it is up to you to prove your case. You could of course handle your own injury claim, but truthfully, the deck is stacked against you.
Target Surveillance Systems
Target uses an extensive surveillance system in all of its stores. The main purpose of these video systems is to prevent retail theft like shoplifting. It also helps to limit and prevent employee theft. Lastly, Target uses its surveillance systems to defend itself against fraudulent claims involving slip and falls, trip and falls or any other type of injury claims.
Target has cameras and surveillance systems in stores, parking lots, elevators, escalators and loading docks. If you slip and fall in a Target there is a very good chance it was caught on tape. If you are injured in a trip and fall in Target it will likely be captured by surveillance. Even if you get hurt in the parking lot of Target, your injury might be on film.
Our Miami Target Accident Lawyers know what to do when you get hurt in a Miami Target. After we agree to work together, our attorneys immediately send out a "preservation of evidence" letter to Target. We demand that they preserve any surveillance or video tapes that might exist in their possession or suffer consequences once a lawsuit is filed. Those consequences could include a negative inference against Target if we are able to prove that they had surveillance, we placed them on notice and then the "lost" it.
In the event a lawsuit is filed against Target in Miami, our injury lawyers will request a copy of the closed cable video tapes before your testimony is taken. We expect that Target will object and state that they will produce the video after your testimony. At that point we will ask a Miami-Dade Circuit Court judge to decide whether we can get the tapes before your testimony. Our Target injury lawyers have argued these very same motions on a variety of cases. We have a specific strategy that we will discuss with you before the actual hearing.
Target Accident and Injury Attorneys in Miami
Our Miami personal injury lawyers can help you with your Target accident and injury. We offer bilingual representation and free consultations. We work on a contingency basis which means you do not owe any fees unless we recover for you. All you need to do is to contact us at (305) 285-1115 and let us get to work on your Miami Target injury accident case.