Lowe's Accident Lawyer in South Florida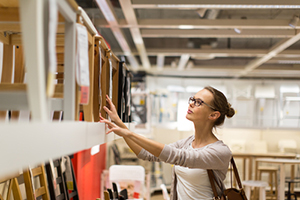 If you were hurt at any Lowe's Home Improvement Stores, then you should, at a minimum, speak with a Lowe's accident attorney in South Florida. At Wolfson & Leon, our South Florida Lowe's accident and injury lawyers are ready to help you. In fact, our attorneys have helped injured victims of negligence for more than 55 years and they can answer your questions at no charge. If you suffered an injury at Lowe's, then call us at (855) 982- 2067 for your free consultation.
Going to Lowe's usually creates excitement for customers. After all, visiting their warehouses means improving your home. Choosing the right product is an adventure itself for the do-it-yourself homeowner. Walking around those high aisles packed with plenty of various merchandise can be a great experience. There is a plethora of merchandise that is housed within a Lowe's store. This hardware can range from simple light weight items, up to the heavy-duty power tools and appliances. However, this same merchandise you are perusing through, could potentially cause an injury.
As you walk the many aisles, each one could pose its own potential hazard. Some hazards could be merchandise becoming loose that could fall on your head, or you could unsuspectingly slip and fall on sawdust that was not properly cleaned up. In those situations, Lowe's in South Florida maybe liable under Florida liability laws. According to these rules, Lowe's is responsible for any damage that occurred on their premises caused by their negligence. This negligence could be the result of insufficient safety parameters, improper use of equipment or the lack of awareness from an individual employee. Lowe's is responsible to ensure these situations do not occur as they are legally bound to protect you while you are in their stores.
Should you slip and fall, or an object falls on you cause serious injuries, you have the right to seek compensation for those damages. If you or your loved ones happen to suffer in a Florida Lowe's accident, call a Lowe's accident lawyer in South Florida.
Lowe's is one of the world's largest chain stores of retail home improvement and appliances stores. It is a Fortune 500 company. They operate over 1800 stores all around the world, more than a few of them in South Florida. It's a very popular place for shopping for homeowners who enjoy building and fixing stuff around their homes. The shelves are full of various merchandise that would make one a successful do-it-yourself householder.
Florida Lowe's Accidents
Accidents causing personal injuries can occur anywhere, and they happen in Lowe's as well. The most common include:
Lowe's slip and fall accidents due to slippery floors
Lowe's slip and fall accidents due to uncleansed sawdust
Slip and fall accidents due to uncleansed entrances at Lowe's
Lowe's trip and fall accidents due to debris
Unsecured merchandise at Lowe's
Falling merchandise at Lowe's
Lowe's forklift accidents causing personal injuries
Accidents due to improperly maintained entrance and exit doors at Lowe's
Accidents due to wrongly put or missing floor mats at Lowe's
Lowe's Accident Attorney in South Florida
Slip and fall accidents happen at Lowe's and similar stores. Call the Florida slip and fall lawyers at Wolfson & Leon and get your free consultation. We will let you know what you need to do next. There is no downside for you, since you don't pay us anything until we recover damages for you and all consultations are free - so there is no reason to not call if you had accident at Lowe's store in Florida. Call us at (305) 285-1115 and let's discuss your options after your Lowe's accident.
Our Lowe's accident attorneys in South Florida are available to provide bilingual personal injury representation anywhere in Florida including in the communities of Pembroke Pines, Southwest Ranches, Hialeah, Sunrise, Oakland Park, Miami, Hialeah, Coral Springs, Fort Myers, Davie, Boca Raton, Royal Palm Beach, West Palm Beach, Fort Lauderdale, Boynton Beach, Naples and Stuart.