Home Depot Accident Lawyer in Florida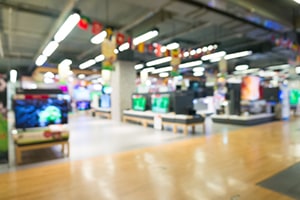 One may reasonably expect not to get an injury while shopping at Home Depot, but accidents happen all the time. There are people who went there to get new things for themselves and their home, but they ended up seeking for medical help.
Most common accidents include falling object on shoppers and falling on slippery floors. When that happens in the Sunshine state, make sure you contact the best Florida Homer Depot injury lawyer you can find. He or she will help you figure out if Home Depot is liable for your injuries and if you can recover damages.
At Wolfson & Leon, our Florida Home Depot accident lawyers are available to answer your questions. Just call us at (305) 285-1115 for your free consultation. We have helped injured people since 1963 and we are ready to help you too.
Home Depot Facts
Home Depot is a great place to shop when you want to fix or build something in your home. With over 2000 stores in the US alone, their stores are easily accessible for everyone. It's obviously the first place you would think of when you need to construct or fix something around your house.
Home Depot offers a huge variety of home improvement products for competitive prices. Little wonder, they attract thousands of visitors every day. However, all these visitors are at risk in those massive stores stocked with plenty of heavy objects. The warehouse vibe that makes Home Depot very successful poses dangers to their shoppers. Although they take care of how they arrange the products, many of them are potential cause for injury, especially when placed overhead.
In addition, Home Depot shoppers are at risk of falling. There can be garbage and debris in warehouse stores, and it's not unusual for someone to slip and fall due to that. Cleaning it, though, leaves slippery floors and just keeps the risk of slipping and falling present.
Premises Liability Laws and Home Depot
Home Depot, like any other store that invites buyers into their premises to buy products, is liable under premises liability laws. That means they are bound to reasonable protection of the shoppers who are in their store. Any improper action or negligence by Home Depot that leads to someone being injured while shopping therein is a breach of that duty. It makes them liable for the breach and responsible for paying for any damages caused by their negligence.
Home Depot Injuries
There are several kinds of personal injuries that might occur in a Florida Home Depot store. This list includes, but is not limited to:
Slip and fall accidents in a Florida Home Depot store
Trip and fall accidents due to garbage and debris in the store or in the Home Depot parking lot in Florida
Personal injuries due to unsecured merchandise in a Florida Home Depot store
Inadequate storing and securing of overhead objects in a Florida Home Depot
Personal injuries caused by falling of improperly secured objects in a Florida Home Depot store
Personal injuries caused by negligence of Florida Home Depot forklift operator
Accidents due to improperly maintained entrance and exit doors at a Florida Home Depot
Personal injuries caused by slippery conditions in Home Depot parking lot
Pedestrian injury in Florida Home Depot parking lot
Accidents due to negligent placement or missing floor mats at a Florida Home Depot
Home Depot Accident Attorneys in Florida
When some of these Home Depot accidents happen to you or your loved ones, make sure you talk to Florida personal injury attorney. That's the best decision you can make after such a bad incident. It may be unwise to deal with skilled Home Depot legal department yourself. At a minimum, call the Florida Home Depot accident lawyers at Wolfson & Leon for your free consultation at (855) 982-2067.
Our Florida Home Depot personal injury lawyers serve throughout the state of Florida including Miami, Tampa, Cape Coral, Orlando, Lehigh Acres, Jacksonville, Golden Gate, West Palm Beach, Estero, Naples, Bonita Springs, Clearwater, Lee County, Sarasota, Collier County, Fort Myers, Key West, Tallahassee, St. Augustine and Fort Lauderdale.
We have offices in Miami, West Palm Beach, Fort Myers and Fort Lauderdale. We can see you by appointment or we can come to you. We can also provide your free consultation by phone, text, facetime, Skype or email. You can reach us toll-free at (855) 982-2067 or at our Miami office at (305) 285-1115. You can also call our Fort Myers Home Depot accident lawyers at (239) 777-9954. All consultations are free, so you have nothing to lose by calling and at the very least, get the answers to your questions following your injury at Home Depot.