Walmart Accident Lawyer in Florida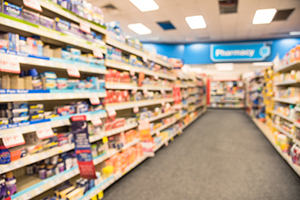 At the Wolfson Law Firm, we know that Walmart floors always shine. They were meant to impress customers, make them feel comfortable and spend more money, but they also bring certain risks for Walmart. Shiny floors are often slippery and can bring you down causing a serious slip and fall injury.
It's not unusual to suffer injury from falling objects as well. When retail stores decide on where to place merchandise, they prioritize buying psychology over customer safety. That is why stores like Walmart keep placing heavy merchandise on high shelves. Unfortunately, those heavy objects sometimes fall on customers and cause them variety of injuries.
Walmart keeps doing this even though they are liable for injuries due to their negligence under premises liability laws. Simply put, they are liable for any injury caused by their negligence while customers are on their premises. Enter Walmart shiny floors. Walmart is obliged to keep their shiny floors safe for customers, so if there is any liquid spilled on the floor, it's their responsibility to take it away. Should they fail to do that, they could be liable for any damages caused by that spill.
Call our Florida Walmart accident lawyers today for your free consultation at (305) 285- 1115 if you suffered any kind of injury at a Florida Walmart.
Facts About Walmart
What started as a local store in Arkansas in 1962 is today is a huge chain market that has expanded in all 50 states, including Florida. Walmart is the largest brick and mortar retail store in the United States. Their competitive prices, convenient locations and good marketing made them one of the favorite shopping places for Americans. However, price is not the only thing falling in the Walmart. People and objects fall there sometimes too.
Injuries in Walmart Stores in Florida
Our Walmart accident lawyers in Florida have seen various personal injuries caused by Walmart negligence. Some of these are:
Slip and fall injuries at Walmart in Florida
Florida Walmart Trip and fall injuries
Food poisoning from improperly stored food products sold by Walmart
Cuts and lacerations from poorly managed Walmart shopping carts
Wrongly put or missing floor mats at Florida Walmart
Improperly maintained entrance and exit doors at Florida Walmart
Pedestrian injuries in Walmart parking lots in Florida
Car accidents in in Florida Walmart parking lots
Motorcycle accidents in Walmart parking lots in Florida
Unsecured merchandise in Walmart
Falling merchandise in Florida Walmart
Walmart Accident Lawyers in Florida
If any of the aforementioned accidents happen to you and you've ended up with injuries, be wise and call our Walmart accident lawyers in Florida. We have helped in jury victims since 1963 and we are ready help you too. Our consultations are free.
Accidents can take you by surprise as they are accidents and unplanned. As simple as an accident can be, the damages it could cause could have ripple effects across many aspects of your life. If you are injured from an unexpected accident, you could incur unplanned costs and medical bills that would affect the rest of your life responsibilities. The possible inability to work and make a living would make this situation that much worse.
Whether you need Florida slip and fall lawyers or an attorney that could handle any other personal injury issue with Walmart, you don't pay a dime until we recover your damages for you. There is no downside for you in the battle against a giant like them, so don't hesitate to contact us at (855) 962-2067 for your free consultation. We can see you at any of our offices in Fort Lauderdale, Miami, West Palm Beach and Fort Myers. You can reach our Fort Myers Walmart accident lawyers directly at (239) 777-9954.
Our Florida personal injury lawyers proudly and humbly serve throughout Florida including the localities of Miami, Cape Coral, West Palm Beach, Lehigh Acres, Fort Lauderdale, Lee County, Collier County, Key West, Orlando, Naples, Golden Gate, Sarasota, Estero, Tampa, Clearwater, Fort Myers, Jacksonville, Gainesville, Tallahassee and St. Augustine.