Florida Affordable Housing Accident Lawyer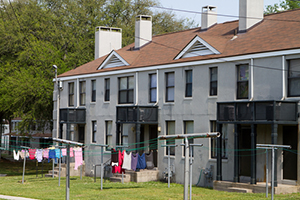 If you were injured in a Florida affordable housing complex, then you should speak with a Florida affordable housing accident attorney as soon as possible. Your potential claim for damages is limited by time and an appropriate investigation needs to take place quickly before evidence is lost and witnesses disappear. At the Wolfson Law Firm, we can help. In fact, we have helped injured victims in Florida since 1963. Call us right now for your free consultation at (305) 285-1115.
Florida Affordable Housing
Florida is one of the most populated US states. Although 22nd by area, it is the third most populous state with 21 million inhabitants and the eight most-densely populated one. About two-thirds of the state occupies the beautiful peninsula between The Gulf of Mexico and the Atlantic Ocean. Widely known as the Sunshine State due to the wonderful weather, it is one of the most popular tourist destinations of America. The booming of tourism itself in early 20th century fueled local economy and created a development spiral that made Florida fourth economy in the country.
The Sunshine State is a paradise for spring breakers, sunbathers, and gamblers who want to spend some time there for entertainment. The number of those who want to stay there for good is not small either. Longtime considered the Promised Land for American retirees, nowadays, people from all ages and nationalities seek for their happiness in Florida. Not everyone has the best of luck, however, as some of them must use governmental subsidies for paying the rent.
For them, there are 2,167 low-income housing complexes in Florida. They contain 254,391 affordable housing apartments, many of which are income-based. Aside of these, there are other 176,844 apartments that are not subsidized, but are still considered low-income housing apartments. These include:
apartments are in Section 8 complexes,
supportive housing for the elderly
supportive housing for disabled people
public housing complexes
The largest affordable housing complexes include:
Cordoba Courts
Samari Towers
College Gardens
Windsor Park Apartments
Florida Affordable Housing Injury Attorneys
If you happen to have suffered personal injuries at a Florida affordable housing complex, call our Florida affordable housing accidents attorneys for help. Maybe your first thought was that your injury was your fault, but chances are it was not. If your case meets certain legal standards, someone else or a corporation could be legally responsible for your harms and losses. We will help you investigate the circumstances of your case and see if you can claim damages from the affordable housing complex property owner or some other responsible party.
Affordable Housing Complex Liability
If you were injured at affordable housing property, then the landlord could be liable for your harms and losses. Under Florida premises liability regulations, landlords owe tenants and their visitors a duty of care. That means having an obligation to provide reasonable care for preventing any events that could lead to personal injuries. When landlords breach this duty, and that causes injuries, they can be held liable by the law. They may have to pay for your medical bills, disfigurement, scarring, permanent disability, mental health treatment, lost wages, and other expenses arising from the sustained injuries.
Landlords can breach their duty of care due to negligence in many ways, the most common failures include:
Failure to anticipate accidents. They happen everywhere and all the time. It is naive to think that your place is accident-proof.
Failure to provide proper security. This is very important when it comes to injuries caused by criminal assaults. Installing alarms and cameras could discourage offenders from committing crimes.
Failure to provide proper maintenance of premises. The simplest accidents happen due to improper lighting, broken elevators and stairs and slippery floors.
Failure to stay compliant with the disability rights laws. Rules are clear and not being compliant with them regularly causes even greater pain to disabled persons.
It is important to mention that when personal injuries are caused by criminal attacks, the assailant is liable as well. Claiming damages from him or her is possible but in most cases, they have no assets. Miami crime victim lawyers at the Wolfson Law Firm may be able to build a case for negligent security against the particular affordable housing owner and operator.
No matter who caused your injuries, if the affordable housing property owner breached the duty of care, they may be liable. It does not matter if someone else is liable as well. If the affordable housing owner could have reasonably done something differently to prevent your injuries, you may be entitled to collect compensation for your harms and losses. In that case, you can seek damages recovery from him, but you will need to prove certain facts:
That you have suffered a personal injury at affordable housing premises
That the landlords owed a duty of care to you
That the landlord breached the duty of care due to negligence or wrongful act
That the injury could have been prevented if the landlord wasn't negligent
Florida Affordable Housing Accidents
As with any other venue managed by people, Florida affordable housing complexes are vulnerable to events that end up with personal injuries. Some property owners try to do their best to protect tenants and visitors, other do not bother too much, but both the first and later make mistakes that lead to injuries. In their working experience, our Florida affordable housing injury attorneys have seen many cases of people suffering from injuries sustained there. The most common of these are:
Florida affordable housing trip and fall accidents. The duty to keep common areas clean means keeping them free from garbage and debris that could cause tripping and falling.
Florida affordable housing slip and fall accidents. Floors of common premises must be clean. Liquids that could potentially hurt anyone are not allowed.
Florida affordable housing car accidents.
Florida affordable housing motorcycle accidents.
Florida affordable housing Uber accidents.
Florida affordable housing Lyft car accidents.
Florida affordable housing crime victim compensation. Landlords must take all the reasonable measures for preventing foreseeable crimes in affordable housing complexes under their control.
Florida affordable housing sexual assault crime victim lawyer. Security must be on maximum level to prevent sexual assault
Florida affordable housing robbery victims' rights lawyer.
Florida affordable housing assault victims' rights attorney.
Florida affordable housing shooting victims' rights attorney.
Florida affordable housing negligent security injury and wrongful death claims. Negligent security put everyone's health and life at risk.
Florida affordable housing elevator accidents. Elevators can be very dangerous if not properly maintained and safe.
Florida affordable housing parking lot accidents. Parking lots that belong to affordable housing complexes have to be maintained properly.
Florida affordable housing ADA violations causing injuries. Respecting disabled persons' rights is obligatory for affordable housing providers.
Florida Affordable Housing Personal Injury Lawyers
At the Wolfson Law Firm, our Miami personal injury lawyers are available to answer your questions free of charge if you were injured on an affordable housing property anywhere in Florida. We can listen and provide you with potential plans and strategies to recover compensation from all responsible parties. We never charge a fee unless we first make a recovery for you. Call us at (855) 982-2067 for your free consultation. We serve clients throughout Florida including Miami, Tampa, Orlando, Gainesville, Tallahassee, Jacksonville, Fort Lauderdale, West Palm Beach, Key West, Naples, Fort Myers, Sarasota, Clearwater and Daytona Beach.