PF Chang's Accident Lawyer in Florida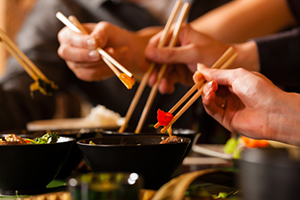 If you were seriously injured at any PF Chang's restaurant in Florida, then you should consult with the best Florida personal injury lawyer you can call to find out about your legal rights. It is vitally important that you get the answers to all of your inquiries. At Wolfson & Leon, our PF Chang accident attorneys in Florida offer confidential consultation at no charge. Just call us at (855) 982-2067 and let us answer your questions for free.
PF Chang's Accidents
Asian flavors of PF Chang's menu certainly don't remind you of broken wrists, head injuries and back pain, but there are people who went there for the flavors and ended up with injuries. Accidents are part of life. They happen often in restaurants, and PF Chang's is not an exception. These restaurants are always busy and can serve hundreds of guests per day. With the many trays being shuttled through the dining room, the countless sauces being brought to each table and the many drinks carried back and forth, it is no wonder accidents happen. If you or your loved ones have suffered personal injury there, call our PF Chang's accident lawyers to get legal advice on what are the first few steps that you need to take. That one call is often the difference between contested claim and recovered damages.
Facts About PF Chang's
PF Chang's operates over 200 restaurants in the United States and 100 in other parts of the world. Every single customer who enters their premises is protected under premises liability laws. When it comes to PF Chang's in the Sunshine State, Florida liability laws obliged PF Chang's to provide reasonable protection to all the customers who are in the restaurants. That means that the restaurant must respect certain standards when it comes to its visitors' safety, and any breach of those standards can make them responsible for any damages occurred. When that damage happens to you, make sure you hold PF Chang's responsible. If you don't know how, just call our PF Chang's accident attorneys to get an idea and possibly representation. Our consultations are free. You won't pay a dime until we recover damages for you.
Types of Injuries at PF Chang's in Florida
Personal injuries occurring in PF Chang's restaurants don't differ from those at other restaurants. When people get injured there, the reasons usually involve:
Slip and fall accidents due to slippery floors at PF Chang's
Trip and fall accidents due to debris at PF Chang's
Food poisoning in PF Chang's
Allergic reactions where PF Chang's failed to warn about allergens in food
Foreign objects in food in PF Chang's
Pedestrian accidents in a PF Chang's parking lot
Car accident in a PF Chang's parking lot
Accidents due to improperly maintained entrance and exit doors at PF Chang's
Call a PF Chang's Accident Attorney
Don't hesitate to call us when you and your loved ones' dining experience turned into a nightmare due to PF Chang's negligence. You have the right to recover the damages that you've suffered. If you've paid expensive medical bills and lost wages due to a restaurant's irresponsibility, you should seek justice. Call us for free consultations. Let's talk about your accident and decide on a plan for action. Let the Florida personal injury lawyers at Wolfson & Leon act on your behalf. Call us now at (305) 285-1115 in Miami; Fort Lauderdale at (954) 530-3918; or at (239) 777-9954 in Fort Myers or toll-free at (855) 982-2067 and let's get to work on your PF Chang's accident case.
At Wolfson & Leon, our personal injury lawyers have helped victims of restaurant negligence since 1963. We serve the entire state including Key West, Miami, Miami Beach, Aventura, Hollywood, Fort Lauderdale, Boca Raton, West Palm Beach, Sunrise, North Miami Beach, Palm Beach Gardens, Naples, Golden Gate, Sarasota, Lehigh Acres, Fort Myers, Cape Coral, Orlando, Bonita Springs, Winter Park, Estero, Tampa, Sanibel, Clearwater, Marco Island, Jacksonville, Lee County, Collier County, Miramar Beach and Daytona Beach.