Convenience Store Injury
Miami Personal Injury Attorneys and Convenience Store Injury Accidents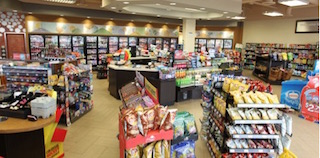 The Personal Injury Lawyers at Wolfson & Leon in Miami have represented many clients who were injured in and around convenience stores. If you or someone you love was injured in a convenience store and have questions, you should call the convenience store injury attorneys and get the answers you need and deserve. All you need to do is call Wolfson & Leon at (305) 285-1115 for your free consultation.
Convenience stores have been a part of American life for a very long time. In years past, these stores were like miniature supermarkets but more "convenient". The store 7/11 originally got its name for being open from 7 am until 11 pm. Now most convenience stores are open 24 hours a day, 7 days a week and 365 days a year. The product offerings have expanded to hot food, beer, wine and even household items. Many convenience stores are part of a gas station operation. The number of pedestrians and customers in your average convenience store is easily in the tens of thousands each year. That also logically increases the chances of injuries.
Causes of Convenience Store Accidents
Our Miami personal injury attorneys have investigated convenience store accidents and injuries over the last six decades. Here are some of the usual causes of convenience store injuries:
Slip and Falls inside, and outside, of convenience stores
Trip and falls in the aisles and parking lots of convenience stores
Intentional injuries caused by convenience store employees
Criminal assault and battery where the convenience store failed to have proper security
Accidental and intentional death because of negligent security by the owners of the convenience store.
If you or your family were injured in a convenience store in Miami, your personal injury lawyer will need to perform an aggressive and thorough investigation. That process will include locating and preserving surveillance tapes; analyzing crime grid statistics; interviewing of witnesses; and most likely the hiring of specific experts.
The convenience store personal injury lawyers at Wolfson & Leon have investigated these types of cases. Our firm will advance the costs of the investigation and the experts necessary to prove your case. Our lawsuit and litigation lawyers in Miami will charge you a fee unless you recover.
Common Convenience Store Injuries
Our Miami convenience store injury attorneys have worked side with physicians and the other experts who help our clients recover from injuries sustained in gas station convenience stores. Common store injuries include:
Neck and back injuries
Broken legs, ankles wrists and hands
Traumatic brain injuries from head trauma
Shoulder injuries and torn rotators cuff tears
Lacerations and scarring
Whatever type of injury you have, make sure you get the appropriate medical care. If you aren't sure then it is best to get it checked. Once your medical emergency is stabilized, you should call your Miami personal injury lawyer for help with your claim for convenience store injuries. Be a smart consumer too. Make sure you are comfortable with the team of professionals you choose to help you pursue full, fair and complete compensation. That means you should be certain that you are with the right doctors and personal injury attorneys.
Wolfson & Leon welcomes and encourages you to review our qualifications and our recent cases. Call us for a free consultation. Allow us to help you understand what you should know about slip and fall accidents and what you should do following after an accident. We are more than happy to do all of that as part of our free consultation. Just call us at (305) 285-1115 and schedule your free consultation today.
Injury Lawyers in Miami Helping Convenience Store Injury Victims
The accident injury lawyers at Wolfson & Leon are here to help you from the first call until your case is resolved by settlement or jury verdict. Our personal injury team is ready to serve you and your family. We offer bilingual injury legal assistance including our Managing Attorney Jonah Wolfson who is a bilingual personal injury lawyer in Miami.
Our firm will handle your case from beginning to end. We understand that you want your case resolved quickly but fairly. That is why we set strict deadlines for insurance companies to respond. Once we are in litigation, we seek the earliest trial date possible. We do this so that you can receive the justice you deserve without hesitation because justice delayed is justice denied.
Over the last 55 years, the Miami personal injury lawyers at Wolfson & Leon have guided folks through their injuries, claims and recoveries. The firm serves the neighborhoods and communities of Florida including Weston, Doral, Aventura, Coconut Grove, Fort Lauderdale, Westchester, Wilton Manors, Edgewater, Pembroke Pines, Hollywood, West Palm Beach and Hollywood.
---
CALL NOW TO SPEAK TO A LEGAL PROFESSIONAL (305) 285-1115
or click here to submit your personal injury questions.