Miami Accident Attorney for Intercontinental Hotel Accident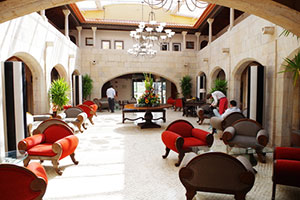 The InterContinental Hotel Group is a global conglomerate that operates over 5,000 hotels across the world. With well-known brands such as InterContinental, Holiday Inn, Staybridge Suites, Candlewood Suites, and Holiday Inn Express, the company serves customers seeking rooms that range from middle-tier to high-end accommodations. Several InterContinental Hotels are scattered throughout the South Florida area. These hotels offer higher-end rooms, stunning views, and plenty of relaxing activities perfect for Florida weather. Take a dip in the pool, lay out in the sun, or have a quick snack at the outdoor café.
Many InterContinental hotels feature multiple dining experiences. Many of their hotels offer specialty bistros, casual restaurants, and outdoor cafes, along with room service. Whether ordering a burger or filet mignon, hotels have a responsibility to ensure that the food served was properly prepared and safe to eat. We don't expect to get sick when we eat at a hotel restaurant or ordering room service. However, when hotel restaurants do not follow the proper food safety guidelines, this can lead to guests getting sick with food-borne illnesses or food poisoning. If you have been a victim of a food-related injury while staying at a hotel, find out what your rights are. Contact Wolfson & Leon at (305) 285-1115 for a free consultation.
Food Injuries at a Hotel
The Center for Disease Control estimates that 48 million Americans will fall sick from a food-bourne illness. Food that is stored, prepared, or cooked improperly can lead to illness. Germs and bacteria, such as the norovirus, salmonella, and staphylococcus aureus (commonly known as Staph) can be transmitted to the food that we eat if it is not handled or cooked properly. Cooking boards that are used to cut raw meat or poultry can cause other food to become infected if they are not properly cleaned before reusing them. Kitchen utensils, such as knives, should be washed thoroughly after cutting raw fish, poultry, or meat. Failure to do so can transfer dangerous bacteria to other foods. Failing to wash hands can also result in dangerous viruses, germs, and bacteria to infect the food that we eat. Cooking meat and poultry at temperatures that are not high enough to kill bacteria or germs can cause us to get sick.
Under premise liability, hotels have a responsibility to ensure that the food served at their restaurants and through room service is properly handled and prepared. However, when food safety protocols are not followed this can cause us to get sick. We may experience stomach cramps, vomiting, or nausea, as well as other symptoms.
For most adults, these symptoms may take anywhere from 6 to 24 hours to get out of our system. Food illnesses can turn serious in children, women who are pregnant, and the elderly as they may have weaker immune systems that can't fight off dangerous bacteria and germs. People with serious medical conditions, such as diabetes, HIV/AIDS, and other diseases may also develop dangerous food-bourne illnesses that could require hospitalization. High fevers, dehydration, or diarrhea that lasts for more than three days may require immediate treatment.
Hotel Food Injury Accident Law Firm
Whether you are visiting a hotel for business or pleasure, the last thing you expect to happen is to get sick during your stay. For most of us, contracting a food-bourne illness is nothing more than an inconvenience, albeit a painful one. For others, however, serious or fatal injuries can occur due to improperly prepared or cooked. If you or a family member is the victim of a food-bourne illness, you may be able to receive compensation to cover high medical bills and lost wages. To find out what options may be available to you, contact the personal injury attorneys at Wolfson & Leon. We serve hotel accident victims throughout South Florida. For a free and confidential consultation, call Wolfson & Leon at (305) 285-1115.