Lawyer for Mandarin Oriental Hotel Accident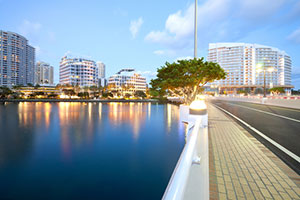 The Mandarin Oriental Hotel Group operates five-star luxury hotels throughout the world. Located in the most prominent international cities, you can find Mandarin Oriental hotels in over 30 countries. In the US, these luxury hotels are in four well-known cities: New York, Boston, Washington DC, and Miami.
Set on stunning Brickell Key, the Mandarin Oriental Hotel in Miami prides itself for offering guests a five-star experience inspired by Asian influences in décor and food. This luxury hotel has been a staple in Miami for several years. Aging hotels, however, often have older furniture and appliances. Whether intended to keep a vintage look or just to save money, furniture is often repaired by hotel staff. Even with repairs, furniture can become unstable and unsafe for use over time. Breaking chairs, collapsing tables, even broken bed frames can cause injury to guests. Furniture and equipment in common areas, outdoor patios, and restaurants can result in injuries if they break while being used. Wolfson & Leon represents victims who have been injured in hotel accidents. Contact Wolfson & Leon at (305) 285-1115 for a confidential consultation today.
Hotel accidents from Furniture
Chairs – Over time, chairs can become worn after excessive use. Weak or unstable chairs can break leaving guests to tumble onto the floor. Broken chair backs may cause wood or other materials to stick out, cutting guests or employees as they walk by. Seat cushions that have become dislodged can cause someone sliding out of the chair or tip over when they try to sit down.
Tables and dressers – Weak legs can break if a large amount of weight is placed on it. The weight of a television set can cause a table or dresser to tip over and fall on an unsuspecting child or adult. Broken dresser drawers can pinch fingers and hands as a guest tries to close them.
Bed frames – Broken bed frames can stick out from under bedspreads. These can cause scraps and scratches. Parts that stick out far enough can become tripping hazards, causing guests to fall onto other pieces of furniture or other objects on the floor.
Patio furniture – Excessive sun and heavy usage can severely weaken outdoor chairs and tables. Guests that lay out on lounge chairs or grab a quick snack at the outside café or restaurant can incur serious injury when chairs and tables break. Lounge chairs that break can be especially serious as the guest will most likely fall on their back.
Common injuries from furniture accidents include broken bones, scraps, and cuts. Falls from chairs in hotel rooms and patio furniture can cause serious injuries to the head, neck, and back.
How can a Florida Hotel Accident Lawyer Help Me?
Guests injured in hotel accidents are often visiting from other states or countries. They may be unsure of the laws and rules around accidents occurring in a hotel in Florida. A hotel accident attorney can provide guidance as to the steps you need to take if you live out of state or in another city. The hotel accident attorneys at Wolfson & Leon can help victims in many capacities including;
Broken hotel room chair injury lawyer
Cracked patio furniture accident attorney
Lawyer for unsafe bedframe accidents
Collapsing table hotel injury accident lawyer
Falling television set injury accident attorney
Attorney for injuries due to broken bedframes
Broken dresser drawer injury accident lawyer
Mandarin Hotel Injury Accident Law Firm
Guests who have been hurt from broken or defective furniture may incur high medical bills to treat their injury. Serious injuries may require further in-home treatment or physical therapy. If you have been injured as the result of a hotel accident, you have rights. The personal injury attorneys at Wolfson & Leon defend the rights of victims who have been injured through no fault of their own. For your free, no-obligation consultation, contact Wolfson & Leon today at (305) 285-1115.