Sideswipe and Merging Car Accidents
Miami Car Accident Lawyers and Sideswipe Crashes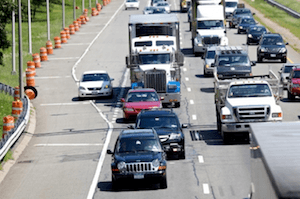 As cars in Miami move in every direction, space becomes limited. Everyone is in a rush to get somewhere and they drive like every inch counts. There is an old joke in Miami - "I am sorry I am late but the car in front of me had a bike rack". One of the more common type of serious car accidents in Miami involves lane changes and sideswipe car accidents.
The Miami car accident lawyers at the Wolfson Law Firm have represented folks injured in sideswipe, lane change and merging car accidents. Sideswipe accidents can happen suddenly and cause serious injury or even fatalities. Figuring out fault in a typical Miami sideswipe accident can be complicated because determining the responsibility of each driver requires an in-depth investigation.
Our Miami car accident attorneys use investigators and accident reconstruction experts to make sure that we get the facts upon which we can build your case. If you were involved in a sideswipe car accident in Miami and you were hurt, call the Miami personal injury lawyers at the Wolfson Law Firm for a confidential, bilingual and free consultation. All you need to do is call (305) 285-1115 and our Miami car accident lawyers and personal injury attorneys will get to work for you right away.
Causes of Sideswipe Car Accidents in Miami
Miami is a crowded and growing place. Our highways, expressways and parkways are congested at all hours of the day and night. The main roads of Miami include:
I-95
Dolphin Expressway (836)
Palmetto Expressway (826)
Gratigny Parkway
Florida Turnpike
Biscayne Boulevard
Dixie Highway
Don Shula Expressway
Sideswipe accidents can happen in a variety of ways. Our Miami car accident lawyers look for the cause of sideswipe accident to assist them in determining the cause of the auto accident. In our experience, the causes of sideswipe accidents include:
Blind Spots – Many sideswipe accidents are caused by a driver not checking before changing lanes or merging into traffic. The blind spot is that spot a driver does not see the other car in the mirrors or in their peripheral vision. The driver thinks it the lane is clear to merge or change into but it isn't. Unless the driver can alert the merging driver or brake successfully, an accident is likely to happen.


Distracted Drivers – Drivers can be distracted by other passengers or cell phones. If a driver's attention is not devoted to driving safely, then they are likely to miss the clues that they are improperly merging or even the existence of another vehicle in their path.


Drunk or Impaired Drivers – Obviously impaired drivers are a danger to us all. Drunk drivers are not in possession of their faculties. Their perception and judgement are impaired. Impaired drunk drivers can fail to correctly estimate their own abilities. These drivers are also likely to speed which can lead to serious and catastrophic injuries in a car crash.


Aggressive Driving – We all know that aggressive driving is on the increase in Miami and all throughout South Florida. Some drivers approach driving as a competitive blood sport. Our Miami car accident lawyers see the results. After distraction or inattention, aggressive driving is one of the leading causes of car wrecks in Miami.


Unfamiliarity – Miami has a lot of tourists and visitors who come from not only other states but from other countries. Everyone is comfortable driving at home. But when they are in a new location or city they may not understand the local habits, customs or even the rules of the road. Confusion is one thing but when a driver is confused at 55 miles per hour the chances of an accident increase exponentially.


Age and Experience – Young drivers lack experience but have plenty of physical abilities. Elderly drivers have the experience but can have diminished reactions and abilities. In most circumstances, younger and older drivers do fine. But when speed is involved and critical decision making is required, accidents can happen to even the best of drivers. Merging into traffic, changing lanes and making turns into oncoming traffic demand quick thinking, reflexes and experience. Sometimes sideswipe car accidents in Miami are caused by the age and experience of the drivers involved.
As stated, determining who is at fault in a Miami sideswipe accident can be complex. Most drivers believe the other driver caused the accident. Then you have the insurance companies who know the arguments and strategies to spread the fault so that they can reduce the ultimate amount that they pay. If you are involved in a sideswipe car accident in Miami, you should speak with a Miami car accident attorney.
Miami Car Accident Lawyers and Personal Injury Attorneys
At the Wolfson Law Firm in Miami, our lawyers will fight for you. We will aggressively pursue the full, fair and complete compensation that you deserve. If you were injured in a sideswipe car accident in Miami, call us at (305) 285-1115 for your free consultation. We can come to you or you can visit us at our office at 3399 SW 3d Avenue in Miami, Florida.
The Wolfson Law Firm serves South Florida including the local neighborhoods of Edgewater, Homestead, Aventura, Miami Beach, Miami Gardens, South Miami, Coral Gables, Fontainebleau, Westchester, Hialeah, Miami Lakes, Surfside, Golden Glades, North Miami Beach and Coconut Grove.