T-Bone Car Accidents and Injuries
Broadside, Side Impact or T-Bone Car Accidents in Miami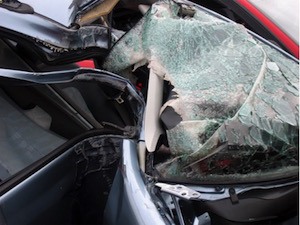 The Miami car accident lawyers and personal injury attorneys at the Wolfson Law Firm represent victims of broadside or side impact collisions in Miami. These collisions are sometimes referred to as T-Bone car accidents. Some of the most severe injuries our lawyers have seen are caused by these side impact car accidents. Unfortunately, accidental or wrongful death cases in Miami can, and do result, from these broadside car crashes.
If you suffered serious injuries as a result of broadside, T-bone or side impact car crash in Miami, our Miami personal injury lawyers and wrongful death attorneys can help you and your family. All you have to do is call us at (305) 285-1115 for your free and confidential consultation. Let our personal injury legal team in Miami assist you through these difficult times.
Common Causes of T-bone, Side Impact or Broadside Car Crashes in Miami
Anytime one vehicle strikes another in a perpendicular position it is called a T-bone or broadside accident. Our Miami injury accident lawyers have handled many T-bone car crash cases and have seen these accidents involve:
Our serious injury lawyers in Miami have seen a pattern of common causes for T-bone, broadside, or side impact car accidents in Miami. Here are the ones our Miami wrongful death lawyers and car accident injury attorneys have seen:
Steering or Brake Malfunction or Failure – This is one of the least frequent causes of T-bone car accidents in Miami but it does happen. If a driver has steering or brake failure, they may end up going into an intersection they don't intend to causing a tragic accident with oncoming vehicles. Interestingly, if the brake or steering failure was not foreseeable, the driver may not be liable for the accident. It is not negligence if a sudden and unexpected mechanical failure occurs. On the other hand, if the mechanical failure was foreseeable, the driver may be responsible for the damages caused. A garage or mechanic might also be responsible for failing to properly repair the vehicle. Your Miami car accident lawyer will need to perform an in-depth investigation to determine who, if anyone, is responsible for the T-Bone accident if someone claims mechanical failure.
Weather related T-bone car crashes – In Miami we don't have to worry about ice or snow, but we do get a fair amount of rain and on occasion, fog. Many accidents happen after a dry spell and it rains for the first time in days. That rain brings the greased and oil in the street up to the surface causing slippery conditions. It is not uncommon for a car to slide past a stop sign or red light into an intersection and causing a broadside T-bone car crash.
Drunk or Impaired Drivers – People who drive while intoxicated from alcohol or impaired from drug use place all of us at risk. Those irresponsible individuals are operating vehicle with reduced or impaired thought, sight and reflexive abilities. They fail to see traffic signals or other vehicles. They misjudge other car's location and speed. They often take risks that they would not otherwise take in other circumstances. When these DUI drivers enter an intersection, T-bone or broadside car accidents become more likely and often with tragic results. The Miami wrongful death lawyers and Miami injury attorneys at the Wolfson Law Firm stand ready to help you and your loved ones after a drunk or impaired driver T-bone car crash.
Road Rage – Too many drivers exhibit reckless and aggressive behavior in Miami. Road rage can result in collisions in intersections. If an aggressive or reckless driver T-bones or broadsides your car then you should be clear about the facts when you speak with the police officer. Understand what you need to do after a car accident and protect yourself and your rights. Get medical care and then contact a Miami car accident lawyer and personal injury lawyer to assist you in your claim.
Distracted Driving – This is becoming an epidemic in Miami and all over Florida. Drivers distracted by cell phones and texting are not paying attention to the road. We have all seen the commercials of people texting who get T-boned as they enter an intersection after ignoring a stop sign or red light. The results can be horrific and tragic. Intersection accidents can result from all forms of distracted driving. Miami distracted driving accident lawyers can help you if you are injured in one of these car accidents.
Failure to Yield Right of Way – One of the more common car accidents Miami injury lawyer see is the left-turn crash. One car thinks they can make the turn safely. They misjudge the speed of the oncoming car. They think the other driver will stop in time. Sometimes they just don't see the other car. No matter what, the police officer will give the ticket to the turning vehicle because the oncoming car had the right-of-way. The left-turning car had a duty to yield and because they didn't a T-bone broadside car crash occurred.
Running Red Lights – All too often in Miami, drivers act like the yellow light will stay yellow forever. In driving schools, we are all taught that yellow means yield. But in Miami too many drivers see yellow and hit the gas pedal. Time after time, Miami car accident lawyers and Miami wrongful death attorneys see the results of these poor decisions. Not only do these choices result in T-bone crashes, the impact is enhanced because of the increased speed the driver used to try to beat the yellow light.
What Is A T-Bone Accident?
When the front of another vehicle hits the side of a car, this is known as a T-Bone accident. These types of accidents often occur when a driver runs a stop sign or a red light and hits the side of a car traveling through an intersection. T-Bone accidents may also happen as you merge onto a highway or if a vehicle loses control and hits the side of another. T-Bone crashes can also occur on busy roads where there are multiple lanes of traffic.
Who Is At-Fault In A T-Bone Accident?
Finding fault in a T-Bone accident can be tricky. If the offending driver ran a red light or failed to stop at a stop sign and hits the side of another car, the fault will usually lie with them. But T-Bone accidents can be complicated as other factors may be considered. Was the other driver speeding, or did they fail to stop when they were supposed to? Was the driver swerving to avoid an obstacle or prevent an accident before they T-Boned another car? It's best to consult a personal injury attorney on the specifics of your case and to discuss who may potentially be at-fault for a T-Bone car crash.
What Are The Common Injuries In A T-Bone Accident?
By their nature, T-Bone car accidents can result in extensive injuries, and possibly death, for injured victims. T-Bone crashes may be at high speeds, and, with less protection on the sides of the car than the front or rear, the injuries are severe, even fatal. Common injuries include hip and pelvis fractures, broken shoulders and ribs, back injuries, and muscle sprains. Traumatic brain and neck injuries are common as the head and neck often move in a violent side to side motion when the car is hit. This unnatural movement can result in tissue tears and concussions. Other common injuries include lacerations, cuts, burns, and scrapes.
How Do I Find The Best T-Bone Car Accident Lawyer In Miami?
If you have been severely hurt in a T-Bone accident, your car insurance coverage may not be enough to pay for high medical bills and lost income. You need to find the best car accident lawyer in Miami to help you recover what you need to pay the medical treatment you need to improve. If the attorney offers a free analysis of your case, use this time to learn about your legal options as well as their qualifications. You should stick with an attorney who has a dedicated practice to personal injury law as opposed to a friend who might write a letter on your behalf. You need to find an experienced personal injury law firm that can negotiate with the insurance companies or defend your rights in court if they need to. Legal representation isn't about saving money on attorney fees; it's about recovering the damages you need to pay for your medical bills, replace your lost wages, and have access to continuing care.
Miami Wrongful Death Lawyers and Personal Injury Attorneys
At the Wolfson Law Firm in Miami, our car accident lawyers and attorneys help good folks who were injured in T-bone or broadside car accidents. Our Miami wrongful death lawyers also represent the family and loved ones of those who tragically lost their lives in an intersection car crash. Our personal injury and wrongful death legal team in Miami is ready to help you and your loved ones. Just call us at (305) 285-1115 for a free and confidential consultation. You can come to our office or we can come to you. We invite you to review our qualifications and orresults. Our Managing Attorney Jonah Wolfson is a bilingual wrongful death lawyer and personal injury attorney in Miami. We at the Wolfson Law Firm stand ready to aggressively represent you and your family.
The Miami personal injury lawyers at the Wolfson Law Firm serve the good people of Florida including the neighborhoods of Homestead, Florida City, Naranja, Princeton, South Miami, Coral Gables, Coconut Grove, Key Biscayne, South Beach, Edgewater, Surfside, Miami Shores, Aventura, Ives Dairy, Ojus, Hialeah, Miami Lakes and all the neighborhoods of Miami-Dade County.