Failure to Yield Car Accidents
Miami Car Injury Lawyers and Failure to Yield Car Accidents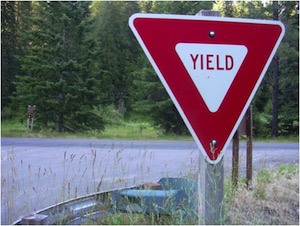 The failure to yield plays a significant role in many car accidents. Miami car accident attorneys see people who are injured in these accidents every day. Unlike some types of car accidents like rear-end crashes in which fault is usually clear, failure to yield car accidents in Miami are usually disputed. That is why it is important to know what to do after a Miami car accident and to consult with a Miami car accident lawyer as soon as possible.
Florida Law on Failure to Yield
Here are a few circumstances covered under Florida law when it comes to failure to yield:
Any driver who enters a public roadway that is not governed by traffic control devices must yield the right of way to oncoming traffic.
If two vehicles come into an intersection from different roads at the same time, the driver on the left must yield the right-of-way to driver on the right.
Drivers should yield to buses that have signaled and is entering traffic heading in the same direction.
If the driver is properly notified of workers and flag persons working on a roadway or construction site, they should yield the right-of-way to the pedestrians.
If a driver is turning left in an intersection or into a driveway or alley must yield the right-of-way to oncoming traffic
Where a driver is governed by a yield sign, the driver is required to slow down to a reasonable speed and even stop if necessary and yield to pedestrians or oncoming traffic.
Types of Failure to Yield Car Accidents in Miami
Most folks think of failure to yield accidents involve left turn intersection crashes. But the failure to yield can involve other types of accidents that Miami car accident lawyers deal with everyday such as:
Failure to yield entering a private driveway
Failure to yield turning into a parking lot
Failure to yield to a pedestrian
Failure to yield to bicyclists
Failure to yield to a motorcyclist
Failure to yield to an emergency vehicle
Failure to yield to merging vehicles
Failure to yield to traffic signals
Failure to yield to pedestrians in crosswalks
Other Factors Contributing to Failure to Yield Accidents in Miami
Other factors contribute to Miami failure to yield accidents. Any Miami car accident lawyer can tell you how these driver actions can cause or contribute to failure to yield type accidents in Miami including:
Speeding
Drunk or Impaired Drivers
Distracted Drivers
Cell Phone Usage
Aggressive Driving
Texting
Sleepy or Drowsy Drivers
Reckless Driving
Running Red Lights
Road Rage
Environmental Factors (sun; weather)
Poor sight lines
Avoiding other drivers
Confusion
Age related (elderly; new drivers)
Miami Failure to Yield Car Accident Lawyers
The Miami car accident attorneys at the Wolfson Law Firm have represented personal injury victims since 1963. Our injury and accident lawyers serving Miami can represent you and your family from the first moment you contact us through settlement or jury verdict and award. We will even handle appeals if necessary.
After your call, we will investigate the facts of your Miami car accident. If necessary, we will employ the experts we need to prove the facts of your car crash. Miami car accident experts can include:
Accident Reconstruction Experts
Engineers
Physicists
Human Factors Experts
Medical Experts
Biomechanical Engineers
Once we have gathered the evidence, we will prepare a settlement demand to the responsible driver's insurance company. We will present your case in a compelling and professional manner. Our Miami personal injury lawyers will set a reasonable time for the insurance company to respond to our demand.
If the insurance company fails to respond in a timely manner or refuses to make a reasonable offer to settle, our Miami car accident lawyers will not hesitate to file a lawsuit on your behalf.
After your Miami car accident lawsuit is filed, our car accident attorneys in Miami will ask for a trial date on the first available setting. Once your case is set for trial, the court will order the parties to go to mediation which is a settlement conference with a neutral third party. We will go with you to the court ordered mediation and make your case once again. A majority of cases resolve at mediation. If your case does not settle for a reasonable amount our Miami car accident attorneys will prepare you and your case for a jury trial. No matter what, we will see your case through and stand by your side.
Miami Injury Lawyers and Car Accident Attorneys
The Miami car accident attorneys and personal injury lawyers at the Wolfson Law Firm are available to represent you and your family. All you need to do is call us at (305) 285-1115 and let us get to work for you.
The Wolfson Law Firm in Miami serves the communities and neighborhoods of South Florida including Homestead, North Miami Beach, Florida City, Aventura, Kendall, Edgewater, Miami Beach, Liberty City, West Flagler, Westchester, Key Biscayne, Doral, Weston, Pembroke Pines, Fort Lauderdale and Hollywood.
Call Now to Speak with a Miami Car Accident Lawyer at (305) 285-1115