Causes of Rear-end Car Accidents
Miami Car Accident Lawyer Discusses Causes of Rear-end Crashes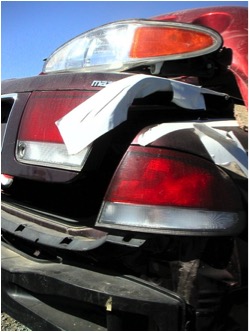 Rear-end car accidents are probably the most common type of car accident in Florida. Our Miami Personal Injury Attorneys handle these cases on a daily basis. Our Miami Car Accident Lawyers can help you to learn what to do after a car accident.
Jonah Wolfson, the firm's managing attorney, is a bilingual personal injury in Miami. As soon as you call, Jonah and his personal injury team at the Wolfson Law Firm are ready to help you. Just call us at (305) 285-1115 for your free consultation.
Rear-end Car Accidents – Common Causes
Over the last 55 years, the rear-end car accident lawyers at the Wolfson Law Firm in Miami have investigated numerous rear-end car accidents. We have represented personal injury clients throughout Miami and Florida including Little Havana, Miami Beach, Doral, Brickell and Kendall. Based on our years of handling cases like this here are some of the most common causes of rear-end car crashes:
Drunk Driving – Drivers who are intoxicated or under the influence of other substances such as marijuana or prescription drugs such as Xanax, Oxycodone, or other pain killers are by definition – distracted to say the least. The driver's reactions and driving skills are impaired. Some impaired drivers even pass out. Our Miami Personal Injury Attorneys and Wrongful Death Lawyers in Miami have seen firsthand the devastation that can result from Drunk Driving Accidents in Miami.
Weather – In Miami and throughout Florida the weather can change suddenly from one minute to the next. Inexperienced drivers, impaired drivers, or diminished ability drivers tend not to handle suddenly changing weather. As a result, they cause rear-end crashes when they cannot stop in time or slide into vehicles that are legally and lawfully stopped.
Tailgaters – There was an old joke in Miami about traffic. "I would have arrived sooner but the car in front of me had a bike rack". Sometimes on Le Jeune Road, the Palmetto or I-95 it would seem the tailgating is a sport. But it is illegal in any language. The reason it is illegal because of the harm that can result when someone does not follow the safety rules that keep us all safe.
Distracted Drivers – Now more than ever in the history of driving, drivers are distracted. They talk, listen, text, watch videos, "Snapchat", eating, drinking and everything else except driving. It makes many of us hope the day of driverless vehicles arrive in our lifetime.
Kids, Dogs and Joggers – Children learn, sometimes the hard way, that they need to look out for cars. But since the beginning of time, kids will run into streets without looking. Same for our pets. Now we see joggers and pedestrians wandering around with headphones. If any one of these wanders into a road, a rear-end collision can easily occur.
Defects in the Road and Construction Work Sites – Highway construction in Florida is an ongoing process. Cement trucks enter and leave our highways with little or no warning. Sometimes barricades or cones are improperly placed. Flag-waiving workers can appear out of nowhere. Road construction improperly marked or completed can cause rear-end collisions as drivers react to sudden changes of road and street conditions.
Police – We generally think of the police responding to rear-end collisions. But the police can cause rear-end accidents as well. Most driver's first reaction upon seeing a police officer is to apply the brakes. Even if they aren't doing anything wrong. This reaction is common especially if there is a radar gun being aimed at the driver. As a result, the first vehicle rapidly decelerates and the next vehicle can rear-end the first vehicle resulting in personal injuries. One thing for certain is that the police will never accept any responsibility for causing a rear-end collision in these circumstances.
Highway accidents – Many people get injured in secondary rear-end collisions. What that means is there is one accident on the highway and other vehicles coming up on the accident scene don't have enough time to safely stop. Sometimes there will be over ten cars involved in 3-4 different impacts. Figuring out who is responsible is such accidents will require your Miami Car Accident Lawyer to take statements of all involved and often hire accident reconstruction experts to help determine what happened and who should be held accountable. Even if you rear-end another car, you may not be responsible and you might be able to make a claim for your personal injuries. But you will need to discuss the facts of your accident with a Miami Car Accident Attorney to figure it all out.
Miami Personal Injury Lawyers
The Miami Personal Injury Attorneys of the Wolfson Law Firm handle all aspects of personal injury claims including:
Give us a call and let us answer your questions. If you were in a car accident, your life and the lives of your loved ones has been changed. We can help you get through the tough times ahead while we make sure the responsible party is held accountable. We will make sure you get the full, fair and complete compensation you deserve.
CALL NOW TO SPEAK TO A MIAMI CAR ACCIDENT LAWYER (305) 285-1115
or click here to submit your personal injury questions.