Publix Pharmacy Accident Lawyer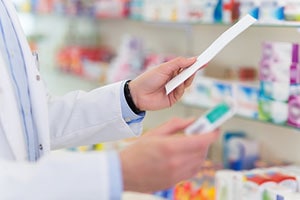 Medication errors are becoming more commonplace due to the high volume of prescription that are filled and dispensed throughout the country every day. Pharmacies located in stores, such as Publix, can make mistakes when they fill a large volume of prescriptions during peak times. During busier times, pharmacists may not have enough time to verify the medication being dispensed is the correct dosage and type. They may also rely on untrained staff to help entering data into the computer and filling prescriptions.
Some prescription errors have minimal effect on a patient. They may experience drowsiness, headaches, or stomach pain that goes away fairly quickly. In other cases, these errors can result in severe, even permanent, injuries to patients. Children or the elderly may be more susceptible to the effects of medication errors due to their age and weight. Extreme mistakes can lead to permanent damage to the brain or organs, which may impact the patient's future quality of life. Injuries sustained as the result of an error in medication should not be pursued without the help of legal counsel. If you or someone that you love has been injured, contact the Publix pharmacy accident attorneys at Wolfson & Leon at (305) 285-1115.
History of Publix Super Markets
The first Publix was opened in 1930. Called the Publix Food Store by founder George Jenkins, this popular grocery store chain has over 1,100 locations throughout Florida and the southeast US. Most Publix stores have a pharmacy that serves its customers by filling prescriptions, as well as offering flu shots and other vaccinations. Some locations are equipped with walk-in care services whereby a customer can speak to a doctor via video link.
Publix Pharmacy Medication Errors
People often drop off their prescriptions to be filled while they shop. With hundreds of locations throughout Florida, Publix pharmacy is a convenient option for many people. Like any other pharmacy, the pharmacists at Publix can make errors in filling prescriptions. A medication error is the term used when an error is made at some point in the process between the doctor issuing the prescription and the patient receiving it. When patients experience effects from these errors, it is known as an adverse drug event, or ADE. ADE's are characterized as follows:
Potential ADE – These are medication errors that could have occurred, but didn't. At some point along the way, the error was caught and the patient was not given the incorrect medicine or dosage.
Ameliorable ADE – In this case, the harm that was caused could have been mitigated, although it may not have been prevented.
Nonpreventable ADE – These are adverse drug reactions that could not be prevented. These are typically known as side-effects.
It is estimated that ADE's account for 700,000 emergency room visits each year.
Publix Pharmacy Medication Error Injury Attorneys
Whether you or a family member has been seriously injured as the result of a medication error, you should speak with the personal injury attorneys at Wolfson & Leon. Errors in medication can have serious and long-lasting effects on the brain and body. As such, they can require costly medical procedures and continuing care. By speaking to a Publix pharmacy prescription error attorney, you may be able to receive the compensation you need to address your health needs.
The Publix pharmacy injury attorneys at Wolfson & Leon have represented clients who have been victims of medication errors.
Attorney for Publix pharmacy medication labeling error
Poor medical instructions causing serious injury from a Publix
Serious injury due to errors in medication dosage in Publix
Overdose in medication due to the poor communication at Publix
Publix allergic reaction due to incorrect medication
Lawyer for medication overdose error in a Publix pharmacy
Publix pharmacist medication inventory error attorney
Attorney for Publix pharmacy dosage error injury
Wrong medication dispensed by a Publix pharmacist injury attorney
Lawyer for failure to fill prescription properly by a Publix pharmacist
Publix Prescription Error Injury Accident Attorneys
More and more pharmacies are run by large corporations, such as Publix. When medication errors occur in their pharmacies, they have legal teams to fight these claims. If you or someone in your family has suffered an injury due to the Publix prescription error, you need a Publix prescription error lawyer. At Wolfson & Leon, we fight for the rights of those who have suffered an injury when filling a prescription at Publix. As a victim, you have options. For a free and confidential consultation, contact the personal injury attorneys at Wolfson & Leon today. Call (305) 285-1115 to find out what your rights are. We have offices located in West Palm Beach, Miami, Fort Lauderdale and Fort Myers to serve you and your loved ones.