Medication Error Injury Lawyer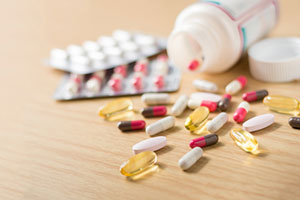 When we get sick, we go to the doctor. If we've been hit with a cold or flu, we may be prescribed a few medications that should get us feeling better in a few days. For people suffering from serious conditions, medication may be essential for their continuing health. Cardiovascular patients may be prescribed a combination of drugs to maintain safe blood pressure, cholesterol, and a stable heart rate. Patients with cancer, diabetes, blood clot disorders, and autoimmune diseases rely heavily on medication to manage the symptoms of their illness.
Missing a dose here and there may not have much impact on a patient's health. Being without medication for a long period of time, however, could result in a medical emergency. The same is true when people make mistakes when taking their medications. Failing to read or follow the directions can render medication ineffective or cause side-effects. Stomach pains and cramps are common if medication is not taken with food, but should be. As a patient, you should always make sure that you understand how and when you should take your medicine.
Another serious issue arises when errors are made when medication is prescribed and dispensed. Doctors that prescribe the wrong dosage, pharmacies that fill prescriptions incorrectly, or hospitals that do not administer medication properly can result in severe medical conditions, even death, for some patients. The Food and Drug Administration estimates that 1.3 million Americans are injured each year by mistakes made with medication. One out of five errors was related to medication prescribed for cardiovascular conditions. If you or a family member has been injured as the result of medication error made by a doctor, hospital, or pharmacy, you need to seek the counsel of a personal injury attorney. Call Wolfson & Leon at (305) 285-1115 for a free and confidential consultation.
Pharmacy Medication Errors
Most of us fill our prescriptions at popular pharmacies, such as Walgreens, CVS, Rite Aid, and Publix. Their convenient locations allow us to pick up our prescriptions while we are out running errands or on the way home from work. Some pharmacies offer the added plus of a drive-thru or home delivery.
These pharmacies are popular and dispense thousands of medications each day. With the high volume of prescriptions, pharmacies must have strong procedures in place to ensure that they are filled properly. When procedures don't exist or aren't followed;
Wrong medication may be dispensed
Prescriptions may be filled with the wrong dosage
Labeling may be incorrect or contain errors in directions for use
Unqualified personnel may be filling prescriptions
Pharmacist may fail to verify that the correct medication being given out
Unclaimed prescriptions are not properly returned to inventory
When pharmacies make errors filling prescriptions it can have dire consequences of victims. Failing to make sure that prescriptions are filled with the right medicine and at the correct dosage can cause serious, even fatal, injuries to customers. Medication errors can have an extreme impact on our bodies. Essential organs may no longer function or the victim may become permanently disabled. Lawsuits involving Walgreens and CVS demonstrate the devastating impact that medication errors can have on a patient and their family. Permanent brain damage, organ failure, or other physical or mental conditions may occur when pharmacies do not exercise due care when filling a prescription. Further, incorrect dosages or wrong medication given to pregnant women can result in birth defects or the death of their child.
Medication Error Injury Attorneys in Florida
You should not pursue a medication error claim alone. Severe injuries from medication errors result in astronomical medical bills that you will not be able to pay on your own. A personal injury attorney should be consulted for these cases. Large pharmacies have attorneys who are dedicated to fight these claims. A personal injury attorney will represent your interests to insurance companies and legal teams and fight for your right to compensation. They will investigate the facts and circumstances around the injury. If you or someone you love has been seriously injured as the result of a medication error, it is important that you seek legal advice. Contact the personal injury accident attorneys at Wolfson & Leon. We represent victims who have been injured;
Walgreens incorrect dosage medication error injury attorney
Attorney for prescription error injuries due to dispensing of wrong medicine
Pharmacist medication labeling error injury attorney
CVS medication overdose error accident lawyer
Attorney for incorrect medication error accident injury
Publix wrong prescription dosage accident attorney
Pharmacy medication dosage error injury lawyer
Rite Aid pharmacy filled prescription error accident lawyer
Florida Prescription Error Injury Accident Attorneys
Wolfson & Leon defends the rights of victims who were injured by medication errors. We serve clients in Miami, Fort Lauderdale, Fort Myers, Orlando, Tampa, Sarasota, Fort Myers, Florida Keys, Jacksonville, West Palm Beach, and their surrounding cities. If you or someone that you love was the victim of a medication error, contact the personal injury attorneys at Wolfson & Leon for help. For a confidential consultation, call (305) 285-1115 today.