Target Pharmacy Mistake Lawyer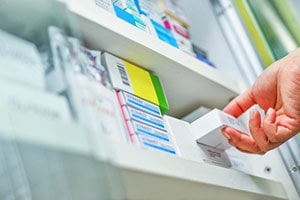 The number of prescription medications being dispensed by pharmacies is on the rise. According the Center for Disease Control, there were 3.7 billion prescriptions ordered by doctors' offices in 2014. Hospitals performing outpatient services provided approximately 392 million medications and those providing emergency care ordered over 340 million in 2014. With the number of prescriptions rising, many retail and grocery stores, such as Target, Publix, and Walmart have entered the pharmacy business.
With such a large volume of medications ordered by physicians and hospitals each year, the chances of errors being made when filling prescriptions is high. Whether it is dispensing an incorrect dosage, filling a prescription with the wrong pills, or giving the medication to the wrong person, the high volume of activity can result in mistakes. While pharmacies have procedures in place to catch errors, mistakes can still happen. When a patient receives the wrong medicine or an improper dosage, the effects can be severe. It can cause brain damage, organ failure, or cause a new ailment, such as diabetes. In some cases, patients may be taking the wrong medication for weeks or months, not knowing the effect that it is having on their bodies. If you or a family member has suffered injuries as the result of a mistake made in a Target pharmacy, contact the personal injury attorneys at Wolfson & Leon at (305) 285-1115 for a free consultation.
Target Wrong Dosage Medication Errors
To work effectively, medication is prescribed in certain dosages. Many factors are considered by doctors when determining the correct dosage. For children and the elderly, a patient's weight or age play a role. Doctors commonly prescribe medication in fixed-dosages for adults. In other cases, a doctor may start with a lower dosage for a patient, gradually raising it over time until it has the desired effect under a system called titration.
In 2013, a ten-year study conducted by insurance providers CNA and HPSO found that 31.5% of closed claims related to medication errors were the result of the wrong dosage being administered. According to this study, adverse effects that resulted in claims for dosage errors included some of the following:
A physician prescribed .05mg of Permax, which is used to treat symptoms of Parkinson's disease. The pharmacy filled this at .5mg, which resulted in an ER visit by the patient due to severe gastrointestinal pain.
Warfarin is a drug used to reduce blood clots. This drug was prescribed at 5mg for a patient, yet filled at 10mg by the pharmacy. This resulted in spinal bleeding and multiple hospital visits.
Dilantin was prescribed by a doctor at 100mg to treat epileptic seizures. The prescription was filled at only 30 mg, which resulted in the patient having two serious seizures that required hospitalization.
The wrong dosage can have minimal or serious effects on a patient. Incorrect dosages can exacerbate an existing condition, which was the case for the epileptic seizures. Or, it can create new symptoms and conditions, such as gastrointestinal pain or bleeding.
Target Pharmacy Medication Error Injury Attorneys
If you have been the victim of an incorrect dosage, it's important to seek legal counsel for help. While your symptoms may be minimal, incorrect dosages can hurt people. Pharmacists have a responsibility to fill your prescription accurately and when they make mistakes, someone could be severely, even permanently, injured as a result. The medication error attorneys at Wolfson & Leon can help you to hold Target pharmacies accountable for mistakes that are made to help prevent them from happening again.
The Target pharmacy injury attorneys at Wolfson & Leon have represented clients who have been victims of medication errors.
Attorney for Target incorrect dosage error injury
Target pharmacist medication labeling error accident attorney
Poor medical instructions causing serious injury from a Target
Lawyer for lack of communication resulting in overdose of medication at Target
Severe allergic reaction injury due to incorrect medication dispensed by a Target pharmacist
Medication overdose error in a Target pharmacy injury attorney
Wrong medication dispensed by a Target pharmacist injury attorney
Attorney for improperly filled prescription injury at a Target pharmacy
Target Pharmacy Error Injury Accident Attorneys
As the need for medication continues to rise, large pharmacies like Target will continue to receive more requests for prescriptions. While they may have qualified pharmacists on staff, the high volume of activity can result in dosage or other medication errors. Victims of pharmacy errors may incur high medical bills, as well as costs for continuing care. In some cases, injured victims are unable to work, which can impact the financial stability of their home. If you are a victim of a Target pharmacy error, you need a Target pharmacy mistake lawyer. At Wolfson & Leon, we represent your interests to big insurance companies and legal teams. We fight for your right to receive compensation to pay for medical bills and recover lost wages. Call the Target pharmacy personal injury lawyers at Wolfson & Leon at (305) 285-1115 today or make an appointment at our offices in Miami, West Palm Beach, Fort Lauderdale or Fort Myers.