West Palm Beach Trip and Fall Attorney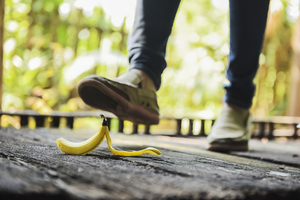 A trip and fall accident sound almost comical, something that you'd see in a vaudevillian movie from the 1900s. Unfortunately for those who've been through such an incident, it can be everything except funny. It's a sad fact that trip and fall accidents, much like their slip and fall counterparts, can be the cause of injuries that may be debilitating at the best, life-threatening at the worst. Some of the injuries that could be because of a trip and fall accident include:
Broken ribs
Hip fractures
Broken legs, toes, or feet
Broken arms, fingers, or hands
Skull fractures
Jaw bone fractures
Cheek bone fractures
Broken bones in the area around your mouth
Broken bones in the area around your eyes
Brain injuries
Permanent and disfiguring scarring
The grim reality that these injuries cause is something that many must deal with because of the negligence and disinterest of those who should have been paying attention. At Wolfson & Leon, we offer the assistance necessary to get your life back on track. Giving us a call at (855) 982-2067 to speak to a lawyer about your injury will offer you a source of information that can give you and your loved ones the answers you've been looking for.
West Palm Beach Premises Liability
With such a picturesque quality, West Palm Beach is an attractive place both to vacation and live. The proximity to the beach allows it to be a prime family vacation spot, as well as offering many family dining options that are well reviewed and come highly recommended including:
Delicias De La Abuela
Agora Mediterranean Kitchen
The Circle at The Breakers
Malakor Thai Cafe
Paris Bakery & Cafe
Il Bellagio
Havana
All these restaurants offer the best in what West Palm Beach has to offer for you and your loved ones. Still, it is important that you do not take something such as a trip and fall, or slip and fall, lightly in any restaurants. Nor any other public or private area, as what comes next could be both harrowing and anxiety inducing. Finding yourself injured in a trip and fall accident means that the place you've chosen to spend time with your family has broken the promise of safety that it offered you when you stepped through its doors. Your injury has been caused due to another's negligence, and now you're suffering for it. We don't think that's fair, and likely neither do you, that is why contacting a West Palm Beach Trip and Fall Lawyer is one of the best options you could take.
West Palm Beach Trip and Fall Lawyers
The dedicated lawyers of Wolfson & Leon have been assisting the victims of trip and fall, and other premises liability claims for well over fifty-five years. They've also represented many other accident and injury cases that came in many forms, not excluding:
Slip and Fall cases in West Palm Beach
Car Accident cases in West Palm Beach
Head-on collision cases in West Palm Beach
Motorcycle Accidents in West Palm Beach
Truck Accidents in West Palm Beach
Pedestrian Accidents in West Palm Beach
Wrongful Death Claims in West Palm Beach
Slip and Fall on Private Property in West Palm beach
Slip and Fall on Public Property in West Palm Beach
Medical Malpractice in West Palm Beach
Uninsured and/or Underinsured accidents in West Palm Beach
The West Palm Beach Personal Injury and Wrongful Death Lawyers of Wolfson & Leon are prepared and willing to help you. The managing attorney Jonah Wolfson and his team of bilingual personal injury lawyers are available to help represent you in these matters. Taking the time to call them via the toll-free number of (855) 982-2067 will set you up with an appointment live, or over the phone. They can meet with you where it's convenient for you, or at their offices located in Fort Lauderdale, Miami, West Palm Beach, or Fort Myers.
All Injury cases are handled with a contingency fee basis, so that you do not owe us a cent unless we're able to make a recovery for you. Get the information you need, and the care you deserve, call now to speak to our West Palm Beach personal injury lawyers today.