West Palm Beach Elevator and Escalator Injury Lawyers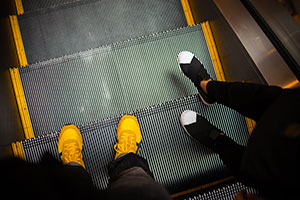 Elevators and escalators are used in many types of building nowadays - from hotels, to housing building, retail stores, grocery shops, to shopping malls. They make movement easier, especially for folks who have movement issues, but sometimes, they do the opposite and cause personal injuries. Walking up and down stairs can have plenty potential hazards for people. They can be uneven, not maintained properly or even slippery. Escalators and elevators eliminate the need for a person to use stairs, which is a convenience and requires little effort from the user. However, these conveniences are operated by motors and constructed of heavy-duty materials. They are designed to shuttle groups of people at a time and with a machine that strong, injuries could easily happen if not properly maintained.
If you or a loved one has sustained injuries in such an accident in West Palm Beach, call us at Wolfson & Leon for help. Our West Palm Beach elevator and escalator injury lawyers are available to help. Call us at (855) 982-2067 for free consultations. We don't ask for fees unless we recover for you.
Elevators and Escalators Accidents Causing Injuries and Wrongful Deaths in West Palm Beach
West Palm Beach is a city in Miami metropolitan area. It is located north of Fort Lauderdale and Miami. The city borders with Palm Beach Gardens and Riviera Beach on the north, Lake Worth is on the south border, while on the west, it borders with unincorporated communities. The east border belongs to Palm Beach.
A typical Florida city, West Palm Beach has many facilities that use escalators and elevators for easier movement. And as with any other Florida city, they are sometimes not maintained properly, leading to accidents.
The most common causes elevators accidents in West Palm Beach include:
Elevator being stuck between floors
Door of elevator opening earlier than needed, exposing riders to risk
Malfunctions of control and wiring
Sudden drop of the elevator car
Escalators accident may occur due to:
Having clothes or shoes entrapped by the escalator, causing falls and injuries
Escalator accidents caused by missing steps
Injuries sustained during embarking or disembarking of the escalator
Too much space between steps and walls leading to injuries
Missing portions of track
Escalator accidents caused by poorly maintained escalators
Elevators and escalators accidents often seem invisible to the average person. One doesn't usually enter a shopping mall or a hotel and ultimately suffers an injury on an escalator or elevator. However, these types of accidents occur regularly. In the United States, they harm more than 17,000 people annually, and 30 people even lose their lives.
West Palm Beach Elevators and Escalators Accident Lawyers
If you or a loved happen to be injured in an elevator or escalator accident in West Palm Beach, make sure you talk to the best West Palm Beach personal injury attorney that you can identify as soon as possible. You may be approached by the insurance company or the owner in charge of the elevator or escalator and be offered a settlement, but you shouldn't accept it before speaking to a lawyer. Keep in mind that people are unwilling to pay full and fair compensation for damages voluntarily and will often offer you less than you really deserve.
If you choose us to represent you, after the initial consultations, we will do everything necessary to build a strong case for you. Then we will offer a settlement demand to the insurance company and give them reasonable time to respond. We know their delaying tactics, thinking that we will quit if they delay it too much, but we will not quit or allow for a delay. If they do not respond within the stipulated time, we will file a lawsuit and continue to press for a satisfactory resolution through settlement or verdict.
You can reach out to our West Palm Beach accident attorneys at (855) 982-2067. Our consultations are free, so is our representation until we recover for you.