Sebastian Walmart Accident Attorney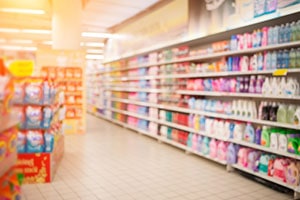 Consider a situation: You've taken the time out of your busy day to do some shopping. You're not exactly picky as to where you go, but you know that the nearest store is a Walmart. Shopping there is easy, and mostly inexpensive for someone who knows what they're doing. It not only will save you money, but the atmosphere is usually friendly, hospitable, and without a hint of hostility. You walk from aisle to aisle find what you're looking for and make your way to the front. You pay, get your items, and are on your way. Sounds fine. A normal day, for sure, but what if it had worked out differently?
What if while you were stepping to get through an aisle at Walmart and a careless employee forgot to put down a wet floor sign. Suddenly you're on your back, your foot slipping on an overly slippery floor, and you've broken something. You don't know what, but there is very clear pain. This is the unfortunate reality that many Americans must deal with when going to a Walmart. Finding yourself in an accident is a jarring, dreadful experience that should be avoided as much as possible. Though, we do not live in a perfect world, and you're bound to find yourself in an Walmart accident, especially if you go as often as our hypothetical person.
When such an event happens, it's important to know who to turn to. The Sebastian Walmart accident lawyers at Wolfson & Leon have had decades of service in working with accident cases. Since our established year of 1963, we've been hard at work helping the good people of Florida. That's 55 years of service under our belt, a good long time in dealing with cases, clients, companies and insurance agencies. What's most important to you right now is your pain. We understand this, that's why the Sebastian Walmart accident attorneys at Wolfson & Leon will take the time to speak to you and prepare you in getting the care you need. After you've seen to yourself or your loved ones, please do not hesitate to call us, we can be reached at (855) 982-2067, for a free consultation with a Sebastian Walmart accident attorney. Call today and speak with someone who can help you.
Sebastian Florida
Located on the east coast of South Florida, Sebastian was originally a fishing village during the 1870s. Originally to be called New Heaven, it was named St. Sebastian in 1882 and was established as a city in the same year. Soon, the St. was dropped from the name, simply labeling it Sebastian, although the nearby river kept the St. portion of the name. In 1903, the small island nearby Sebastian was declared the US' first national wildlife refuge
The Walmart in Sebastian can be found at this address:
2001 US Hwy #1, Sebastian, FL 32958
One of many Walmarts located across the state, this Walmart sees many visitors and business. Walmart itself has spent billions of dollars on making sure that its stores are stocked with all the food and product that any good American would need in whatever they wished, be it from home and office appliances to food. In Florida alone they've supported over one-hundred thousand suppliers with their business, and they're expanding every day. With this much business it's easy to see how they can cover themselves when they're responsible for the accident of another. Don't let yourself go into this fight alone, and instead work with those that will look out for your welfare, contact a Sebastian Walmart accident attorney and be ready for the bout ahead.
Sebastian Walmart Accident and Wrongful Death Attorney
Wolfson & Leon has been helping the good people of Sebastian fight against greedy corporations and insurance companies that want nothing more than to leave you hanging when they know they're at fault. Don't leave yourself without a partner in this fight, call today and speak to an attorney for your free consultation. Not only will it help you figure out what you need to do, but their advice will prepare you for the journey ahead. Jonah Wolfson and his bilingual team of Sebastian Walmart accident attorneys are more than prepared to battle for your right to be compensated. Call them at (855) 982-2067 and speak to them right away.