Miami Left Turn Accident Lawyer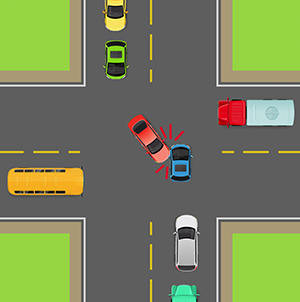 The simple act of making a left turn in a vehicle can change a life. Too often people are hurt from a left turn car accident. Unfortunately, sometimes people die in a left turn car accident. If you or a loved one were injured or killed in a left turn car accident, then you should call a Miami car accident lawyer as soon as possible. At Wolfson & Leon, our Miami personal injury lawyers and wrongful death attorneys have been helping people put their lives back together since 1963. We can help. Just call us at (305) 285-1115 and let us get to work for you.
Who's at Fault in a Left Turn Car Accident in Miami
Let's look at left turn car accidents from insurance company's perspective. If the insurance company's driver had the right-of-way, then the insurance adjuster will simply say that their driver is not at fault and that they will not pay any money because they are not liable. But, if the insurance company's automobile driver made the left turn then the insurance adjuster may argue that their driver is not 100% at fault due to speed, improper lane change, equipment failure, phantom vehicles, and a failure to avoid the accident with the last clear chance to avoid impact.
In Florida, comparative negligence applies. What that means is either driver can be found at fault in a percentage equal to their responsibility. Insurance adjusters know all the arguments on comparative negligence. On the other hand, an experience Miami car accident lawyer also knows the counter arguments against comparative negligence.
The Defendant's Discount in Miami Left Turn Accident Cases
Our Miami car accident lawyers litigate and go to trial on left turn accident cases. At trial, insurance defense lawyers will try every trick in the book to get a reduction of damages based on comparative negligence. One of the most popular strategies is for the defendant to admit that they were negligent but still proceed to trial on issues of the plaintiff's comparative negligence as well as permanent injury and damages.
In trials where the defendant admits negligence, the defense attorney can then stand in front of the jury and argue that his or her client, the defendant, is reasonable and admitted that they were negligent but that the plaintiff won't admit their responsibility for causing the accident. Of course, the insurance defense lawyer is trying to not only reduce the damages by getting the jury to take a finding of comparative negligence on the plaintiff but also they are trying to drive down the damages through character assassination of the plaintiff.
A skilled and experienced Miami car accident lawyer knows what to tell the jury in response to the strategy. It starts with reminding the jury that the plaintiff has the burden of proof on all contested issues. If a defendant admits negligence, then that is an admitted fact not requiring proof. But if that same defendant claims that the plaintiff was at fault, then that defendant has the burden of proof on his or her defense of comparative negligence. So the question becomes, did the defendant meet their burden of proof in showing that the plaintiff was comparatively negligent. If the burden of proof was not met, then the insurance defense attorney is simply trying to get a "defendant's discount" on the damages. It is up to the plaintiff's attorney to remind the jury that they are required to follow the law and not to give discounts just because somebody asks for it.
Investigation of Left Turn Accidents in Miami
If you are injured in a left turn accident, that it is imperative that your Miami car accident lawyer perform a thorough and complete investigation of the accident. If necessary, your attorney should retain the services of whatever experts are necessary in order to prove your case. After a full investigation and consultation with the necessary accident experts, then you as the client should be in a good position to determine if you want to proceed with your case.
At Wolfson & Leon, our Miami car accident lawyers have been investigating accidents of all types and forms since 1963. When necessary, our personal injury law firm will retain and employee the best and most useful experts needed in order to help prove your case. It is important to us that our clients get the full justice that they deserve. We aggressively represent each of our clients in a relentless pursuit of the truth. Our goal is to represent our clients' best interests, achieve a maximum recovery and to do it in an efficient and professional manner.
Miami Left Turn Car Accident Lawyers
If you have any questions after a left turn car accident, then you are welcomed to call Wolfson & Leon at (305) 285-1115. We offer full personal injury and wrongful death legal representation arising out of any type of accident in South Florida. Our managing attorney, Jonah Wilson, is a bilingual wrongful death and personal injury attorney who serves Miami and all of South Florida. We not only serve Miami but also the surrounding areas and communities of South Florida such as Miami Beach, Hialeah, Aventura, Weston, Fort Lauderdale, West Palm Beach, Kendall, Coral Gables, Edgewater, North Miami Beach, Miami Gardens, Little Havana, Homestead and Pembroke Pines.