Miami Car Crash Attorney for Miami Gardens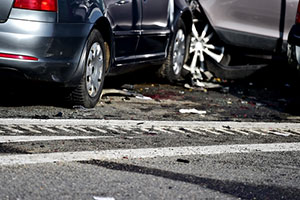 Commuting on busy highways, like I-95 and I-75, are dangerous for those on the road. High speeds, poor weather conditions, and erratic driving result in serious car accidents on the highways that many of us use every day. Injuries from these accidents can be severe, even life-threatening. Recovering from these injuries can take weeks, even months, depending upon how serious they are.
When injured in a car accident that was not your fault, it is a good practice to speak with a personal injury attorney. Serious injuries may require expensive medical treatment, rehabilitation, and continuing care. Most times, a victim is unable to work as they recover. This causes an extreme financial burden on a family, especially when the victim was the main provider. You may be wondering what options your family has. Call the Miami Gardens automobile accident lawyers at Wolfson & Leon. They will take the time to listen to you, review your case, and advise you of what options are available to pay for medical bills and compensate you for lost wages. For a no-cost evaluation of your case, call Wolfson & Leon at (305) 285-1115 today.
Miami Car Accident Attorneys
Miami Gardens was recently incorporated in 2003. Since its incorporation, the city has seen crime rise in its community. Over the years, steps have been taken to make the city safer including setting up a community redevelopment agency to help improve the social and economic challenges that faced the population. Violent crime and property damage rates were expected to be less in 2018 than 2016, which is a hopeful sign that the city's CRA efforts are working.
Miami Gardens has a population of 113,187 residents. It is racially mixed with 67.9% of its population is African American, 27.5% are Hispanic, and 2.85% are white. Miami Gardens has a poverty rate of 21.5%, which is higher than the national average of 13.4%. The median household income is $41,139, which is slightly higher than the national average of $39,012. In Miami Gardens, 48,658 residents are employed and spend approximately 30.8 minutes commuting to their jobs.
Miami Gardens Car Accident Lawyer
Our Miami Gardens car crash lawyers represent injured victims in many ways including;
Miami Gardens attorney for car crash injuries
Wrongful death car crash accident attorney in Miami Gardens
Shopping center parking lot automobile accident leading to injury Miami attorney
Victim injured in a wrong-way car accident in Miami Gardens
Attorney for head-on collision car crash injury in Miami
Lawyer for hit and run car accident injury in Miami Gardens
Defective brakes causing an automobile accident with injuries in Miami Gardens
Lawyer for pedestrian injured in crosswalk car crash in Miami
Parking lot car accident injury attorney in Miami Gardens
Miami Gardens attorney for car crash accident injury resulting from running a stop sign
Cyclist car accident causing a serious injury lawyer in Miami Gardens
Failure to yield automobile crash injury lawyer in Miami Gardens
Miami lawyer texting and driving injury car accident
Sidewalk car crash pedestrian injury Miami Gardens attorney
Miami Gardens large construction truck injury accident lawyer
Lawyer for rear-end car crash injury in Miami
Miami Gardens law firm for automobile crash injury resulting from impaired driver
Lawyer for large truck accident resulting in serious injuries in Miami
Miami Gardens attorney for bicyclist injured in automobile crash
Attorney for wrong-way highway collision injury in Miami
Miami Gardens failure to yield car crash injury lawyer
Intoxicated driver car accident attorney in Miami
Dangerous highway construction zone causing an injury crash Miami Gardens lawyer
Miami parking lot accident injury lawyer
Miami Automobile Crash Injury Law Firm
For over 55 years, the personal injury attorneys at Wolfson & Leon have defended the rights of victims injured in car accidents. With offices located in Miami, Fort Lauderdale, West Palm Beach and Fort Myers, Wolfson & Leon represents clients throughout Miami, Miami Gardens, Kendall, Coral Gables, and their surrounding neighborhoods. Speak with a Miami personal injury lawyer at Wolfson & Leon by calling (305) 285-1115 today for a no-cost consultation.