Miami Car Accident Law Firm for Guatemalans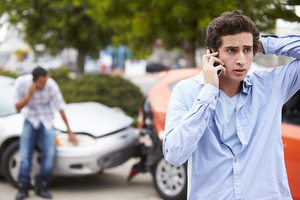 Whether you are rushing to get to work, picking up the kids, or running a few errands on the way home, no one gets into their car thinking that they will be the victim of a car accident that day. Yet with Miami-Dade County logging the highest number of traffic crashes in the state – a whopping 64,627 in 2018 – car accidents are a frequent occurrence. Statistically, the county averages 177 car crashes each day.
If you or your family were hurt in a car crash, you should take steps to protect your interests. These include;
Seek immediate emergency medical treatment if your injuries are serious, such as head trauma, broken bones, or deep cuts and lacerations. Even if your injuries don't appear to be serious enough to seek emergency help, you should get checked out by a doctor as soon as possible. Head and neck injuries may not be obvious for a few hours, even days, after the accident.
Gather insurance and contact information of the driver
Write down names and phone numbers of any witnesses to the accident
Call the police and be sure to get a copy of their report
Speak to a personal injury attorney
These items are useful for a Miami car accident lawyer to evaluate your claim and discuss any legal recourse that you may have to recover damages. Accident victims have rights – find out what yours are by scheduling a free consultation with Wolfson & Leon. Call us today at 305-285-1115.
Guatemalans Injured in a Miami Car Crash
Located in Central America, Guatemala is the most populated country in the region with over 17 million people. Bordered by Honduras, El Salvador, Mexico, and Belize, the country has a vast terrain with a line of 27 volcanos covering 180 miles, low-lying fertile plains, mountain ranges, and deep valleys. Large stretches of rainforest house several varieties of birds, reptiles, and plants.
There is a wide disparity in income in Guatemala. Wealthier residents live in metropolitan areas while much of the lower-income communities live in villages scattered throughout the country. Known its extravagant use of brightly-colored yarn, each village is identified through its own unique pattern. Almost 40% of Guatemalans work in agriculture as its economy is highly dependent upon crops such as coffee, bananas, and sugar. The remaining population is employed in the manufacturing or service industry.
Car Accident Law Firm for Guatemalans
Guatemalans who were injured in a car crash in Miami should contact the personal injury attorneys at Wolfson & Leon for help. Our Spanish-speaking car accident lawyers in Miami are available to answer your questions and file your case. We work with crash victims in many ways including;
Guatemalan victim injured in a Miami car crash
Automobile accident caused by a texting driver on a Miami highway
Miami lawyer for victim injured when hit by a car failing to yield when entering the highway
Sideswipe traffic accident Miami injury attorney
Distracted driver car crash injury on a Miami street
Attorney for Guatemalan pedestrian hit while crossing a busy Miami street
Miami crash victim hurt when hit by an impaired driver
Rear-end collision injury accident lawyer in Miami
Miami dangerous intersection car crash serious injury attorney
Guatemalan injured when their car was t-boned in Miami
Miami parking lot automobile accident
Bicyclist thrown from their bike when hit by a car in Miami
Miami automobile crash in a construction zone injury attorney
Lawyer for high-speed car crash injury in Miami
Guatemalan tourist hurt in a car crash in Miami
Miami Car Accident Help for Guatemalans
High medical bills and lost wages force financial stress on many Guatemalan car crash victims. For over 55 years, the Miami car accident lawyers have helped Guatemalans and other South Florida residents when they were hurt in car accidents. Our bilingual attorneys will evaluate your case and pursue legal options that may be available to you. We work directly with the insurance companies to settle your case so that you can spend your time recovering from the accident. If your case requires litigation, we will defend your rights in court.
It costs you nothing to find out what your options are. Your first call to us is always free and you are only charged a fee if we settle your case. If you were hurt in a car accident need help, call Wolfson & Leon at 305-285-1115.