Miami Car Accident Attorney for Dominican Republic Victims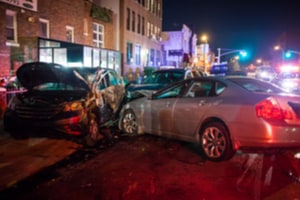 Changing technology continues to bring added convenience to our lives. With the click of a button or the swipe of our finger, we can connect with anyone, at any time. While technology makes our lives easier, we put ourselves and others at risk when we use it at the wrong times. Drivers who text or talk on their cell phones when behind the wheel can create hazardous conditions for everyone on the road.
Most of us know that darting your eyes from the road while you quickly read a text or search for a phone number can cause an accident. But with Bluetooth and newer cars offering hands-free options where we don't have to take our eyes off the road or our hands off the wheel – so wouldn't that be safer? According to research compiled by the National Safety Council, there was no reported safety benefit to using a hands-free option. While it reduces the chance of shifting your eyes or moving your hands, hands-free still can detract from our concentration or focus.
Distracted drivers can cause serious car accidents. Lack of concentration can impair their ability to stop or maneuver their car to avoid an accident. If the crash happens at a high speed, this can result in life-threatening, even fatal, injuries. Crash victims, or their families, should seek the help of a Miami car accident lawyer if they were injured. If you are a resident or visitor from the Dominican Republic, you should call Wolfson & Leon for help. We have bilingual attorneys that can evaluate your case, answer questions that you may have, and explain what options you have available to recover damages. Your first call is free and you only pay a fee when we settle your case. For your free, confidential evaluation, call Wolfson & Leon at 305-285-1115 today.
Dominicans Injured in a Miami Car Crash
The Dominican Republic is located on the eastern side of the island known as Hispaniola in the Caribbean Sea. This Spanish-speaking country has a population of over 10.75 million people and shares the island with Haiti. The Dominican Republic has a fairly young population with over 55% of its residents being under the age of 29 years old.
Known as Dominicans, merengue and bachata music have deep roots in their culture. Baseball is the most popular sport in the country with many boys aspiring to become major league players. Statistics show that almost 40% of the baseball players on American leagues come from the Dominican Republic including Sammy Sosa and Alex Rodriguez.
Wolfson & Leon represents Dominicans who were hurt in motor vehicle accidents in Florida. Our bilingual attorneys help injured victims in a variety of crashes including;
Miami lawyer for a Dominican resident hurt in a car accident
Rear-end collision accident injury attorney in Miami
Car crash caused by an impaired driver on a Miami street
Failure to stop at a red light injury accident lawyer in Miami
Car crash injury due to failure to yield when entering the highway in Miami
Dominican victim injured when crossing a Miami street
T-bone automobile accident Miami injury lawyer
Miami attorney for crash victims injured in a serious highway accident
Texting driver distraction car accident injury lawyer in Miami
Miami victim injured when traveling through a dangerous intersection
Victim injured when another motorist runs a stop sign in Miami
Attorney for pedestrian injured by a car when walking on the sidewalk
Dominican tourist hurt in an automobile accident on an I-95 in Miami
Lawyer for Miami bicyclist injured when hit by a car on the street
Sideswipe car crash injury attorney in Miami
Car Crash Help for Dominicans
Wolfson & Leon has represented car accident victims for over 55 years. Our bilingual Miami car accident attorneys work with Dominican car accident victims to recover the monetary damages they need to pay for their current and future medical bills, as well as replace wages that were lost while in recovery. We take on insurance companies and defend your rights while you are recovering from your injuries.
With offices located throughout South Florida, we defend the rights of Dominicans who live in or are visiting Miami and its surrounding cities. If you were hurt, don't take on the insurance company alone. Contact Wolfson & Leon for your free, no-obligation case evaluation. We are always available to answer your questions and explain your options. Call us today at 305-285-1115.