Miami Automobile Accident Lawyer for Uruguayans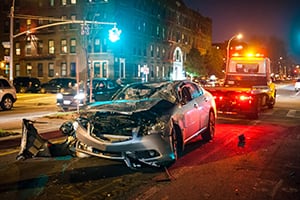 Stop and go traffic on major highways and roadways in Miami can be nerve-racking. You're travelling at a high speed when, all of a sudden, the cars in front of you come to a halt. You may drive slower for a while, only to be nervously glancing at the car who continues to speed behind you. The next thing you know, you hear the screeching tires and your car violently jolts forward.
When your car gets hit from behind, the impact may snap your head and neck back and forth quickly. Even with your seatbelt holding your body in place, you can get hurt when your car is rear-ended. You may think you're ok – after all, you don't see any visible bruises and you didn't break anything. However, a minor head or neck injury can become serious if not treated. Always see a doctor when you've been involved in a car accident, even if you feel ok. Head and neck injuries may not always be obvious at the time of the accident. It can take a few hours, even a few days, to feel the injury.
Regardless of whether or not your accident was serious or minor, you should consult a personal injury attorney. If you work directly with the insurance company to settle your claim, you may not receive the full settlement amount that you are entitled to. What you owe in immediate medical bills and car repairs may be obvious, but what happens if you continue to need treatment for your injury? What if you don't recover as quickly as you think and can't work? The Miami automobile accident attorneys at Wolfson & Leon will consider this when estimating what your settlement might be. Our bilingual attorneys will review the merits of case and let you know what you rights are. If you've been hurt in an accident, call us today for a free consultation at 305-285-1115.
Automobile Accident Lawyer for People from Uruguay Hurt in Florida
Known as the Oriental Republic of Uruguay, this South American country has almost 3.5 million residents. Almost half of the population lives in Montevideo, the country's capital. Evidence of Uruguay's first known inhabitants, the Charrua tribe, dates back almost 4,000 years. The country was colonized by the Portuguese and Spanish in the 16th and 17 th centuries who remained in the country until 1828 when Uruguay won its independence.
Rear-end Car Crash Injuries
A rear-end car crash may seem like nothing more than just damage to your car. However, you can be injured when your car is hit from behind. Some of the more serious injuries that can happen in a rear-end car accident include;
Concussion – The impact of the car hitting you from behind can jolt your head back and forth. You may hit it on the steering wheel or the side panels of the car. An untreated concussion can turn into a serious injury if not treated. Concussions can take anywhere from a few days to a few weeks, even months, to recover from.
Whiplash – When your neck is snapped back and forth quickly, this can cause a sprain or strain to your neck. You may feel pain in your neck, head, or back when you have whiplash. You may feel dizzy, have headaches, or have trouble concentrating.
Spinal cord injury – The impact of the crash can dislocate, fracture, or crush the vertebrae in your spine. This can cause pain, impact your ability to move, lose control over certain body functions, have trouble and difficulty when breathing, and other symptoms.
Brain injury – While you head may not have hit a hard object, the rapid back and forth movement can tear blood vessels or tissues in your brain. This can lead to the bruising, bleeding, or swelling of your brain.
Our bilingual personal injury lawyers represent car accident victims in many situations including;
Attorney for Uruguayan visitor hit by a car in Miami
Injury lawyer for victim hit by a speeding car in Miami
Miami car accident victim injured by an intoxicated driver
Attorney for Uruguayan visitor hit by a car in Miami
Injury lawyer for victim hit by a speeding car in Miami
Miami car accident victim injured by an intoxicated driver
Uruguayan family injured in a rear-end collision on a Miami highway
Miami pedestrian hit by a car while walking on the sidewalk
Lawyer for victim injured by driver failing to stop a red light in Miami
Parking lot car crash injury attorney in Miami
Lawyer for Uruguayan hit by a negligent driver in Miami
Personal injury attorney for Miami family hurt in a wrong-way car crash
Attorney for motorcyclist hit by reckless car changing lanes in Miami
Uruguayan pedestrian injured by a car when walking on the sideway
Distracted driver car crash injury lawyer in Miami
Miami Car Crash Firm for Uruguayans
Even if you feel fine, if you've been involved in a rear-end car crash, you need to go see a doctor. Minor injuries to your head, neck, or back can become serious if you don't get them checked out. Your recovery time may end up being longer than it should. It can impact your ability to work and may cost you more money in medical bills than you think. Contacting a personal injury lawyer will help you to get the compensation you need to recover from your injuries.
For over 55 years, Wolfson & Leon has represented people who were hurt in car accidents. They work tirelessly to get you the settlement you deserve to recover from your injuries and get back to living the life you had before you were hurt. With offices located in Miami, Fort Lauderdale, West Palm Beach, and Fort Myers, we serve people who were injured throughout South Florida. If you were hurt in a car crash and wondering what to do next, speak to our bilingual personal injury attorneys to find out what your rights are. Your first consultation is free and you are never charged a fee for our legal services unless we settle your case. Call us today at 305-285-1115.