Miami Automobile Accident Law Firm for Bahamians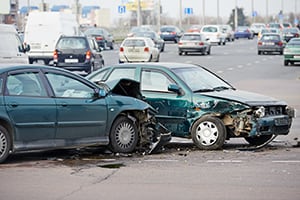 It can be dangerous driving on the streets of Miami. Even the most careful drivers who dutifully put on their seatbelts every time they get into their car, check both ways before driving through an intersection, and always obey the speed limit can be the victim of a car accident. Drivers who fail to stop at red lights, speed, operate their cars while impaired, or aren't paying attention create hazards for everyone on the road.
According to the Florida Highway Safety and Motor Vehicles, Miami-Dade County experienced 64,627 vehicle crashes in 2018, resulting in 21,187 injuries. Statistics show that, after falls, injuries sustained in motor vehicle accidents are the second leading cause of injury-related hospitalization for all age groups in Miami-Dade County. Car accident victims may have seemingly minor injuries such as burns, scrapes, or lacerations which require medical attention. Serious injuries can happen when a victim hits their head on the steering wheel or dashboard, potentially causing trauma to the brain. Broken bones, neck or back injuries, and damage to internal organs may also result from serious car accidents. These may require extensive hospitalization, surgery, and continuing medical treatment.
If you were hurt in a car accident that was not your fault, you need to seek help from a Miami car crash lawyer. Costly medical treatment, doctor visits, and prescriptions can cause extreme financial stress on an accident victim. In most cases, extensive injuries may require weeks, even months, of recovery and rehabilitation which prevents the victim from working. Insurance companies may rush to settle quickly, limiting the award that you receive to pay for your bills. The Miami personal injury lawyers at Wolfson & Leon are dedicated to helping Bahamian car accident victims recover the monetary damages they need to pay for their medical bills and lost income. We can determine the amount that you need to pay for current and future bills and work tirelessly to recover this on your behalf. Contact Wolfson & Leon today for a no-cost, no-obligation review of your case. Call us today at 305-285-1115.
Car Accident Lawyer for Bahamians
Poor economic conditions and scarcity of work prompted many Bahamians to seek jobs in the United States, with the first major migration to South Florida occurring in the 1880s. They found jobs at Key Biscayne's Peacock Inn, as well as other local hotels. Eventually, they began to settle in the area now known as Coconut Grove. Bahamians were known for their skilled stonemasonry and played an integral role in developing the Grove's unique architecture, which can still be seen in historic homes and churches today. Many started their own companies and built homes in the Village West area of Coconut Grove.
Today, there are over 21,000 Bahamians that live in Coconut Grove. The city celebrates its deep Bahamian roots with the annual Goombay Festival, which featuring authentic Caribbean cuisine, Bahamian beer, Junkanoo music, all mixed in with plenty of Bahamian culture.
Bahamians Injured in a Miami Car Accident
Bahamian residents and visitors seek help from Wolfson & Leon when they've been injured in a car crash. We have bilingual attorneys on staff that represent injured victims in many ways including;
Bahamian injured in a Miami car crash
Lawyer for car crash victim injured by an impaired driver in Miami
Pedestrian automobile crash on a Miami street injury lawyer in Miami
Miami head-on collision injury accident attorney
Bahamian victim injured when rear-ended at a stop sign on a Miami street
Attorney for a T-bone car crash injury victim in Miami
Car crash injury due to failure to yield when entering the highway in Miami
Bahamian injured when hit by a car running a red light in Miami
Miami lawyer for a highway car crash accident victim
Texting driver automobile accident injury attorney in Miami
Bicyclist hit by a car door when passing on the left on a Miami street
Miami lawyer for Bahamian pedestrian injured while in a crosswalk
Distracted driver car crash injury accident on a Miami street
Attorney for victim hurt in a highway automobile accident
Bahamian tourist hurt in a car accident in Miami
Automobile Accident Legal Help for Bahamians
Bahamian car accident victims have rights. If you or a loved one were hurt in a car crash, you should speak with a Miami automobile accident attorney. Our bilingual personal injury attorneys will review your case and explain what legal help may be available to you.
Wolfson & Leon serves clients located throughout South Florida. We have offices conveniently located in Miami, Fort Lauderdale, West Palm Beach, and Fort Myers. If you were hurt in a car accident and want to know what your options are, call us today for a free evaluation of your case at 305-285-1115.