Miami Auto Accident Attorney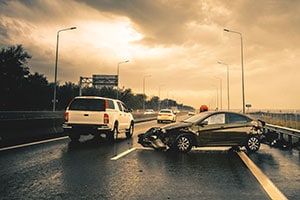 The bilingual Miami auto accident attorneys at Wolfson & Leon are committed to helping good people who have suffered personal injuries in auto accidents in Miami and all-around South Florida. When we represent our clients, we don't charge fees unless we recover damages. Call us at (305) 285-1115 to get a free consultation on your case. If we think that you can't recover financially from your accident, we will let you know for free of charge. If we find your case eligible for damages recovery, we will let you know that you should pursue it, what's the value of your case, and how soon you can get compensated. You know that car crashes are common in Miami, but they happen more often than you think. Miami-Dade County hosts anything between 50,000 and 65,000 auto accidents annually. On average, one-third of them cause personal injuries to those involved. The number of fatalities ranges from 250 to 300, which means that someone loses their life in Miami almost every single day.
It is important to seek help from a professional when injured or lost a loved one in a crash in Miami. We represent people like you since 1963, and from experience, we know that insurance companies sometimes offer settlements proposals to auto accident victims right after the accident. These offers are just an attempt to avoid paying the full compensation that should be paid. Don't let them get rid of you with a quick buck that is less than you deserve. Contact us, and during the free consultations, we'll tell you if it is enough or not.
Getting assistance from a Miami personal injury attorney as soon as you get injured in an auto accident can make the difference between successful monetary recovery and unsuccessful one. You risk nothing with our consultations at (305) 285-1115, so don't hesitate to call us. They bring no obligation to hire and are free of charge. In fact, we charge fees only when we collect damages.
The Miami auto accident attorneys at Wolfson & Leon are committed to serving the auto accident victims in Miami and South Florida for more than 5 decades. Let us help you with our vast experience in negotiating with insurance companies and recovering damages from car crashes in Miami and throughout South Florida.
We help auto accident victim in Miami in the capacity of:
Miami Lyft driver car accidents lawyer
Rollover car accidents lawyer in Miami
Lawyer for Miami rear-end car collisions with motorcyclists
Sideswipe and merging car accidents lawyer in Miami
Miami road rage car accident lawyer
Miami bridges car accident lawyer
Miami wrongful death claims due to car accident lawyer
Miami rear-end car collisions lawyer
Car-pedestrian injury accident lawyer in Miami
Drunk driving car accidents lawyer in Miami
Miami car accidents with Uber driver injury lawyer
Left turn car accident lawyer in Miami
Miami T-bone car accidents lawyer
Lawyer for Miami car accidents involving Uber or Lyft drivers
Attorney for head-on collisions with cars in Miami
Miami Auto Accident Lawyer
Very few events in life can disrupt your life like a car crash. One second you are driving to work or the store, having left one location to go to another. You might be thinking of what you need to do or maybe you are enjoying a memory brought about by a song. Then some other driver breaks the safety rules and in a moment of time your world is turned upside down. That is when you need to speak to the best Miami auto accident attorney that you can find. You need to take care of yourself and your family. You cannot count on the other driver or an insurance company to step up and do the right thing.
At Wolfson & Leon, our Miami auto accident attorneys are here to help. Just call us for your free consultation at (305) 285-1115. Do not hesitate to call us if you have got injured anywhere in Miami, Little Havana, Homestead, Miami Lakes, Miami Gardens, Kendall, Hialeah Gardens, Doral, Brickell, The Roads, Hialeah, Miami Beach, or anywhere else in Miami-Dade. We are here, and we can help.