Miami ATM Crime Victims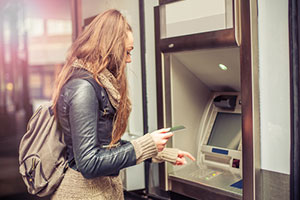 There are more and more lawsuits related to personal injuries occurred at ATMs. It doesn't mean that the number of accidents has increased, though. It's that ATM crime victims and their lawyers have learned that under certain circumstances, banks, ATM owners and landowners where the cash machine is installed could be legally responsible for the accident and personal injuries that have occurred. If you are injured or lost a loved one due to a crime committed at a Miami ATM, then you will likely want to speak with the best Miami ATM crime victim lawyer you can find. This can be a very important decision, so you should be sure to research your choices.
At Wolfson & Leon, our Miami ATM crime victim attorneys have worked for the injured victims in Florida since 1963 and they are ready to help you too. Call us for your free consult at (305) 285-1115 and allow us the opportunity to work with you to get the compensation and justice that you deserve.
Florida Statute 655.962
ATMs or cash machines, originally named automated teller machines, allow people to do various financial transactions without going to banks. They make it easy to withdraw, deposit or transfer funds. These machines are designed to make banking transactions more convenient for customers - that's why banks usually install them in or around banks, malls, gas stations, or cruise ships.
There is something not so convenient about them, though, as they can be targeted by thieves. We are not talking about sophisticated methods here, such as card skimming and card trapping, but about violent attacks for financial gain. Thieves can lurk around ATMs waiting for a potential victim, and their attacks may involve violence and life threats. Victims, despite being robbed, can also be beaten up and tortured, stabbed, shot, sometimes even raped. On occasion, ATM crime victims die because of the crime.
To avoid that, ATM operators must meet certain standards when installing cash machines. Florida Statutes oblige them to provide proper lighting, rear view mirrors, and landscape the area in a way that will discourage potential assailants from attacking. Lighting rules require each ATM operator to provide lighting during darkness hours for the cash machine, a parking and an access area to the machine.
Failure to meet these standards may place the legal responsibility on the bank and landowner side in case of personal injury due to criminal attack. Banks and landowners must meet two other standards as well. They must let you watch your back while withdrawing or depositing money at a cash machine by providing you with rear view mirrors or other reflecting surfaces.
Another requirement is related to proper landscaping of the area around the ATM. There are cases where the criminal hides in bushes around the ATM. Landscaping and cleaning the area around it should provide for space with better visibility, which can eventually discourage thieves from attacking.
A negligent security case arising out of a crime at an ATM in Miami other factors that may give rise to liability for the bank, ATM owner or property owners can include:
Security Surveillance Cameras
Adequate Lighting Around the ATM Area, Including Building Corners, Parking Lots and Walkways
Installation and Maintenance of an ATM Emergency 911 Button
Use of Security Guards When Justified by Crime Data
Installation and Proper Maintenance of ATM Mirrors
Banks and Property Owner Responsibility
If you suffer a personal injury during a criminal attack at a Miami ATM, have in mind that, aside from the criminal offender, the bank or the landowner might be liable for your harms and losses. It is best to talk to a Miami ATM crime victim lawyer who can answer your questions and come up with a plan to hold the proper entities accountable for your damages.
Miami Personal Injury Attorneys Helping ATM Crime Victims
At Wolfson & Leon our Miami crime victim lawyers are here to help you. We will answer your questions at no charge. Simply call us at (305) 285-1115 for your free consultation. Our Miami personal injury attorneys serve the good folks of Miami-Dade County including the towns and cities of Hialeah, Miami Beach, Kendall, Homestead, Kendale Lakes, South Miami, Perrine, Princeton, Miami Gardens, Aventura, Miami Gardens, Miami, South Beach, Miami Lakes, Liberty City, Edgewater, Overtown, Key Biscayne, North Miami, Allapattah, North Miami Beach and Doral.