Greenacres Motorcycle Accident Attorney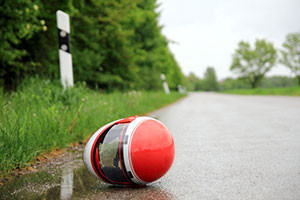 To get answers after any kind of motorcycle accident, call the Greenacres motorcycle accident attorneys at Wolfson & Leon. We will help you determine if you were entitled to compensation, and if you are, how to get compensated as you deserve as soon as possible. Call us now at (305) 285-1115.
If you or a loved one are injured in a motorcycle accident in Greenacres, call a Palm Beach motorcycle injury attorney as soon as possible because the first few steps upon the accident are critical for a successful recovery of compensation.
Motorcycle accidents in Greenacres are nothing new. From all the 50 US states, 10-15% of the motorcycle accidents take place on Florida streets. Motorcycle drivers have much less protection compared to car drivers or truck drivers. Therefore, severe injuries and fatalities are more common among them. However, no one wants to pay the accident victims for their damages. You, as an injured victim, often must fight for the compensation that you deserve.
Insurance companies may offer a settlement for much less than what the damages are worth. If a representative of an insurance company approaches you right after the accident trying to entice you to settle for a certain amount of money to conclude the recovery procedure as soon as possible, do not accept that before speaking to a lawyer. Instead, call us to help you determine how strong is your case and how much it is worth. From there, we can help you with the next steps. Our consultations are free. We don't ask for any fees until we recover for you.
Greenacres
Greenacres is one of the smallest cities in Palm Beach County. It is inhabited by 40,000 residents. Most of them speak English as their first language. Even though Greenacres grows quite fast, with almost 30% per decade, it is not the wealthiest town in South Florida. The median household income is at $37,000.
Greenacres and the surrounding areas are still being developed. On its west side, it borders with unincorporated communities. On the east, it borders with Lake Worth Corridor and Palm Springs, Aberdeen and Boynton Beach are on the south, and Royal Palm Estates and Golden Lakes to the north.
Greenacres Motorcycle Accidents and Injuries
Most often, personal injuries and wrongful deaths in motorcycle accidents in Greenacres are caused by:
Drunk Driving Motorcycle Accidents in Greenacres
Head-on Collisions in Greenacres with Motorcycles
Greenacres Left Turn Motorcycle Accidents
Rear-end Collisions with Motorcyclists in Greenacres
Greenacres Sideswipe and Merging Motorcycle Accidents
Greenacres Wrongful Death Claims Due to Motorcycle Accidents
Greenacres Left Turn Motorcycle Accidents
Greenacres Motorcycle Accidents with Uber Drivers
Road Rage Motorcycle Accidents in Greenacres
Greenacres Motorcycle Pedestrian Injury Accidents
Motorcycle Accidents in Greenacres Involving Uber or Lyft Drivers
Greenacres T-bone Motorcycle Accidents
Motorcycle Accidents in Greenacres with Lyft Drivers
Greenacres Rollover Motorcycle Accidents
This is not an exhaustive list of all the possible accidents. If you have been injured in another type of motorcycle accident, do not hesitate to contact our Palm Beach injury attorneys and let us answer your questions.
We can help you recover for the following harms and losses:
Lost earnings due to inability to work and earn money
Medical bills, such as surgeries, visits to a doctor, and others
Medication bills
Scarring and disfigurement, whether permanent or temporary
Compensation for the suffering, stress and emotional pain
Loss of support for the dependents of family members in case of wrongful death
Funeral costs
Greenacres Motorcycle Accident Attorneys
We understand the impact a motorcycle accident can have on your life in regards to recovery and the unexpected finical obligations you could endure. The Greenacres motorcycle accident attorneys at Wolfson & Leon are available to help all the unfortunate good folks who have been injured or lost a loved one on the streets of Greenacres due to a motorcycle accident. Call our bilingual Greenacres motorcycle accident lawyers at (305) 285-1115 for free consultations. You pay nothing until we recover for you, so there is no risk in calling us.
If you were injured in a Florida Keys supermarket or grocery store accident, then you should speak with the best Florida Keys personal injury lawyer that you can find and do it as soon as possible. At Wolfson & Leon, our Florida Keys supermarket accident lawyers and grocery store injury attorneys have helped victim of negligence since 1963. All consultations are free, and we will not charge you a fee unless we make a recovery for you. Call us now at (305) 285-1115 let us answer your questions.
Supermarket Accidents in the Florida Keys
Supermarket and grocery stores are businesses and operate as such. When you go into their stores to shop and have an accident, they may act friendly as if they are concerned about what has happened to you but will do whatever they can to ensure that their money stays safe with them. In the moment, you could feel embarrassed for falling or having all the attention from the accident you were just involved in. It can be a confusing and overwhelming time when you have an injury which is why you need to call a Florida Keys supermarket accident lawyer as soon as possible. The longer that you wait to file your claim, the less your chances might be in being successful in getting the compensation that you deserve.
If you have had an accident at a supermarket or grocery store, a Florida Keys injury attorney will talk to you to see what happened to you. Any Florida Keys accident attorney will suggest that you make sure that you tell a manager about what happened. This can start a paper trail of your incident. It is also important to remember everything that happened including what the manager said to you because it will be important when you contact a Florida Keys personal injury attorney to fight for your compensation. The manager will more likely than not file an accident report over the incident. Be sure that you get medical assistance especially if offered to ensure that you are okay especially since this will be noted in your accident report. If you felt well enough to refuse medical assistance, they may use that against your claim. We also recommend that you take pictures of your injury and where you fell so that you have evidence that can help you to fight your claim.
At Wolfson & Leon, our grocery store accident lawyers and supermarket injury attorneys are available for any accident in the Florida Keys. We can do an investigation that will help to determine if you have a claim against the location where you had your accident. Any evidence that you have acquired when the accident happen can be essential here. If you do have a claim against the store, we will determine what is a reasonable amount of compensation for your claim that can help make your life easier. We understand that accidents can be disastrous to families and their finances, so we work hard to ensure that you get the compensation that you deserve.
Accidents that lead to injury could potentially put your family in financial hardship. This can be a stressful and overwhelming time for you and your family, so we do whatever we can to help you through this difficult time. Our team will fight by your side with your best interests in mind. If you are not successful in your claim, we will see what we can do about appealing the ruling to get you a better outcome.
Florida Keys Accident Lawyer Helping Supermarket Injury Victims
At Wolfson & Leon, our Florida Keys injury attorneys are prepared to represent you in your personal injury claim against Publix, Winn Dixie or any other grocery store or supermarket accident. We serve the Florida Keys including Key West, Summerland Key, Marathon, Tavernier, Islamorada and Key Largo. Call us today for your free consultation at (305) 285-1115.