CityPlace Accident Lawyer in West Palm Beach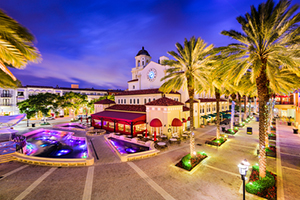 If you or a loved one were seriously injured at CityPlace in West Palm Beach, you should take advantage of the offer of a free consultation from the West Palm Beach accident attorneys at Wolfson & Leon. Just call us at (855) 982-2067 for your own free consultation after any type of accident at CityPlace in West Palm Beach.
CityPlace in West Palm Beach
Despite being 68 miles far from Miami, the City of West Palm Beach is still considered as a part of Miami Metropolitan area due to the great urbanization between the two cities. It is the oldest municipality in that area, as it has been incorporated as a city two years before Miami itself. It is a home of over 100.000 residents, regularly joined by many beachgoers, divers, and other adventurers and fun-seekers.
West Palm Beach boasts with business, cultural and sport opportunities for residents and visitors. Malls and open markets put many of these options in one place. The City Place location is one of them. It hosts several major brands, such as:
Sephora
Francesca's
Anthropologie
H&M
LA Fitness
L'Occitane
Victoria's Secret
Blue Martini
BurgerFi
Cabo Flats
City Pizza
Le Macaron
Improv Comedy Club
CityPlace Injuries in West Palm Beach
CityPlace can provide plenty of pleasures, and it's no wonder that it attracts so many visitors every day. However, accidents happen even there. Having not been in an accident or not knowing someone who has, you may wonder what possible accidents could occur in a place that is known to be enticing and fun. The more businesses and people there are, the greater the responsibility that is required to ensure a safe environment for workers and consumers alike. According to our CityPlace accident attorneys' experience, the most common accidents leading to personal injuries include, but are not limited to:
CityPlace car accidents on parking
West Palm Beach CityPlace bicycle accidents on parking
Pedestrian injuries at West Palm Beach CityPlace in parking lots
Motorcycle accidents on parking lots at CityPlace in West Palm Beach
Uber Accidents at CityPlace
Slip and fall injuries in West Palm Beach CityPlace due to slippery floors
Trip and fall injuries in West Palm Beach CityPlace due to construction debris and garbage
Falling merchandise in CityPlace stores
Lyft car accidents at CityPlace
Negligent security at CityPlace resulting in injuries suffered during robberies and other criminal assaults at CityPlace in West Palm Beach
Drunk driving accidents on West Palm Beach CityPlace
Falling tiles from the ceiling at the CityPlace
Elevators accidents in West Palm Beach CityPlace
Escalator injuries and accidents in West Palm Beach CityPlace
CityPlace Accident Lawyers
There is a simple agreement between you and CityPlace - you go there to shop and entertain yourself or with your loved ones, and CityPlace provides you with a safe environment for doing so. Of course, CityPlace may have the best intentions when it comes to their visitors' experience, but mistakes happen from time to time. Our West Palm Beach City Place attorneys have experience with that. We know how they happen, who is liable for them and how you can recover damages for your losses. It is important to note that when it comes to CityPlace personal injuries, legal responsibility could be on CityPlace, but stores, bars and restaurants could be liable as well. That is why you should always call a West Palm Beach personal injury lawyer when a CityPlace accident happens. He or she will investigate circumstances of your case and make sure you claim damages from someone who really is liable for your injuries.
At Wolfson & Leon, our CityPlace injury attorneys are here to help you and your loved ones. We have had had the honor and pleasure of helping personal injury clients since 1963 and we would like the opportunity to interview with you after your CityPlace accident and injury. Call us at (855) 982-2067 for your free consultation.