Boynton Beach Traumatic Brain Injury Law Firm
Boynton Beach Traumatic Brain Injury Law Firm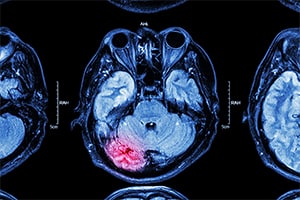 It's a fact of life that accidents will happen. Tripping over a hidden curb in the parking lot of a shopping mall, slipping on a freshly mopped floor in the grocery store, or getting hit by a car at an intersection are unfortunate, but common, accidents that happen in our everyday life. If you've been in an accident, you should always see a doctor even if you think your injuries are minor. Whether you are trying to catch yourself as you fall or your body jerks rapidly forward when you've been in a car accident, injury can occur as your body moves in a way that it shouldn't. You may not realize that you hit your head on a shelf or floor as you were falling or your head jerked back and forth when your car was hit.
Injuries to the head may be nothing more than minor scrapes, bruises, even black eyes. In other cases, you may have experienced damage to your brain. This is known as a traumatic brain injury. Concussions and brain contusions, or bruising of the brain, are common brain injuries that are usually minor. More severe injuries, including hemorrhaging, tearing of tissues in or around the brain, and comas can require significant medical attention. Even if you are feeling fine, you should seek a medical evaluation if you have a head injury. If left untreated, it can become more serious, even permanent.
Testing and diagnosing a traumatic brain injury can be costly. Medical treatment and rehabilitation is expensive. If you were in an accident and are suffering from an injury to the brain, contact a personal injury attorney for help. A Boynton Beach traumatic brain injury lawyer can answer your questions, file a case, and negotiate a settlement on your behalf. The personal injury attorneys at Wolfson & Leon have over 55 years of experience fighting for the rights of head trauma victims. If you've been injured and don't know what to do next, call the Boynton Beach brain injury attorneys at Wolfson & Leon for your no-fee initial evaluation at (855) 982-2067.
Head Injury Lawyer in Boynton Beach
The city now known as Boynton Beach got its start in 1895 when post-Civil War Major Nathan S. Boynton visited the area. Enticed by its natural beauty, Major Nathan S. Boynton began construction on the Boynton Beach Hotel, which served as his family's residence over the summer. The area remained relatively quiet until after World War II, when many soldiers returning home moved to the area.
Currently, Boynton Beach has a population of 74,483 residents. The city has a racial mix of 50.3% white, 30.4% African American, and 15.8% Hispanic. The median age of residents living in the city is 42.6 years. Median household income is $50,561 and the median property value is $164,300. Residents living in Boynton Beach spend an average of 24.1 minutes commuting to work each day.
The Boynton Beach head trauma lawyers at Wolfson & Leon represent clients that are suffering from traumatic brain injuries that were caused by accidents, including;
Boynton Beach car crash accident causing a traumatic brain injury attorney
Grocery store slip and fall head injury lawyer in Boynton Beach
Lawyer for parking lot trip and fall brain injury in Boynton Beach
Boynton Beach shopping mall slip and fall head trauma attorney
Falling overhead sign at a retail store in Boynton Beach resulting in a head injury lawyer
Boynton Beach attorney for poorly lit parking lot criminal act traumatic brain injury victim
Sidewalk trip and fall concussion injury lawyer in Boynton Beach
Attorney for restaurant slip and fall traumatic brain injury victim in Boynton Beach
Boynton Beach Brain Trauma Injury Law Firm
The Boynton Beach traumatic brain injury attorneys at Wolfson & Leon have defended victims who have been injured in accidents since 1963. With offices located in Miami, Fort Lauderdale, West Palm Beach, and Fort Myers, we proudly represent the residents of and visitors to Florida. If you have questions about receiving compensation for medical expenses or lost wages, or you aren't sure if your accident qualifies as a personal injury claim, contact us today. For a free consultation, call the personal injury attorneys at Wolfson & Leon at (855) 982-2067.