What Does "Your Case is in Court" Really Mean?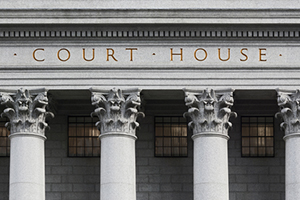 When you are told that your case is in court you probably wonder what exactly does that mean. That is a legitimate question. At the Wolfson Law Firm, our Miami personal injury lawyers place a large majority of cases into litigation. We find that by filing a lawsuit we can resolve cases quicker through mediation, negotiation or trial.
Prior to filing a lawsuit, the time and money are on the side of the insurance company. Most insurance companies take the approach of "deny, delay and don't pay". These insurance companies can financially wait out most claimants. But once a case is filed in court, the playing field is leveled. The reason is the role of the judicial system.
When your case is in court, your attorney can employ strategies to expedite your case. Florida case law and rules of procedure of procedure encourage the fair and prompt resolution of cases. The court system has its own inherent delays. But your personal injury attorney can aggressively push your case towards resolution by:
filing a motion to refer your case to mediation
noticing your case for jury trial
promptly filing discovery responses to avoid motions to compel and unnecessary hearings
setting depositions as quickly as possible
file a motion to expedite your trial if you are over the age of 65 and where your medical condition warrants such consideration
filing a proposal for settlement on the 91st day after service of process is accomplished
requesting a case management conference to set a trial date and a schedule for discovery in cases where the defense attorney fails to cooperate or in complex litigation with multiple defendants
reviewing your file every 30 to 45 days in a case management system
maintaining an ongoing discussion with defense counsel for opportunities to resolve issues or negotiate a settlement
Specifically, "your case is in court" simply means that a complaint was filed, and a summons was issued. The necessary filing fees and costs, usually exceeding $400, have been paid to the clerk of the court. The process server takes the summons, the complaint and any initial discovery and serves it upon each defendant.
Once served, the defendant has 20 days to file a responsive pleading. The defendant may answer the complaint, file a motion to dismiss the complaint, or file a motion for a more definite statement. If an agreed order cannot be entered, then these motions may require hearing. The process of setting and attending a hearing can take between 2 to 4 weeks. This is an example of the inherent delays of the court system.
Once the case is "at issue", meaning each defendant has filed an answer, your personal injury lawyer can file a notice of jury trial. The setting of a date for trial varies widely from judge the judge and county to county. You should reasonably expect a trial date to be set anywhere between four and eight months from the time of the notice for trial.
Before your case is allowed to go to trial, the court requires the parties to attend mediation. If your case does not settle at mediation, then your options include continuing to negotiate or trial. Only when your case is called to begin trial is your case truly "in court".
If you have any questions following any type of accident about the process that you will need to go through to become fairly compensated, then we invite you to call our Miami personal injury attorneys have the Wolfson Law Firm for your free consultation. You can call us 24/7 at (305) 285-1115. We have worked on behalf of injured clients since 1963. We are standing by ready to help you too.
We proudly serve the communities and neighborhoods of South Florida including Hialeah, Miami Beach, Fort Lauderdale, West Palm Beach, Aventura, Miami Gardens, Weston, Wynwood, Wilton Manors, Kendall, South Miami, Allapattah, Pembroke Pines, Boca Raton and Wellington.