Orlando Storefront Accidents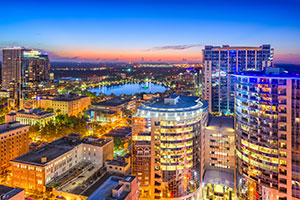 Seeing a car driving through a store's plate-glass window is nothing short of a scene playing out in a movie. While these may be comic events on the screen, they are no laughing matter in real life. Accidents resulting from cars, vans, or trucks driving through the windows or walls of restaurants, strip malls, grocery stores, or other retail establishments are becoming more common place.
Storefront accidents are particularly unsettling as store or restaurant patrons are seemingly unaware that any danger exists. That is until a vehicle comes barreling through a wall or window. Whether it is age, distraction, alcohol, and or just a simple mistake of hitting the gas instead of the brake, causes of storefront accidents are similar to those of traffic accidents. Instead of hitting another car, however, these accidents involve pedestrians, employees, or patrons, who can be struck or pinned down by a vehicle or become trapped by falling debris. Sadly, Orlando experienced such a tragedy in 2014 when a car burst through the wall of a KinderCare facility, killing a young child and injuring other children and adults within the day care center.
Orlando Storefront Accident Lawyers
With over 72 million visitors in 2017, Orlando is best known as one of the top family vacation destinations in the world. In addition to its amusement parks and entertainment centers, Orlando also has a bustling business community. Office and commercial buildings line some of the busiest roads. With a population of 277,198 people, Orlando is also a racially diverse city as 38% of its residents are white, 30.3% are Hispanic, and 23.5% are African American. The city has thousands of establishments, including souvenir shops, retail outlet malls, and boutique stores, as well as numerous restaurants, cafes, and bars.
With so many retail establishments, commercial and office buildings, as well as restaurants, the opportunity for an accident involving a storefront is high. Residents and visitors alike may misjudge the speed that they pull into a parking space, confuse pedals, or become distracted by cell phones, GPS systems, or text messages. This can result in cars crashing through windows or walls of buildings.
If you or a loved one has been injured as the result of a storefront accident, the personal injury lawyers at Wolfson & Leon can help. If you are unsure how to proceed with a claim, a personal injury attorneys can answer your questions. Our lawyers often serve Orlando residents in many capacities including;
Orlando storefront accident personal injury lawyer
Grocery store crash personal injury accident attorney in Orlando
Orlando restaurant car crash attorney personal injury lawyer
Pedestrian accident personal injury attorney in Orlando
Orlando distracted driver personal injury lawyer
Texting and driving storefront accident injury attorney in Orlando
Orlando mall accident personal injury lawyer
Car crash into a wall accident personal injury attorney in Orlando
Orlando strip mall storefront crash personal injury lawyer
Rear-end car crash attorney in Orlando
Orlando distracted driver car accident personal injury attorney
Shopping center car crash personal injury attorney in Orlando
If you or a loved one has been injured in a storefront crash, you have rights. To find out what compensation you may be entitled to, contact Wolfson & Leon at (855) 982-2067 for a free consultation.
Who is Responsible for a Storefront Accident?
In most cases, the driver of the car who hit the building is responsible. However, that may not always be the case. The KinderCare accident in 2014 was caused by another driver hitting the car that ultimately drove through the wall.
Responsibility may also lie with the store itself. Cities have different ordinances that govern a store owner's responsibility to provide barricades or other fixtures to help prevent a storefront accident and protect patrons and pedestrians. Stores that are required to comply with these regulations, but fail to do so, may be held responsible. Vehicle malfunctions or improper parking lot design can also play a role in causing a storefront accident.
With this mind, consulting a personal injury attorney can help you to navigate some of the complexities that can result in a storefront accident. In some cases, there may be multiple parties that are responsible for or contributed to a storefront accident.
Personal Injury Law Firm Serving Orlando
Wolfson & Leon represents residents in Orlando, as well as its surrounding communities in the Central Florida region, including Tampa, Lakeland, St Petersburg, and Fort Myers. If you or your loved one has been the victim a storefront crash, contact the Orlando personal injury lawyers at Wolfson & Leon at (855) 982-2067 for help.