Miami Car Accident Attorney for the Florida Keys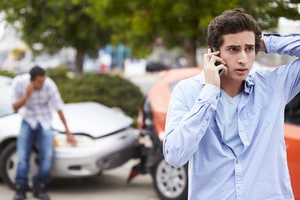 Who doesn't love the drive down to the Florida Keys? Surrounded by vibrant blue water, white sandy beaches, and plenty of natural scenery, the drive can be as relaxing as the Keys. But with U.S. Highway 1 being the only road in and out, traffic can be a nightmare. Impatient, intoxicated, or distracted drivers can cause serious accidents that may result in fatalities. Over the past ten years, the fatality rate for accidents on U.S. Highway 1 is higher than any other major highway, making it the most dangerous highway in the country.
Devastated families who have lost a loved one in a car crash often struggle with grief and sadness. If the accident was the fault of the other driver, it makes us angry to know that someone else's negligence or reckless behavior caused this horrible tragedy. In addition to the emotional impact an unexpected death can have, the financial impact on the surviving family members can be devastating. The financial burden of medical bills and funeral costs can squeeze a family budget. If the victim was the primary income producer in a family, the loss of income can place an extreme financial burden on a family. If you have lost a loved one in a car accident that was someone else's fault, your family may be entitled to recover damages through a wrongful death suit. To find out if your accident may qualify or if you just have a question, call the Florida Keys car accident lawyers at Wolfson & Leon at (305) 285-1115 today.
Car Accident Wrongful Death Claim Attorneys in Miami
Families who have lost a loved one in an automobile accident that was not their fault may be able to recover compensation for their loss through a wrongful death claim. These claims are filed on behalf of the surviving family members through the deceased person's estate.
Loved ones may be able to recover damages to cover:
Lost income that the family would have received if the victim were alive
Medical and funeral expenses
Emotional or mental suffering if a child was the victim
Loss of protection and loss of companionship
Filing a wrongful death claim can involve some complexity. Engaging a personal injury attorney can help to ensure that your suit is filed properly and within the appropriate timeframe.
Florida Keys Automobile Accident Lawyer
For over 55 years, the Florida Keys automobile accident lawyers at Wolfson & Leon have represented victims and their families who have been impacted by a car accident that was not their fault. Our personal injury lawyers represent clients in a variety of situations including:
Attorney for car crash resulting in a fatality in the Florida Keys
Miami wrong-way automobile accident injury lawyer
Pedestrian car crash injury accident lawyer in Florida Keys
Florida Keys head-on collision automobile accident injury attorney
Hit and run car crash injury in the Florida Keys
Attorney for victim injured by an impaired driver in Miami
Bicyclist injured in car accident in the Florida Keys
Rear-end car crash injury attorney in Miami
Florida Keys speeding motorist car crash accident injury
Lawyer for injured motorcyclist in a car accident in the Florida Keys
Improper left-hand turn intersection injury crash in Florida Keys
Hidden driveway car accident pedestrian injury attorney in Miami
Florida Keys attorney for parking lot car accident injury
Injury due to a driver's failure to stop at a red light in Miami
Large truck injury accident attorney in Florida Keys
Miami lawyer for distracted driver automobile accident injury
Texting while driving car crash injury lawyer in Florida Keys
Florida Keys high speed car chase resulting in serious injury lawyer
Lawyer for bus crash injury in Florida Keys
Florida Keys Car Crash Injury Lawyer
Nothing hurts more than to lose a loved one in an accident. The emotional pain and trauma can fill us with immense grief and sadness. If your family has been financially impacted by this loss, you may be able to file a wrongful death suit to recover what has been lost.
Wolfson & Leon serves South Florida from its four offices located in Miami, Fort Lauderdale, West Palm Beach, and Fort Myers. We proudly represent the residents living in the Florida Keys including Key West, Islamorada, Marathon, and Big Pine Key. Find out what your options are by speaking with a Miami wrongful death automobile accident lawyer at Wolfson & Leon. Call Wolfson & Leon at (305) 285-1115 today for a free and confidential consultation.