Florida Keys Crime Victim Lawyer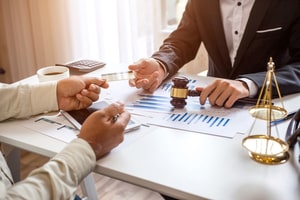 The Florida Keys is a popular tropical destination for tourists and even fellow Floridian's. A trip to the Keys is met with excitement as you can guarantee yourself sunshine, relaxation and great weather. One thing that the never comes to mind, is the potential of being a victim of a crime. If you or your loved ones have been injured due to a criminal assault in the Florida Keys, then you should speak with the best Florida Keys personal injury lawyer you can call. The Florida Keys personal injury attorneys at Wolfson & Leon have helped personal injury victims since 1963 in Florida and are available for free consultation at (305) 285-1115. Call us today and get the answers you deserve.
Florida Keys
The Florida Keys are in the southernmost part of Florida. World-famous for the wonderful white-sand beaches and tropical weather, they are the dream destination of many travelers from all around the world. Around 80,000 folks are fortunate enough to spend their lives there.
Florida Keys Crime Victims
The most common crimes occurring regularly in the Florida Keys indicate that our Florida Keys crime victim lawyers may be able to help you in the following capacities:
DUI crimes compensation lawyer in Florida Keys
Florida Keys crime victim lawyer for injuries or deaths due to negligent security
Florida Keys rape and other sexual assaults victim lawyer caused by inadequate security
Florida Keys crime victim lawyer for murder victim survivors and family members
Crime victim lawyer for aggravated assault in Florida Keys
Florida Keys child molestation victim compensation attorney
Florida Keys violent crime victim compensation lawyer
Crime victim compensation attorney for robbery in Florida Keys hotels, resorts, condominiums and apartment complexes
Have in mind that this is not an exhaustive list of injury-causing crimes in the Florida Keys. These are the most common ones, but if you've been injured in a different event, you may still be eligible for compensation so speak to a Florida Keys crime victim compensation attorney as soon as you can.
Florida Keys Crime Victim Personal Injuries Compensation
In order to be compensated for injuries sustained due to these criminal attacks, you must figure out who is legally responsible to pay for your injuries, damages, harms and losses. Florida laws provide you with three options.
The Florida Bureau of Victim Compensation can pay for some of your economic losses such as medical bills and lost wages. But you and your case must meet certain criteria before you are eligible.
Another option is waiting for conclusion of the criminal proceeding. You can likely obtain a judgement for compensation and restitution from the criminal. But the reality is that nearly all criminals lack the resources and the desire to fully compensate their victims.
Gas stations, convenience stores, bars, banks, hotels, resorts and marinas are a regular target of assailants in the Florida Keys. These facilities are obliged to take all the reasonable measures for protecting invitees from injuries no matter the source. When a breach of this duty leads to criminal attack and injuries thereof, the person who controls the property may be liable for the injuries sustained. It could be tricky to prove third person's liability, but with an experienced Miami criminal injury lawyer, it is possible to prove it.
If you or your loved ones have been injured due to a Florida Keys criminal incident, the Florida Keys crime victim compensation attorneys at Wolfson & Leon are available to help. We have been in the business for more than five decades and we have helped many clients get the compensation and justice that they deserved.
Contact us at (305) 285-1115 for your free consultation. We don't ask clients to pay any fees unless we recover for them. Don't delay and don't be a silent victim. Get answers, justice and compensation you deserve after your Florida Keys injury from a criminal action that could have been prevented with reasonable care.