Florida Keys Bridges Accident Lawyer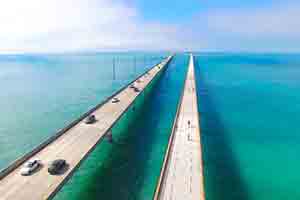 You were driving or walking on a bridge on Florida Keys, enjoying the wonderful sights, but in the next moment, you were in pain because of the recklessness of some driver. You are not the first one who has been in a situation like this, nor will you be the last one. You will need the best Florida Keys personal injury lawyer you can call. You can speak with the Florida Keys accident attorneys at Wolfson & Leon right now at (305) 285-1115 and it won't cost you anything.
Bridge accidents have occurred since ever, and Florida Keys bridges are not an exception. The Florida Keys especially can experience this issue as the Keys are spaced apart, separated by ocean and the bridges are the only access by land from Key to Key. It is a destination for tourists and Floridians alike and since the weather provides year-round warmth, the Keys receives plenty of traffic on a daily basis. If you have received medical help for your injuries, the next step is to talk to the best Florida Keys personal injury lawyer you can find.
Successful financial recovery most often requires receiving help from a professional. Just like you visit a physician to recover from your physical injuries, you should talk to a lawyer to recover compensation for your personal injuries. The US legal system entitles you to compensation for the injuries you have sustained due to someone else's fault. To determine if you're eligible to seek compensation, call our Florida Keys bridge accident attorneys for assistance. Our consultations are free and will help you learn about recovering damages for your injuries and how to do it as soon as possible. Call us now at (305) 285-1115 and we will let you know about your options free of charge.
Florida Keys
The Florida Keys are a group of islands in the southernmost part of Florida. Some of the main keys are Key Largo, Tavernier, Plantation Key, Islamorada, Layton, Duck Key, Marathon, Big Pine Key, Middle Torch Key, Cudjoe Key, Sugarloaf Key and Key West. They are all part of the Monroe County. Most of the inhabited island are interconnected by a series of bridges on the Overseas Highway, part of the US Route 1, and plenty of other smaller bridges. The most significant bridges in the Florida Keys include:
Seven Mile Bridge
Long Key Bridge
Card Sound Bridge
Jewish Creek Bridge
Snake Creek Bridge
Tavernier Creek
Ohio Bahia Honda
Tea Table
Little Duck Missouri
Spanish Harbor
Kemp's Channel
Saddle Bunch
Boca Chica
Lower Sugarloaf Bridge
Shark Channel
Nile Channel
Torch-Ramrod
Torch Key Viaduct
Florida Keys Bridge Accidents
If you were injured at some of the Florida Keys bridges, you might need a:
Florida Keys accident lawyer for distracted driving car accidents on bridges
Florida Keys bridges sideswipe and merging accident attorney
Attorney for lane change car accidents in Florida Keys on bridges
Personal injury lawyer for Florida Keys bridges car accidents with Uber and Lyft drivers
Bridge truck accident lawyer in Florida Keys
Keys car accident lawyer for T-bone car accidents and injuries on Florida Keys bridges
Florida Keys lawyer for truck accidents with cyclists on bridges in Florida Keys
Lawyer for Florida Keys bridge car accidents involving motorcycles
Florida Keys bridges construction zone car crash lawyer
Keys car accident attorney for rear-end car accidents and injuries on Florida Keys bridges
Personal injury lawyer for head-on collisions on bridges in Florida Keys
Lawyer for car accidents with cyclists on Florida Keys bridges
Attorney for bridge car accidents involving pedestrians on Florida Keys bridges
Florida Keys bridges road rage car accident lawyer
Florida Keys Bridge Accident Lawyers
Accidents on Florida Keys bridges are an ever-present danger. Traffic accidents anywhere can have tragic consequences, but if it happens on a bridge over the Atlantic, the risk can be even greater. The remote access can be challenging for rescuers to get to you in a timely manner. Don't take your injuries lightly and make sure that you take the necessary steps to get the compensation as you deserve.
Call the Florida Keys bridge accident lawyers at Wolfson & Leon for assistance in financial recovery after any type of accident. We are reachable for free consultations at (305) 285-1115. We handle cases on a contingency basis, so you won't pay anything unless we recover for you.