Brickell Motorcycle Accident Lawyer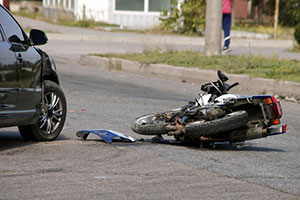 If you've sustained personal injuries due to a motorcycle accident in Brickell, Miami, then you should seek help from the best Miami motorcycle accident lawyer you can find. He will help you investigate the circumstances of your case and determine if you're entitled to seek damages recover. Maybe you have medical bills to pay due to the accident, and it's unfair for you to bear these expenses due to someone else's wrongdoing. Whether you were riding the motorcycle involved in the accident or you were a passenger, call our Brickell motorcycle accident lawyers at Wolfson & Leon for your free consultation. You can reach us 24/7 at (305) 285-1115.
Brickell, Miami
Brickell is an urban neighborhood located just south of Downtown Miami. It is a thriving area that is becoming more and more dense. As of the census in 2010, a total of more than 32,000 people lived on just 1.19 square miles. Brickell is known as Miami's Millionaire Row. Its tower buildings provide space for many businesses, offices, and residences.
Brickell is a vibrant neighborhood with plenty of shops, malls, restaurants, bars, nightclubs, galleries, and so on. There is a lot of traffic and, little wonder, motorcycle accident happens there. When injured in a motorcycle accident in Brickell, our Miami motorcycle accident lawyers are here to help.
Brickell Motorcycle Accidents
Driving a vehicle in a daily commute of Miami Dade county comes with densely packed roadways and plenty of heavy traffic. Brickell is neighbors to Miami's downtown district and can be home to some of the heaviest traffic areas at different parts of the day. Another large issue is the variety of drivers on road in this area. Brickell offers many businesses and restaurants, as well as neighboring universities, Bayfront Park and the American Airlines Arena. These amenities attract a range of residents, tourists and foreigners, who are all attempting to navigate the same roadways with different driving expertise.
If you are driving in these conditions, there is plenty of risk for an accident to occur. If you decide to operate a motorcycle on these roads, the risk parameters become even more magnified. You could be the most cautious and safest rider on the road, but the high risk still remains. That is why it important to understand your options should be involved in a motorcycle accident.We can help in any motorcycle accident that occurred in Brickell or anywhere in Miami, but considering the most common accidents involving motorcycles, it's likely to be:
Brickell Miami Motorcycle Pedestrian Injury Accidents
Drunk Driving Motorcycle Accidents in Brickell and Miami
Head-on Collisions with Motorcycles in Brickell
Rear-end Collisions in Brickell Miami with Motorcyclists
Brickell Miami T-bone Motorcycle Accidents
Motorcycle Accidents with Uber Drivers in Miami and Brickell Miami
Motorcycle Accidents Involving Uber or Lyft Drivers in Brickell
Motorcycle Accidents with Lyft Drivers in Brickell
Sideswipe and Merging Motorcycle Accidents in Brickell Miami
Left Turn Motorcycle Accidents in Brickell
Rollover Motorcycle Accidents in Brickell
Wrongful Death Claims Due to Motorcycle Accidents in Brickell
Road Rage Motorcycle Accidents in Brickell
Being injured in any of these accidents, as well as any other accident, due to someone else's fault may give you the right to claim damages. You may be entitled to be compensated for all your medical and non-medical bill, as well as for financial losses and lost earnings, as long as those harms and losses are injury related.
Brickell Motorcycle Injury Lawyers
If you were injured in any of these motorcycle accidents in Brickell or lost a loved one in a wrongful death motorcycle accident, make sure you investigate to know the at-fault party and who may be liable to pay for your losses and expenses. When it's someone else's fault, you may be able to recover for the medical bills, damages of property, and any other financial losses.
If you've been injured or your loved one has suffered a wrongful death in a motorcycles accident in Brickell, call us at (305) 285-1115 for your free consultation. Our bilingual Brickell motorcycle accident lawyers at Wolfson & Leon will help you navigate through the personal injury compensation labyrinths of Florida laws and processes. You won't pay any fees unless we recover for you.