Left Turn Accidents in Hialeah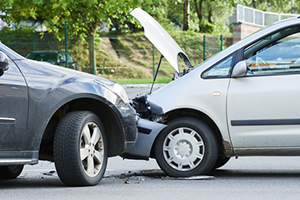 If you were hurt in a Hialeah left turn car accident, then you should seek the advice and counsel of a Hialeah car accident lawyer as soon as possible. Automobile accidents present a whole host of issues which can be complex and complicated. In short, nothing is easy after a car accident. But the attorneys at Wolfson & Leon can help you if you were injured in a Hialeah left turn car accident. Just call us at (305) 285-1115 for your free consultation and we will do our best answer your questions right away.
Hialeah Left Turn Accident and Injury
Let's start off with the basics. Florida Statute 316.122 provides that the left turning vehicle must yield the right-of-way to any cars coming from the other direction. If you fail to do so, it is referred to as failing to yield the right-of-way. The vehicle that is going straight has the right-of-way. Any vehicle making a left turn into that path must do so safely.
So, if you were injured while making a left turn does that mean that you are 100% at fault? No not necessarily. Florida law allows for a determination of comparative negligence. What that means is both drivers can argue on their own behalf or to an insurance company or even a jury that both drivers were at fault.
Comparative negligence allows for a determination of a percentage of fault. In jury trials, our Hialeah Miami car accident lawyers will explain to a jury that comparative fault or negligence is similar to shades of gray. One driver might be 10% at fault while the other driver is found to be 90% at fault. The percentages can vary depending on the evidence.
Evidence of Fault in Left Turn Car Accident Cases
You might be wondering what evidence can prove fault in a left turn car accident case in Hialeah or in Miami. To figure this out we need to put the accident itself under a mental microscope. Our Miami car accident lawyers look for the point of impact – meaning exactly where the vehicles were at the moment of collision. For example, the left turning vehicle almost cleared the intersection when the accident happened. That fact would give rise to the argument that the driver with the right-of-way failed to pay attention and had the last chance to avoid this accident if they had been driving defensively.
We also look to the issue of speed. Was the driver with the right-of-way speeding at the time of the accident? If speed is an issue then the question becomes what role did the speed of the driver with the right-of-way play in determining how this accident actually happened.
Another potential issue is an improper lane change by the vehicle with the right-of-way. In our investigation, we can take the location of the accident and the photos of the property damage and sometimes determine the angle of the impact. We also look for improper equipment issues such as not having headlights on in the rain or at night.
As you can see, a left turn car accident can bring forth many issues for negotiation and settlement. Our Hialeah and Miami car accident lawyers have been helping accident victims since 1963. We know what to do. Over these many years, we have represented people injured in left turn car accidents in Hialeah, in Miami and throughout South Florida. Some of our clients had the right-of-way. Other clients made a left turn. In these cases, a careful investigation was required to determine responsibility and accountability for all the drivers concerned. Only after a thorough and professional investigation will the issues of fault, negligence and liability be determined.
Due to the comparative negligence laws of Florida, left car accident cases are some of the most contested. Miami car accident lawyers and insurance company adjusters as well as insurance defense lawyers are well-versed in the arguments and the evidence needed a left turn car accident injury cases. But if you are injured in a left turn car accident in Hialeah or in Miami, it would probably be in your best interests to at least speak with a Hialeah car accident attorney as soon as practicable.
Miami Car Accident Lawyers Helping Hialeah Car Accident Victims
If you were injured in any type of car accident including a left turn/violation of the right-of-way type of automobile accident, then the Miami car accident lawyers at Wolfson & Leon can help you. We aggressively represent our clients to make sure that they receive the financial compensation and justice they deserve.
Our managing attorney, Jonah Wolfson, is a bilingual Hialeah car accident lawyer who serves all of South Florida. Our personal injury legal team is standing by ready to help you and your loved ones. All you have to do is call us at (305) 285-1115 and we can get to work for you right away.
Wolfson & Leon is proud to serve the people of Hialeah as well as the good people of South Florida from neighborhoods and communities like Hialeah Gardens, Kendall, Miami Lakes, Doral, Weston, Hollywood, communities and neighborhoods such as Hialeah, Miami Lakes, Hialeah Gardens, Aventura, Kendall, Weston, Pembroke Pines, Hallandale, Miramar, Miami Beach and downtown Miami.