Travelers Accident Lawyer for Victims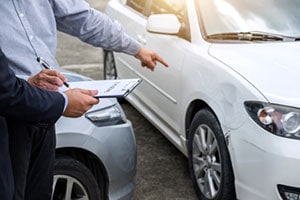 Car accidents happen every day in South Florida. People speeding down the highway to get to work, never-ending construction, rainy weather, or tourists who are unfamiliar with the area give rise to dangerous conditions on the roads.
If you've been injured in a car accident that was not your fault, find out what your rights are by contacting an automobile accident attorney. Severe injuries can result in extensive medical bills and the need for continuing care. Without proper legal representation, you may be stuck with paying these bills personally. While you have dutifully paid your insurance premiums, things can take a turn when you have a claim. Travelers Insurance, as well as other big insurance companies, may drag out or deny your claim. They might fight your case using several defenses, including the claim that you were at fault.
Not only are you recovering from injuries, you may be struggling with medical expenses, repairs, and rental cars, you may also have lost income if you were unable to work during your recovery. Every day that your claim remains open makes your financial condition worse. You do have rights. Contact a Travelers Insurance car accident lawyer to find out what your options are. For a confidential and free review of your case, contact the car accident attorneys at Wolfson & Leon at (305) 285-1115.
History of Travelers Insurance
The origin of Travelers Insurance dates back to 1864. James Batterson established the company, selling accident and life insurance. By the early 1900s, Travelers expanded their coverage by selling insurance products for cars, health, and liability. They were also the first to sell aviation insurance. Travelers Insurance were also the underwriters for the atomic bomb constructed under the Manhattan Project.
Starting with the 1960s, the company underwent several changes, starting with their new red umbrella logo. They changed their name to Travelers Corporation in 1965 and were acquired by Primerica in 1993. They underwent another name change to Travelers Group and made a series of acquisitions, including Aetna Life and Casualty and Salomon Brothers. Eventually, they merged with Citicorp in 1998 and eventually spun off Travelers into a separate public company called Travelers Property Casualty Corp in 2002.
Miami Travelers Insurance Accident Attorney
Our Travelers Insurance accident attorneys represent clients for different automobile accident claims including;
Miami automobile accident injuries caused by Travelers insureds
Failure to yield car crash involving Travelers insurance in Miami
Miami head-on collision lawsuits involving Travelers insurance
I-95 Express lane accident case with Travelers insurance in Miami
Miami road rage car accidents involving Travelers
I-95 Accident injury lawsuit in Miami with Travelers
Head-on collision lawsuits with Travelers Insurance in Miami
Car crash driver negligence lawsuits and claims involving Travelers insurance in Miami
Rear-end automobile crash involving Travelers insurance in Miami
Failure to stop car accident with Travelers insureds in Miami
Miami wrongful death accidents involving Travelers insurance
Lane merge car crash cause by Travelers insurance driver
I-95 Express lane accident case with Travelers insurance in Miami
Drunk driving accidents involving Travelers insureds in Miami
Inexperienced driver accident lawsuits against Travelers insureds in Miami
Sideswipe and merging car accidents in Miami with Travelers insurance
Miami big construction truck crash caused by Travelers insureds
Truck accidents in Miami with Travelers insurance involvement
Miami motorcycle accidents involving Travelers insurance
Personal injury protection claims and lawsuits against Travelers insurance in Miami
Lane change car crash in Miami involving Travelers insurance
Miami Car Accident Law Firm
With offices located in Miami, Fort Lauderdale, West Palm Beach, and Fort Myers, Wolfson & Leon proudly represents the residents of South Florida. If you have been injured in a car accident and are up against Travelers Insurance, contact Wolfson & Leon for help. For over 55 years, our car accident attorneys have represented injured victims against big insurance companies. We will help to build your case and defend your right to compensation for your injuries. You don't have to face Travelers Insurance alone. Contact us today for a free consultation at (305) 285-1115.
---
Frequently Asked Questions
What should I do if I have lost a loved one in a car accident?
If you are suffering from the loss of a loved one in a car crash, filing a wrongful death suit might be a possibility to hold the other party responsible. You could recover damages to cover any medical costs before their death, burial expenses, loss of future income and support, and pain and suffering. Filing a wrongful death suit requires that you build a case and file it with the necessary time. Given these claims' sensitive nature, it's a good idea to reach out to a Miami wrongful death attorney for help. In order for you to file a wrongful death lawsuit, you will need to build a case, prove the other party is liable, and support the amount you ask for damages – all within the prescribed statute of limitations.
Am I entitled to financial damages if I am partly to blame for a car accident?
It is possible to recover damages when you hold partial blame in a car accident. The State of Florida follows the legal doctrine known as comparative negligence. This means that their percentage of fault reduces any damages awarded to an accident victim. If your actions contributed to the crash or the resulting damages, you are partially negligent. When you have been seriously hurt in an accident where you share part of the blame, talking to a Miami personal injury lawyer may be critical to your settlement. If the court finds that you shared more responsibility than you did, this can significantly reduce your financial compensation. A Miami car accident lawyer can evaluate the aspects of your case, including any shared involvement and responsibility. An attorney helps defend your rights in the hope that any partial blame reflects the role you played.
How do I find the best Travelers accident attorney in Miami?
Finding the best Travelers accident attorney for your case can significantly differ in how your issue is resolved. Any Miami car accident lawyer you choose to represent your interests should be well versed about personal injury law. Some of the critical factors to consider are how successful they have been in the past with automobile injury accidents and their comfort level with negotiating a settlement on your behalf. If selecting an attorney who explains how the process works, answers your questions, and keeps you apprised on the status is important to you, be sure to ask how they handle the cases in their office. To choose the best Miami car accident attorney for your case, you should ask questions about their background and experience.