Liberty Mutual Accident Lawyer for Plaintiff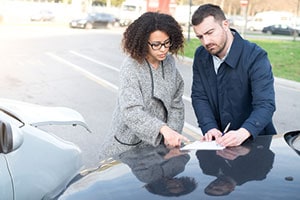 The Liberty Mutual Holding Company is a global insurance provider that has over 900 locations throughout the world. They were first established in 1912 as the Massachusetts Employees Insurance Association (MEIA) as a means to provide worker's compensation to employees. In 1914, they issued their first automobile insurance policy. They are currently based in Boston and sell insurance products to over 18 countries around the world. For 2016, they reported consolidated revenue of over $38 billion. In the US, they are the 4th largest provider of insurance products, which include coverage for automobiles, homes, life, and other property and casualty polices for both individuals and companies.
If you have been the victim of a car accident and Liberty Mutual is one of the carriers involved in the case, it is recommended that you speak with a Liberty Mutual personal injury accident attorney as soon as possible. Liberty Mutual, like many other big insurance companies, generates a massive amount of revenue every year. Payouts impact their profitability. Big insurance companies often follow tactics to delay or prevent payouts on claims. Some of the most common tactics used by insurance companies include;
Failing to return phone calls or respond to emails
Delays in sending adjusters out to inspect damage
Lack of investigation of claims
Quick, but unreasonable, settlements to limit payout
Denial of claims without adequate explanation
Big insurance companies rely on their in-house attorneys and law firms to help them fight claims, even against their own customers. To ensure that your claim is handled fairly, you should speak with a Liberty Mutual injury and accident attorney. They know how to work with big insurance companies and their legal teams. A Liberty Mutual insurance accident lawyer will investigate your claim and negotiate on your behalf. Should the claim end up in court, the automobile accident attorneys at Wolfson & Leon will litigate and defend your case. If Liberty Mutual is involved in your accident, don't attempt to settle alone. For a free consultation, contact the Liberty Mutual accident lawyers at Wolfson & Leon at (305) 285-1115.
Miami Liberty Mutual Accident Attorney
The personal injury attorneys at Wolfson & Leon represent victims who have been injured as a result of a car crash. Accident victims have rights and Wolfson & Leon works to defend them. They handle a variety of claims associated with automobile accidents including;
Car accident injuries caused by Liberty Mutual insureds in Miami
Personal injury protection claims and lawsuits against Liberty Mutual insurance in Miami
Miami T-Bone car accidents and injuries involving Liberty Mutual insurance
Running red light car crash accident by Liberty Mutual insured in Miami
Rear-end accidents and injuries in Miami caused by Liberty Mutual insureds
Miami distracted driving accident lawsuits against Liberty Mutual insureds ,
Liberty Mutual insurance sideswipe accident in Miami
Wrongful death cases involving Liberty Mutual insurance
Texting driver car crash in Miami with Liberty Mutual Insurance involved
Liberty Mutual insured construction zone car crashes in Miami
Truck accidents in Miami with Liberty Mutual insurance involvement
Motorcycle accidents involving Liberty Mutual insurance in Miami
Miami left turn accident caused by Liberty Mutual insureds
Liberty Mutual failure to yield car accidents in Miami
Miami wrong-way collision lawsuits involving Liberty Mutual insurance
I-95 Express lane accident case with Liberty Mutual insurance in Miami
Intoxicated driver car accidents involving Liberty Mutual insureds in Miami
Miami rollover accidents against Liberty Mutual insurance in Miami
Miami Uber car accident case involving Liberty Mutual insurance
Road rage car accidents involving Liberty Mutual in Miami
Liberty Mutual insured I-95 accident injury lawsuit in Miami
Driver negligence lawsuits and claims in Miami involving Liberty Mutual insurance
Merging car crashes involving Liberty Mutual insurance in Miami
Liberty Mutual insurance improper lane switching car crash
Liberty Mutual Car Crash Lawyer in Miami
If you are up against Liberty Mutual for your auto accident claim, you should seek the help of a car accident attorney. Liberty Mutual may delay or deny your claim, leaving you holding the bag for medical expenses, car repairs, and rental car fees. You need strong representation to ensure that you receive the compensation for your injuries that you deserve. For a free and confidential case evaluation, call the Liberty Mutual car crash attorneys today at (305) 285-1115. To serve you, we have offices in West Palm Beach, Miami, Fort Lauderdale and Fort Myers.