How to Find the Best Uber Accident Lawyer in Miami
Miami Uber Accident and Injury Attorneys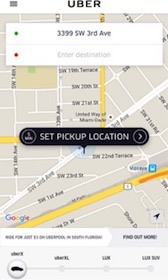 Ride sharing companies like Uber and Lyft have become a part of life in Miami. Most people know an Uber/Lyft driver or customer. Uber has provided a valuable service for people with transportation needs such as disabled people who cannot qualify for a driver's license and the elderly. But with all those drivers logging all of those miles, car accidents happen. That is where the Uber car accident injury lawyers at Wolfson & Leon can help.
The Miami car accident lawyers and attorneys at Wolfson & Leon represent drivers and passengers injured in Uber car accidents. A member of the personal injury team at our law firm is a former Uber and Lyft driver. Just call (305) 285-1115 for your free consultation.
Uber drivers and passengers involved in car crashes will often need a Miami personal injury lawyer. If you are an Uber driver or passenger involved in a car crash, the question of insurance could be very complicated. Uber and Lyft have one million dollars of insurance coverage for their drivers and passengers involved in car accidents. But that coverage only applies when the Uber or Lyft app is engaged. Questions remain what the insurance actually covers.
What is clear is the driver's own personal car insurance will not apply if the driver did not disclose that they were using the vehicle for Uber or Lyft. This is typically called a commercial purpose exclusion. This is just one example of how difficult it can be to make a full and fair recovery after anUber car wreck. TheUber car accident lawyers and Miami personal injury attorneys at the Wolfson can help you after an Uber car crash.
Tips on How to Find the Best Uber Car Accident Lawyer in Miami
If you were involved in an Uber car crash as a driver or passenger, you will want to hire the best Uber car accident in Miami. But just how do you go about locating the best Uber accident injury attorney in Miami for your case? Our Miami injury and accident lawyers have a list of ideas and suggestions for you to consider in your search for the best Uber accident lawyer in Miami.
Here are the Five W's to think about in your search:
What? What kind a lawyer do you need? Look at the attorney's experience in personal injury and car accidents. Ask about the law firm's experience with Uber or Lyft accident cases.
Where? Is the personal injury law firm office in a convenient location for you? Maybe it is close to your home or your workplace. Will the attorney come to meet with you? It is up to you to decide what role the lawyer's office location plays in your search for the best Miami Uber accident lawyer for your case.
When? Can the Miami injury attorney meet with you at a time that is convenient for you? Time is important after an accident. The insurance company will make arguments about how long it took you to get medical care and treatment. They will criticize you for getting too much treatment or not enough. Anything to drive down the value of your case. So getting an appointment in 3 weeks with a Miami personal injury lawyer to discuss your Uber accident today might not be the best course of action.
Why? You need to decide why you need an injury lawyer for your Uber car accident. You may decide to handle the case yourself if the property damage was minimal and you weren't hurt too bad. But if you need an accident lawyer for your Uber car crash, you will want to make sure you have a good connection with the attorney you choose. Simply stated, know why you picked the lawyer for your Uber accident.
Who? Ask yourself, who are you talking to? Is it the lawyer? Or is it someone who came out of nowhere and inserted themselves into your life? If all of a sudden a very helpful and persuasive stranger calls you or comes to your house after your Uber car accident, you should be careful. If you didn't ask for that meeting, chances are that stranger is working for a clinic or an attorney. They will get paid for signing you up. They are also breaking the law. If you are uncertain if you are being hustled by a runner, simply call the police or the local or state bar association and find out if you are being played. It is tragic that after a car accident that anyone would try to take advantage of you but you need to be aware and be careful.
Miami Personal Injury Attorneys and Car Accident Lawyers
If you were hurt in an Uber car accident, the Miami car accident attorneys and personal injury lawyers of Wolfson & Leon are ready to aggressively represent you and your family. Our Miami serious injury lawyers currently represent Uber accident drivers, riders and passengers in their ongoing injury claims. Our accident lawyers in Miami can assist you too. Just call us at (305) 285-1115 right.
Wolfson & Leon Miami personal injury lawyers represent folks from Florida in all types of personal injury accidents and injury claims including the neighborhoods of South Beach, Edgewater, Key Biscayne, Miami Beach, Downtown Miami, Miami Shores, Hialeah, Miami Lakes, Homestead, Florida City, Princeton, The Falls, South Miami, Coral Gables and Coconut Grove.