Farmers Insurance Accident Lawyer for Plaintiff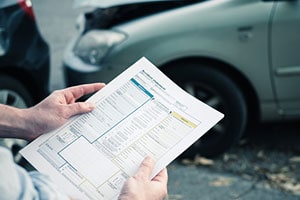 Car accidents can be traumatic experiences. Even the most minor car accidents can cause damage to your car and result in injuries to your back and neck, as well as cuts, scratches, bruises, and broken bones. Serious accidents may result in extensive hospital stays, medical treatments, and the need for continuing rehabilitation. You may be wondering how you are going to pay for these medical bills and what the insurance will cover.
If you've been seriously injured, it is recommended that you seek medical attention immediately. After your accident, you may be wondering what to do next.
What Should I do After a Car Accident involving Farmers Insurance?
Whether you engage an attorney or not, it is recommended that you start building your file. Gather as much documentation as possible, as it can be very helpful for your claim. Take such steps as;
Request names and contact information of everyone involved in the accident, as well as any witnesses. Be sure to get the insurance information from the other driver. Write down any statements made by the witnesses or the other driver.
Use your phone or a camera and take pictures of the accident. Include pictures of relevant items, such as the other car, debris in the road, standing water, or broken signs.
You should call the police and complete a report. Copies of this report should be requested and maintained in your files.
Write down any relevant facts or observations made immediately after your accident.
Seek medical attention as soon as possible. Even if you do not feel like you've been hurt, injuries can take a few days to surface. Be sure to get a check-up as un
Contact an attorney – If you have serious injuries or damage to your car, you might consider contacting an attorney before filing a claim with your insurance company. They can review your policy and advise you of your options and what your next steps are.
File a claim – If you have engaged an attorney, they will advise you as to how to file your claim. Depending upon the severity of your case, they may start off by speaking to the insurance company on your behalf.
Why Contact a Farmers Insurance Accident Lawyer?
Auto insurance in a multi-billion industry and it didn't get that way paying out claims. Farmers Insurance and other big insurance companies rely on their legal teams and adjustors to keep their payouts low. They may try to defend their case by placing the responsibility for the accident on you. Or, they may purposely not take your phones calls and drag out the process. If they know you are on limited funds, the longer they wait the greater the chance they have of getting a lower settlement because you are desperate. In other cases, they may ask you to pay for the repairs and medical bills, with the promise to reimburse you later. Contacting a Farmers Insurance accident attorney can help you to properly file your claim and receive the compensation you deserve for your injuries and damages. If Farmers is involved in your accident, don't attempt to settle alone. For a free consultation, contact the Farmers accident lawyers at Wolfson & Leon at (305) 285-1115.
History of Farmers Insurance
John C. Tyler and Thomas E. Leavey founded Farmers Insurance in 1928 in Los Angeles. The company was established based on the belief that farmers should pay more favorable premiums due to lower risk rates. During the Great Depression, they were able to pay out claims to customers in cash, a rarity during that time. Farmers Insurance were pioneers in the their industry as they were the first company to offer comprehensive coverage, interest-free monthly payment plans, and discounts for non-smokers and alternative energy vehicles. They were acquired by the British American Tobacco Company in 1988 and then were sold to Zurich Financial Services in 1998.
Farmers Insurance is known for their charitable causes which include raising over $40 million dollars for the March of Dimes since they started participating in the 1980s and developing community organizations to assist neighborhoods that have impacted by natural disasters.
Miami Farmers Accident Attorney
The personal injury attorneys at Wolfson & Leon represent victims who have been injured as a result of a car crash. Accident victims have rights and Wolfson & Leon works to defend them. They handle a variety of claims associated with automobile accidents including;
Wrongful death cases involving Farmers insurance
Texting driver car crash in Miami with Farmers Insurance involved
Farmers insured construction zone car crashes in Miami
Miami truck accidents with Farmers insurance involvement
Car accident injuries caused by Farmers insureds in Miami
Personal injury protection claims and lawsuits against Farmers insurance in Miami
Miami T-Bone car accidents and injuries involving Farmers insurance
Running red light car crash accident by Farmers insured in Miami
Farmers rear-end accidents and injuries in Miami
Miami distracted driving accident lawsuits against Farmers insureds ,
Farmers insurance sideswipe accident in Miami
Motorcycle accidents involving Farmers insurance in Miami
Miami left turn accident caused by Farmers insureds
Farmers failure to yield car accidents in Miami
Miami wrong-way collision lawsuits involving Farmers insurance
I-95 Express lane accident case with Farmers insurance in Miami
Intoxicated driver car accidents involving Farmers insureds in Miami
Miami rollover accidents against Farmers insurance in Miami
Farmers Insurance Car Crash Lawyer in Miami
If you've been injured in a car accident, you have rights. Seeking the advice of a car accident attorney can help you determine what you are entitled to and can help you to build your case to get there. The Farmers Insurance accident attorneys at Wolfson & Leon work to negotiate the specifics of your case. If settlement is not an option with the insurance company, our car accident attorneys will defend you in a court of law. When you are up against an insurance company, you need strong representation. For a free and confidential case review, call the Farmers car crash attorneys today at (305) 285-1115 or see us with an appointment at our offices in Fort Myers, West Palm Beach, Fort Lauderdale or Miami.
FAQ
I was crossing a busy street when I was hit by a driver who carries Farmers Insurance. What should I do?
If a car hits you while crossing a busy street or intersection, you should get the driver's contact information and their insurance information. Be sure that you write down the names and phone numbers of any eyewitnesses, and if you are can, take pictures of the accident scene with your phone. If you are badly hurt, seek emergency medical treatment. For minor injuries, visit a doctor or healthcare professional as soon as you can. As a pedestrian that's been injured, it's a good idea to speak to a Farmers Insurance accident lawyer. They will take the time to look at your situation and let you know what legal remedies may be available to recover money to pay for your medical treatment and lost income.
What damages can I recover if I was severely hurt in a car accident with a driver that has Farmers Insurance?
When you were severely injured in a car crash, you may be entitled to damages to pay for your economic losses, such as medical bills and wages that you lost because you couldn't work. If you have permanent injuries, you may also need compensation to pay for future medical care or to replace future lost earnings. In some situations, you may be compensated for non-economic damages. These types of damages include pain and suffering, disfigurement, and mental anguish. Non-economic losses aren't expenses that you are getting reimbursed for. Instead, they are monetary sums to compensate victims of the impact that the accident has had on their life. Non-economic damages are typically hard to prove, so it's best to speak to a personal injury attorney.
How do I find the best Farmers insurance accident attorney in Miami?
Investing the time to find the best Farmers Insurance accident attorney in Miami will be worth it. As an injured victim, you have a lot to lose if you don't have proper representation. You should look for an attorney that is knowledgeable about and actively defends personal injury lawsuits. Since most personal injury lawyers offer no-obligation consultations, take advantage of this practice to learn more about the attorney you may be hiring. Ask them questions about their experience and success rate. Find out if you will work directly with the lawyer and what you should expect after your claim is filed. You should feel comfortable talking to the attorney and asking them questions. The best personal injury lawyer for your case is one that you trust to represent your rights.