What You Should Do After Your Kendall Accident
Kendall Injury Accident Attorneys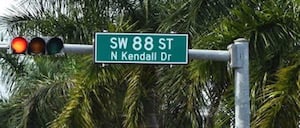 If you live or work in Kendall and were injured because of the negligence or intentional acts of another person or company, then you should probably speak to a Kendall accident and injury lawyer. If you are from somewhere else and you were hurt in Kendall, then you will need the advice of a Kendall personal injury lawyer. You may be entitled to financial compensation, but will not be easy. That is why you need the assistance of a professional personal injury attorney in Miami who serves the Kendal community.
At Wolfson & Leon, our Kendall wrongful death lawyers and personal injury attorneys can help. If you call (305) 285-1115 you can speak to a personal injury professional in a free and confidential consultation. We also offer bilingual consultations with our Managing Attorney Jonah Wolfson. He is a former City Commissioner of Miami Beach and life-long resident of Miami-Dade County. Jonah is a bilingual personal injury lawyer and wrongful death lawyer in Miami who serves the community of Kendall.
What You Need to Know about Kendall Accidents and Injuries
There are some basic things you need to know if you were involved in any type of Kendall accident. These concepts apply to all accidents and injuries. Here are the main rules you should know:
Stop the Harm – Get to safety. If you are in a car accident don't compound your problems by carelessly stepping into oncoming traffic. If you slip and fall, ask for help. If you can, try to make sure no one else falls on the same substance and falls on you. If you are being attacked, then get to safety and call 911.
Call for Help – In a store, ask for the manager. In a car accident, call the police. In any type of injury, ask for fire rescue or an ambulance. Your injury may be more serious than it appears. Often, our adrenaline kicks in after a traumatic injury. Our survival instincts kick in. But that can mask more serious internal injuries. Aside from getting professional medical care, the fire rescue personnel can document your injuries. That can turn out to be important later on when you make your claim. By documenting your injury, you can eliminate the first defense of any insurance company who tries to say that you weren't hurt.
Get the Evidence – Until you hire your Kendall injury and accident lawyer, the evidence collection responsibilities rest with you. If you can, get photographs. Use you cell phone to video and take pictures of the scene. If it's a car accident, take photos of the cars, the property damage, skid marks, license plates and even contact information of the drivers and potential witnesses. Our Kendall accident lawyers advise our clients to even take photos of the surrounding area to include any possible surveillance cameras that we can later subpoena.
Document, Document, Document – If you slip and fall in a Kendall store, ask that the manager fill out an incident report and ask for a copy. They may or may not give it to you but you should ask. If you trip and fall in Kendall, ask that a report be made and again, ask for a copy. In a Kendall car accident, make sure to get the report number from the investigating law enforcement officer. Go to your doctors. Make your appointments. Follow instructions.
Hire the best Kendall injury accident lawyer – Face it, the second that you have an accident in Kendall your life is changed. You will be facing different forces that are driven by the desire to deny you payment of your damages. That is why you need to find the best Kendall personal injury lawyer in Miami. Your choice is important so don't make it lightly. Do your research. Interview the lawyer. Once you have the right lawyer, trust yourself and your decision. But make an objective decision. Gather your facts and discuss it with your family.
At Wolfson & Leon, our Kendall personal injury lawyers can assist you. We have been helping and representing the people of Florida since 1963. Interview our lawyers and allow them the chance to answer all of your questions. Let them prove to you why they will be the best Kendall personal injury attorney for you and your loved ones. Call now for your confidential consultation at (305) 285-1115.
History of Kendall in Miami-Dade County
Kendall's early history was under the ownership of one Sir Edward James Reed. He, along with several English investors, purchased two million acres of Florida land. Together they then went on to form the Florida Land and Mortgage Company. Under that entity, which was formed under the Swamp Act of 1883, the group bought more property under the name of Sir Edward for one million dollars.
Henry John Broughton Kendall would not come until a year later in 1884. His job title was the Director of the Union Bank of London. As a result, his name ended up on many of the deeds in the area. It is speculated that because of Kendall's personal visits and his connections to the local realtors and bankers, that the area became known as Kendall.
Kendall is currently the top 7% in the state for Public Transportation use, as well as nearing the top 15% in college educated adults, well-paid single women, racial diversity, and median Family income. It is home to many colleges and upper level academic centers including The American College of Medical Careers, American Institute, Universal Technical Institute and the Florida College of Natural Health.
Kendall's population consists of 46% Male and 53% female, with 76% of those being 18 or over.
Kendall Accidents and Injuries
The Kendall Wrongful Death Attorneys and Personal Injury Lawyers at Wolfson & Leon offer representation to the people and families of Kendall who were directly impacted by automobile deaths and serious personal injuries including:
Kendall Car Crash Information from Miami Personal Injury Lawyers
Our Kendall car accident lawyers advise the people of Kendall and all of South Florida on different kinds of incidents and accidents including:
Kendall Injury Lawyers and Accident Attorneys
The Miami personal injury attorneys serving the residents of Kendall are available to help you right now. You just need to call us at (305) 285-1115. Our Miami personal injury lawyers are available to represent the folks of Kendall who have lost members of their family or were horrendously hurt because of:
Free Information for Kendall Residents from Miami Personal Injury Lawyers
Our Kendall accident and injury attorneys also provide proactive type information for the people of Kendall on legal issues that can happen including:
Kendall Wrongful Death Attorneys and Injury Lawyers
If you have tragically lost a family member in an incident or accident, the Kendall wrongful death attorneys at Wolfson & Leon can counsel you. Our Kendall accident lawyers can represent you after you were damaged due of the intentional or negligent actions of another person or company. Just call us at (305) 285-1115 today.
Our Miami personal injury lawyers serve the residents of Kendall as well as the surrounding communities of Kendale Lakes, The Hammocks, Dadeland, South Miami, Westchester, Homestead, Florida City, Goulds, Cutler Bay, The Crossings, Calusa Country Club, West Kendall, Sunset and Richmond Heights.