North Miami Beach Car Accident Lawyer
North Miami Beach Injury Accident Attorneys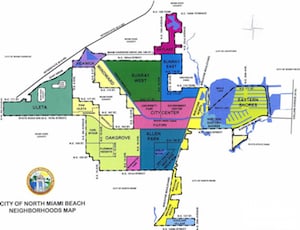 Did you get hurt in a North Miami Beach (NMB) car crash? The North Miami Beach (NMB) Car Accident and Injury Lawyers at Wolfson & Leon can help you get the justice you deserve. We never charge a fee unless you recover. We offer free, confidential and bilingual consultations. Just call us at (305) 285-1115 and let us get working on your case today!
North Miami Beach, Florida
The city of North Miami Beach is a large and diverse city in Miami-Dade County Florida. North Miami Beach is known by the locals as simply NMB. The main roads serving North Miami Beach include I-95, 163d Street, Biscayne Boulevard and Dixie Highway. It is served by zip codes 33160, 33162, 33169, 33179, 33180, and 33181.
The surrounding communities of North Miami Beach include:
Miami
Miami Gardens
Ives Estates
Ojus
Aventura
Sunny Isles Beach
North Miami
Miami Beach
Golden Glades
One of the unique aspects of North Miami Beach are its neighborhoods. Depending on who we speak with we identify by location. If you are talking to someone from outside of Florida, a resident of North Miami Beach might say they are from Miami. If they are discussing hometowns with other South Floridians, they would likely say NMB or North Miami Beach. But if two people from NMB are in a conversation, they may very well say they are from a particular neighborhood.
North Miami Beach car accident injury lawyers serve the residents of all the neighborhoods of North Miami Beach. The neighborhoods include:
Uleta
Pickwick
Windward
Pan Uleta
Monticello
Carl-Byour
Oak Grove
Fleeman Heights
Washington Park
Allen Park
West Dixie Industrial
City Center
Sunray East
Sunray West
Eastern Shores
Biscayne South
Highland Village
No matter which neighborhood in North Miami Beach you live or work in, the NMB accident injury attorneys at Wolfson & Leon can help you following your car crash. We will aggressively fight for your best interests and make sure that you get the fair, full and complete compensation that you deserve.
North Miami Beach Car Accident Lawyers and Wrongful Death Attorneys
Car accidents can and do produce an incredible ripple effect in our lives. Start with the damage to your car. If it is not drivable, then your family is now down one vehicle. Questions arise over who will repair your car and who will pay for it. Unfortunately, this all takes time and time is something you just don't have after a car accident.
Once you move past the property damage issues after a North Miami Beach car accident, then comes the issue of your injuries and the ripples continue. Our North Miami Beach injury lawyers have seen case after case where a family doctor simply refuses to get involved in any type of car accident injury case. These physicians want to avoid the car insurance industry at all costs. This is usually driven by bad experiences involving insurance company reimbursement requirements and schedules; insurance defense lawyers' strategies; subpoenas; and even being dragged into a jury trial.
If your own doctor won't see you where do you go? How do you find a medical expert to treat you for your car accident injuries? You could call one of those companies that advertise on TV, radio or on buses like 911 Hurt or 411 Pain but what do you know about those places other than the fact that they spend money on advertising.
To find the best medical care following a North Miami Beach car accident, you should ask your friends, family and coworkers. Your North Miami Beach car accident injury lawyer can also provide you with some suggestions and choices based on prior experience.
All these ripples take time and much of it cannot be avoided. But you can manage this burden with the assistance of an experienced North Miami Beach car accident lawyer. Your NMB injury attorney can help you understand:
Your North Miami Beach (NMB) car accident attorney can also assist you and your family if you are involved in:
Miami Personal Injury Lawyers and Attorneys
The Miami personal injury attorneys and lawyers at Wolfson & Leon have helped injured people and their families since 1963. Our personal injury and wrongful death legal team are ready to help you and your family. Simply call us at (305) 285-1115 and we will begin working on getting you the compensation that you are entitled to receive.