Who is Responsible for My Injuries at the Airport?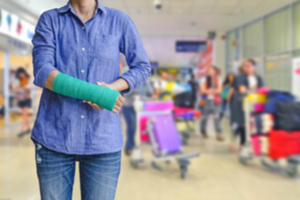 The thought of going to the airport is filled with excitement for your upcoming trip, whether it be business or pleasure. Regardless of your reason for travel, a trip to the airport will bring you in contact with many people, employees and an abundance of protocols to follow. The thought of accident occurring or sustaining an injury is generally not a thought in the mind of travelers. If one does happen to occur though, you may be left with many questions.
At Wolfson & Leon in Miami, our personal injury lawyers have represented victims of negligence who were severely injured at an airport. We have seen the ways people can be suddenly and unexpectedly injured at any airport in South Florida. If you were injured at any airport, we invite you to call for your free consultation with our airport accident lawyers in Miami, Fort Lauderdale and West Palm Beach by calling (305) 285-1115.
South Florida is served by three main airports: Miami International Airport, Fort Lauderdale-Hollywood International Airport and Palm Beach International Airport. In addition, there are several smaller executive airports. The potential injury causing accidents that can occur at any airport include: •Airport slip and fall accidents
Trip and fall accidents at airport
Airport parking lot slip and fall accidents
Step and fall accidents in airport parking garages
Negligent security claims at airport
Wrongful death claims at airport
Car accidents at airport arrival and departure gates
Pedestrian accidents at airport
Intentional injuries caused by airport employees
Negligent injuries caused by employees of airport
Injuries caused by airport luggage
Injuries sustained on airplanes
Airline employee negligence causing injuries
Depending on the type of accident that causes an injury will determine the responsibility for your damages. In a car accident, our car accident lawyers would investigate the facts of the accident. If the other driver was at fault, then we would pursue that driver. If that driver was uninsured or did not carry enough insurance to compensate you for your injuries, we would look to your insurance policy or any policy in your home for uninsured/underinsured motorist coverage.
In accidents involving a fall caused by slips, trips or steps, our airport slip and fall attorneys would place the airport on notice of our representation and your injury claim. We would also request that the airport preserve any video surveillance of your accident in addition to the 24 hours before and after the incident.
In addition to the airport, our airport injury lawyers may also send Public Record Request pursuant to Florida Statute Chapter 119 to the county in which the airport accident took place. The request would seek any and all contracts with vendors or contractors that may have been responsible for your injuries.
Examples of potential defendants in an airport accident include:
Construction companies
Janitorial companies
Shuttle drivers
Luggage porters
Maintenance companies
Plumbing contractors
Airport Uber drivers
Airport Lyft drivers
Often, with multiple defendants it becomes necessary to file a lawsuit because until litigation commences each of the potentially responsible parties will point at the other parties. That leads to the wasting of time and frustration for you and your family. Once a lawsuit is filed, then all the defendants are required to comply with the rules and deadlines of the court system. That leads to your case being settled at mediation or tried before a jury but at least there is an endpoint.
South Florida Airport Accident Attorneys
At Wolfson & Leon, our South Florida airport injury lawyers are here to help you if you or a loved one was injured at any airport in Florida. We are available by appointment at our offices in West Palm Beach, Fort Lauderdale or Miami. We are also available by text, Skype or a simple call to (305) 285-1115.
Our Miami personal injury lawyers proudly serve the communities of Miami, West Palm Beach, Fort Lauderdale, Hollywood, Boca Raton, Hialeah, Wellington, Miami Beach, Aventura, Weston, Pompano and Miami Gardens.