West Palm Beach Head Injury Accident Attorney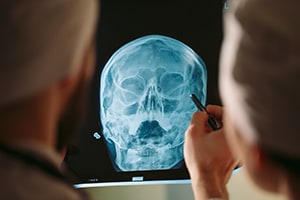 The city of West Palm Beach has several main highways running through the city. Major highways, such as I-95 and the Turnpike, can see tens of thousands of cars and trucks every day. With over 106,000 people living in this highly populated area, city roads are often full of people travelling in cars to work, run errands, and pick up kids from school. With the high volume of cars and continuous road construction, there is a good chance for a car accident to occur.
According the Centers for Disease Control (CDC), 20% of traumatic brain injuries result from automobile accidents. Traumatic brain injuries can range from minor headaches and concussions, which may require a few days of rest to recover from, to serious brain injuries that impact a person's mental abilities or their motor skills. Victims of car crashes may experience injury to their brain if their head hits a hard surface, such as the steering wheel, window, or ground, during an accident. In some cases, severe brain injuries can occur even if the head has not sustained a hit. The rapid back and forth movement that happens when a car is hit can cause brain tissue tears and result in serious injury.
Victims who have been involved in a car accident should seek medical attention, even if they feel fine. The impact of a car crash can cause injuries to the head that may not be apparent immediately. A medical provider can run tests to determine if you have sustained a head injury. While these tests may be costly, not seeking proper treatment can result in a minor injury becoming a serious one.
If you or someone you love has sustained a head injury from a car accident, you should speak with a West Palm Beach brain injury lawyer. Accident victims have rights and may be entitled to compensation for their injuries. Find out what your options are by calling the West Palm Beach traumatic brain injury attorneys at Wolfson & Leon. For a no-cost consultation, call (855) 982-2067 today.
Have You Suffered From Head Trauma?
Often, head injuries are not always obvious at the time of an accident. In may take a few hours or a few days before it appears that something is not right. You may have a head injury if you experience any of these symptoms;
Difficulty speaking
Loss of memory
Changes in behavior or personality
Difficulty sleeping or feeling anxious
Blurry vision or hearing loss
Inability to concentrate or think clearly
Headaches
Nausea or vomiting
If you are experiencing symptoms like these, seek help from a medical provider. They can determine if you've experienced a traumatic brain injury.
West Palm Beach Brain Injury Attorney
The City of West Palm Beach has 106,685 residents. It is a racially diverse city with a mixture of racial backgrounds as 38.7% of the population is white, 33.5% are African American and 23% are Hispanic. The median age in the town is 39.6 years, median household income is $49,054, and the median property value is $218,200. Approximately 19% of the population lives below the poverty line, which is higher than the national average of 13.4%
West Palm Beach Brain Trauma Injury Lawyers
The West Palm Beach head trauma attorneys at Wolfson & Leon represent victims who have sustained head injuries resulting from accidents such as;
West Palm Beach attorney for car crash accident head injury
T-Bone car accident brain injury lawyer in West Palm Beach
Pedestrian automobile accident brain trauma injury lawyer in West Palm Beach
Attorney for West Palm Beach wrong-way accident car crash resulting in head trauma
West Palm Beach lawyer for impaired driver automobile crash resulting in brain injury
Brain Trauma Injury Law Firm in West Palm Beach
As a victim of a car crash, you may be incurring high medical bills to treat the trauma to your head. You may be unable to work during your recovery period, making it difficult to pay your household bills and support your family. At Wolfson & Leon, we help accident victims with traumatic head injuries recover the compensation they deserve to pay for their medical bills and lost wages. From our offices in Miami, Fort Lauderdale, West Palm Beach, and Fort Myers, we serve clients throughout Florida. If you've been in a car accident and are suffering from a traumatic brain injury, speak to the West Palm Beach brain trauma attorneys at Wolfson & Leon today. Call (855) 982-2067 for a free evaluation of your case.